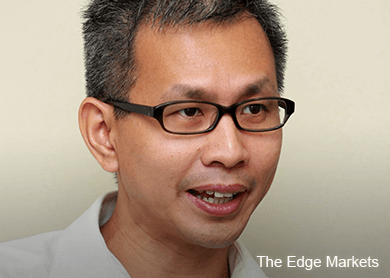 (June 16): Pilgrims fund Lembaga Tabung Haji's delay in selling off its land at the Tun Razak Exchange (TRX), which it bought from troubled 1Malaysia Development Fund (1MDB), is an indication that it is having problems selling the land, said an opposition federal lawmaker.
Tony Pua (DAP-Petaling Jaya Utara) said the slew of Barisan Nasional's MP rushing to defend Tabung Haji's controversial purchase was an excuse to save the fund's face.
Tabung Haji chairman Datuk Seri Abdul Azeez Abdul Rahim had in early May said that the sale would be completed in "a week or two".
But, Minister in the Prime Minister's Department Datuk Seri Jamil Khir Baharom yesterday said the fund was still evaluating potential buyers.
"It was clear that no one wants to buy the land from Tabung Haji which it had bought at a high price.
"Yesterday's support from MPs for Tabung Haji not to sell the land and instead develop it is a U-turn and an excuse to save Tabung Haji's face.
"There's a conspiracy now to heat up the strategic nature of the piece of land so that they can backtrack on their earlier promise to dispose the land," he said at the Parliament lobby today.
Pua demanded that both Jamil Khir and Abdul Azeez to show proof that there were definite offers from parties interested to buy the land as it has been six weeks since the latter openly claimed that there were ready buyers.
Rafizi Ramli (PKR-Pandan) said the transaction could still be reversed with Tabung Haji giving back the land to 1MDB and for the state investment arm to return the RM188.5 million the fund paid for it.
"The best way to resolve this is to cancel the entire transaction. This can be done as both 1MDB and Tabung Haji are government-linked companies.
"Najib should instruct both Tabung Haji and 1MDB to mutually terminate the arrangement to ensure the Tabung Haji will not be pushed into a risky project that is out of its depth," he said, referring to Prime Minister and Finance Minister Datuk Seri Najib Razak.
Tabung Haji purchased the land in April to develop a residential tower, at 43 times the price the debt-ridden 1MDB had paid for the same plot, which it had bought from the federal government four years ago.
Mindful of a backlash and sensitivity among its depositors over the purchase, Tabung Haji quickly vowed to sell off the land at a profit soon after buying it, saying it had ready buyers which proved that the land had appreciating value and was a profitable venture.
Azeez had said the decision to sell the land was on the advice of Najib, who is also chairman of 1MDB's advisory board. – The Malaysian Insider