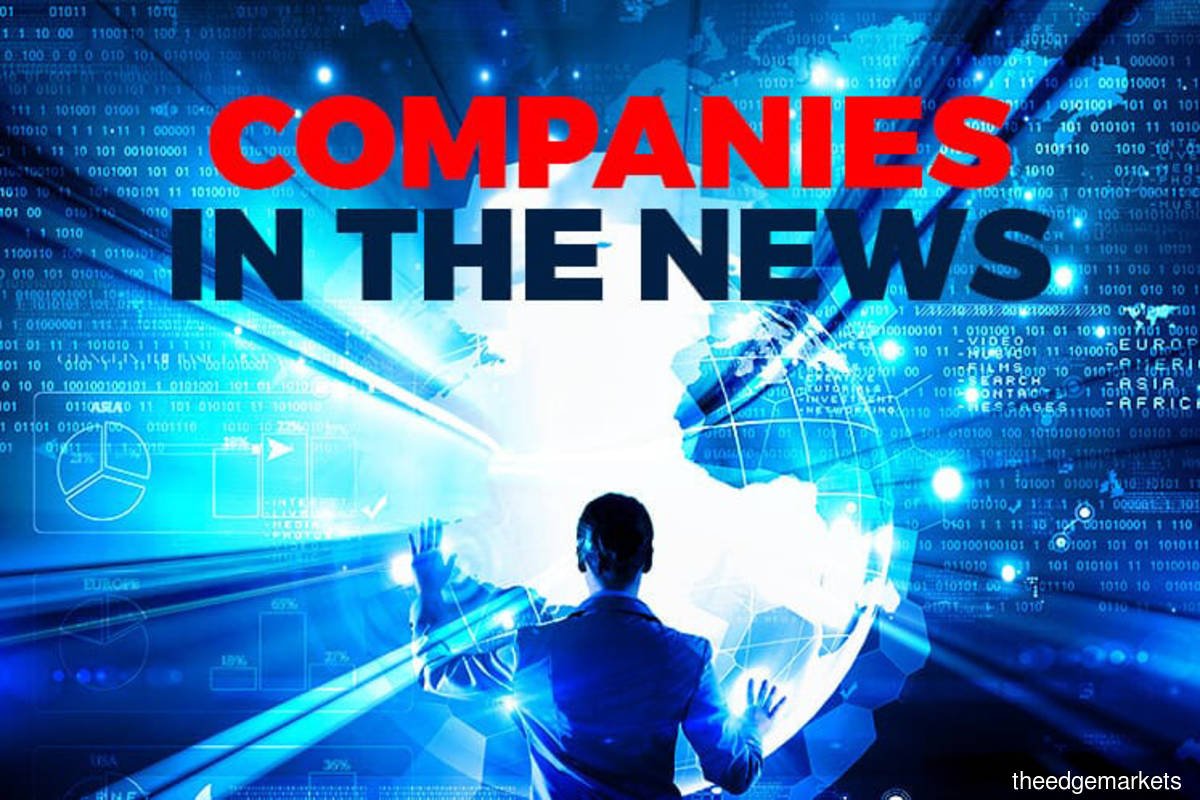 KUALA LUMPUR (Nov 17): Based on corporate announcements and news flow on Wednesday, companies in focus on Thursday (Nov 18) may include T7 Global Bhd, Inari Amertron Bhd, Hap Seng Consolidated Bhd, Amway (Malaysia) Holdings Bhd, Gagasan Nadi Cergas Bhd, Apex Healthcare Bhd, CTOS Digital Bhd, Mesiniaga Bhd, Talam Transform Bhd, Malayan Flour Mills Bhd, Supermax Corp Bhd, Tomei Consolidated Bhd, WZ Satu Bhd, and Kimlun Corp Bhd.
T7 Global Bhd, via its wholly-owned subsidiary Tanjung Offshore Services Sdn Bhd, has secured two contracts worth a combined value of RM150 million under its energy division for integrated well services and operations and maintenance businesses. The first contract was from Petronas Carigali Sdn Bhd for the provision of plug and abandonment integrated services for the M3 oilfield, valid from Oct 14, 2021 to Dec 31, 2022. The second contract was from PTTEP Sabah Oil Ltd, PTTEP Sarawak Oil Ltd and PTTEP HK Offshore Ltd for the provision of Gastec nitrogen generator maintenance services and spare parts, with the duration of the contract spanning two years from July 2, 2021.
Inari Amertron Bhd is likely to be added as a constituent of FBM KLCI, while Hap Seng Consolidated Bhd is likely to be dropped as it fails to meet the liquidity criteria according to CGS-CIMB. Inari Amertron is the highest market ranking company among the non-KLCI constituents with a market capitalisation of about RM15 billion.
Amway (Malaysia) Holdings Bhd's net profit for the third quarter ended Sept 30, 2021 fell 49% to RM7.96 million from RM15.61 million a year ago, due to a new sales incentive plan and increased sales incentives provision in view of a higher number of qualifiers. This was despite 19.25% higher quarterly revenue of RM383.93 million from RM321.95 million a year ago, while earnings per share fell to 4.84 sen from 9.5 sen a year ago. A third single-tier interim dividend of five sen per share will be paid on Dec 17.
Gagasan Nadi Cergas Bhd (GNCB) has secured a RM33.88 million contract to build a mosque at the Merdeka 118 project in Kuala Lumpur via its wholly-owned Nadi Cergas Sdn Bhd from PNB Merdeka Ventures Sdn Bhd. The contract will be for 18 months from Dec 1, 2021 until May 31, 2023.
Apex Healthcare Bhd registered a net profit of RM14.01 million for the quarter ended Sept 30, 2021, a 1.5% slide from RM14.22 million a year ago, despite a record high revenue, dragged by a weaker performance by its associate, coupled with higher sales, marketing and tax expenses. Quarterly earnings per share came in at 2.96 sen, down from 3.01 sen.
CTOS Digital Bhd has had access by its subsidiary CTOS Data Systems Sdn Bhd to Bank Negara Malaysia's Central Credit Reference Information System restored effective Wednesday.
Mesiniaga Bhd has secured a contract from the Social Security Organisation (SOCSO) worth RM31.16 million, which involves the supply, installation, commissioning and maintenance of hardware and software for production, staging and development environment, and disaster recovery at SOCSO's Data Centre and Data Recovery Centre. The contract duration will be from Nov 29, 2021 to June 28, 2027.
Talam Transform Bhd is selling its entire 85% stake in Jilin Province Maxcourt Hotel Ltd together with an assignment amount of creditors rights to Jilin Provincial Expressway Group Co Ltd for a combined cash sum of 72.74 million yuan (RM46.67 million). This is the second time that Talam has attempted to sell its stake after the first proposal was called off in 2018 due to the failure of the purchaser to obtain approval from Jilin's Trade and Industry Bureau for the proposed deal.
Malayan Flour Mills Bhd's (MFM) net profit for the third quarter ended Sept 30, 2021 fell 58.4% to RM3.91 million, from RM9.4 million a year ago, as its flour and grains trading segment was impacted by higher wheat costs and operating expenses. Earnings per share dropped to 0.38 sen from 0.93 sen while quarterly revenue rose 22.78% to RM620.52 million, from RM505.4 million a year earlier, due to higher sales in both the flour and grains trading and aqua feed milling segments, which increased by 22.3% and 42.6% respectively.
Supermax Corp Bhd's net profit for the first quarter ended Sept 30, 2021 plummeted by one-third to RM638.52 million compared with RM958.71 million in the immediate preceding quarter due to shrinking profit margin from the continued drop in average selling price. This is the third consecutive quarter of lower net profit. Earnings per share dropped to 24.6 sen from 36.93 sen. An interim dividend of five sen per share will be paid on Jan 3.
Tomei Consolidated Bhd's net profit for the third quarter ended Sept 30, 2021 fell 92.57% to RM1.01 million from RM13.6 million in the corresponding quarter last year, amid a lower revenue as intermittent lockdowns affected its operations. Earnings per share shrank to 0.73 sen from 9.82 sen. Revenue declined 38% to RM112.09 million from RM180.63 million, caused by declines across the board in both its retail and manufacturing and wholesale segments.
WZ Satu Bhd is exploring the potential of taking over a 100% stake in Citaglobal Engineering Services Sdn Bhd valued at RM140 million from Citaglobal Sdn Bhd, the private vehicle of WZ Satu's chairman and largest shareholder Tan Sri Mohamad Norza Zakaria. The transaction will be settled by issuing new WZ Satu shares and new redeemable convertible preference shares. The acquisition comes with a profit guarantee of RM60 million in three financial years from the financial year 2022 (FY22) ending Dec 31, 2022 to FY24.
Kimlun Corp Bhd has secured a construction and maintenance contract worth RM780 million for construction and maintenance of the Sarawak-Sabah Link Road project (the Lawas-Long Lopeng junction) by Samling Resources Sdn Bhd. It said the construction work is expected to be completed in the second quarter of 2025.