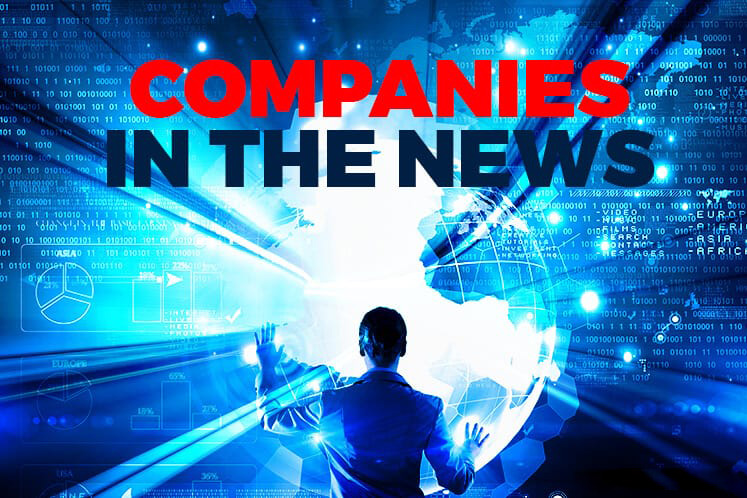 KUALA LUMPUR (May 5): Based on corporate announcements and news flow today, companies that may be in focus tomorrow (May 6) include AT Systemization Bhd, CIMB Group Holdings Bhd, Dufu Technology Corp Bhd, KLCCP Stapled Group, Malayan Banking Bhd, MCE Holdings Bhd, Nestle (Malaysia) Bhd and Uzma Bhd.
AT Systemization Bhd's wholly-owned unit AT Precision Tooling Sdn Bhd signed a memorandum of understanding (MoU) with Shanghai JieNaXin Mech & Elec Equipment Co Ltd (JNX) to produce high precision tooling parts for melt-blown non-woven fabric mask making machines.
In particular the collaboration would focus on designing different types of spinneret — a critical component used in the manufacture of three-ply face masks.
CIMB Group Holdings Bhd announced that CIMB Bank Bhd and CIMB Islamic Bank Bhd will be cutting their base rate (BR), fixed deposit (FD) and Fixed Return Income Account-i Board rates by 0.5% following Bank Negara Malaysia's (BNM) overnight policy rate (OPR) cut.
According to its website, its BR is currently 3.5% while its BLR and BFR are currently 6.35%. All rate changes will take effect on May 13.
Dufu Technology Corp Bhd's 1QFY20 net profit more than tripled y-o-y to RM14.14 million, from RM4.17 million, due to higher revenue and unrealised forex gain, with a stronger greenback helping. Quarterly revenue rose 27.55% y-o-y to RM62.95 million, from RM49.35 million.
KLCCP Stapled Group saw its 1QFY20 net profit decline 3.85% to RM176.88 million, from RM183.96 million a year prior, due to the negative impact of the Covid-19 pandemic on its hotel segment. Quarterly revenue was down 0.32% y-o-y at RM354.59 million, from RM353.45 million. It is proposing a distribution per stapled security of 8.3 sen — composed of 5.84 sen for KLCC REIT and 2.46 sen for KLCC Property — payable on June 18.
Malayan Banking Bhd (Maybank) is cutting its base rate (BR) and base lending rate (BLR) effective May 8. The BR will be cut to 2%, from 2.5% previously, while the BLR will be lowered to 5.65%, from 6.15%. This follows BNM's 50 basis-point cut in its OPR to 2%, from 2.5% previously. 
Its Islamic BR will also be reduced downwards to 2% per annum from 2.5% per annum previously while the BFR will drop to 5.65% per annum from 6.15% per annum previously.
Fixed deposit rates for both conventional and Islamic fixed deposits will also go down by 50bps.
MCE Holdings Bhd has bagged a contract from Perodua to supply electronic and mechatronic components and parts for the local marque's new models. The contract is expected to generate RM34 million in revenue over six years, while the estimated total investment cost is RM2.2 million. The contract begins in the first quarter ending July 31, 2022.
Nestle (Malaysia) Bhd's 1QFY20 net profit fell 20.8% to RM186.31 million, from RM235.22 million a year earlier, as a result of Covid-19, higher commodity costs and earlier Chinese New Year timing. Revenue slipped 1.3% to RM1.43 billion from RM1.45 billion as a result of domestic sales contraction.
Chief executive officer Juan Aranols said that the group is committed to its 95% dividend payout policy amid a challenging environment.
Uzma Bhd saw Urusharta Jamaah Sdn Bhd cease to be a substantial shareholder after the latter disposed of 1.17 million Uzma shares on March 23, reducing its stake to 15 million shares or a 4.69% stake. Uzma's other substantial shareholder is Tenggiri Tuah Sdn Bhd (controlling 34.54%) and Creador Sdn Bhd chief executive officer Brahmal Vasudevan (who controls over 5.16%. Tenggiri Tuah is the vehicle of Uzma's CEO Datuk Kamarul Redzuan Muhamed. Urusharta Jamaah is a special-purpose vehicle set to take over assets previously owned by Lembaga Tabung Haji.