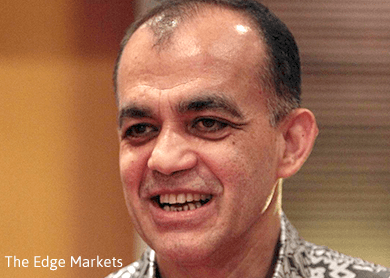 KUALA LUMPUR (May 6): Well-connected tycoon Tan Sri Syed Mokhtar Al-Bukhary and the Umno-owned newspaper group Utusan Melayu are battling to buy the government printers Percetakan Nasional Malaysia Bhd (PNMB) which has been put up for sale.
The Malaysian Insider understands that Sutera Bakti Sdn Bhd, which is linked to Syed Mokhtar, and Utusan Prisma Sdn Bhd – a dormant company linked to Utusan, are the front runners to buy PNMB for an undisclosed sum.
Both Syed Mokhtar, who owns the MPH group, and Utusan with a stake in Utusan Printcorp, are in the lucrative printing industry and either buyer could face anti-trust probe from Malaysia's tough anti-competition regulator, said sources.
"Both companies have been given the nod to bid for PNMB. There is no open tender for the sale," a source told The Malaysian Insider in Kuala Lumpur.
"There could be anti-trust issues because both companies have owners who are already in the same business. It could lead to one company monopolising business, especially government business," another source said.
PNMB has contracts with government ministries and departments to print books and other materials, apart from being a security printer for passports and other government documents.
It also has a contract to supply MyKad to the Home Ministry and the Royal Malaysian Customs Department. It is understood the contracts are worth nearly RM500 million, making PNMB an attractive purchase.
"There could be other options but right now, these two companies are leading the race to take over PNMB," one source added.
It is not known when the government will decide on the sale but sources said it could be wrapped up as early as June. PNMB has printing facilities in Sungai Besi, near the Utusan Melayu's printing press.
The Star reported last year that Datasonic Bhd was eyeing PNMB as it was seen as a perfect fit to the company's core business as manufacturer and supplier of security cards.
Then, it was also believed that a joint venture between pension fund Kumpulan Wang Persaraan (KWAP) and a company linked to Syed Mokhtar had submitted a bid to acquire PNMB.
PNMB is wholly owned by the Ministry of Finance Inc and was once identified as one of the potential companies to be listed on Bursa Malaysia. Traders said the company was eyeing bigger and more lucrative projects.
There has also been talk of a management buyout but it has not materialised. The government is said to be selling off companies to top up revenue lost from low global oil prices, sources said.
The sources said Syed Mokhtar's joint venture was not favoured initially as the group has taken over a number of government-owned firms and there was fear the group is over-leveraged. His group's last major purchase was Penang Port and the Proton carmaker conglomerate.
The Utusan unit is also a cause of concern as Utusan Printcorp, which is 40% owned by the publishing group, bought Malaysia's first Internet provider Jaring Communications Sdn Bhd last year for RM2 million but the company is now in liquidation.
The Ministry of Finance Inc had sold Jaring for the small sum despite it being valued at RM100 million and with ongoing corporate contracts. Jaring is being wound up after the CIMB banking group acted over some debts. – The Malaysian Insider