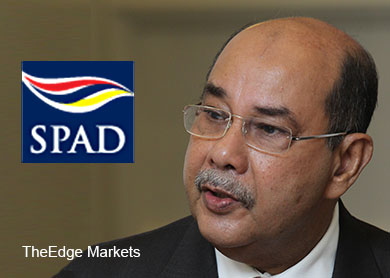 KUALA LUMPUR (Nov 4): The Land Public Transport Commission (SPAD) has dismissed reports that the Kuala Lumpur-Singapore high-speed rail (HSR) project may be delayed, after previously hinting that there may be a delay to the completion of the project.
In his opening remarks at the "High Speed Rail Seminar: Sharing 50 Years' Experience of the Shinkansen" today, SPAD chairman Tan Sri Syed Hamid Albar said the question of delay does not arise as the project has yet to begin.
"I wish to reiterate that our plan to complete it (the KL-Singapore HSR project) by 2020 is still on track," he said.
"The question of whether the date is going to be met or not does not arise yet. There is no question of delay because the project has not started.
"Only when we go to the market and the parties to construct or undertake the project have been identified, and if the timeline is not met, then that would be (considered) a delay," he added.
He said the Singapore government is looking into the details of the proposed project, and hinted that there are "economic and political sensitivities" that need to be resolved first.
"Singapore is looking into all the details as it involves two sovereign states which haave their own economic and political sensitivities that we have to handle and resolve," he added.
However, upon further queries raised by reporters after his speech, Syed Hamid said there are no issues so far arising between two countries and the working relationship has been affable.
"In my own experience under the current leadership, (both parties) seem to be working really well and at the official level, discussions have also been very good, very positive, very constructive and the atmosphere has been very friendly," he added.
Bloomberg had on Oct 29 reported Syed Hamid as saying that while Malaysia initially targeted 2020 for the line to be completed to coincide with its plan to be a developed nation, it recognises there may be "problems" with the original timeline.
"There are more elements than just construction that the governments need to study," he had said.
The Edge Review had also reported that funding and bilateral issues between the two neighbouring countries may delay the completion of the project.