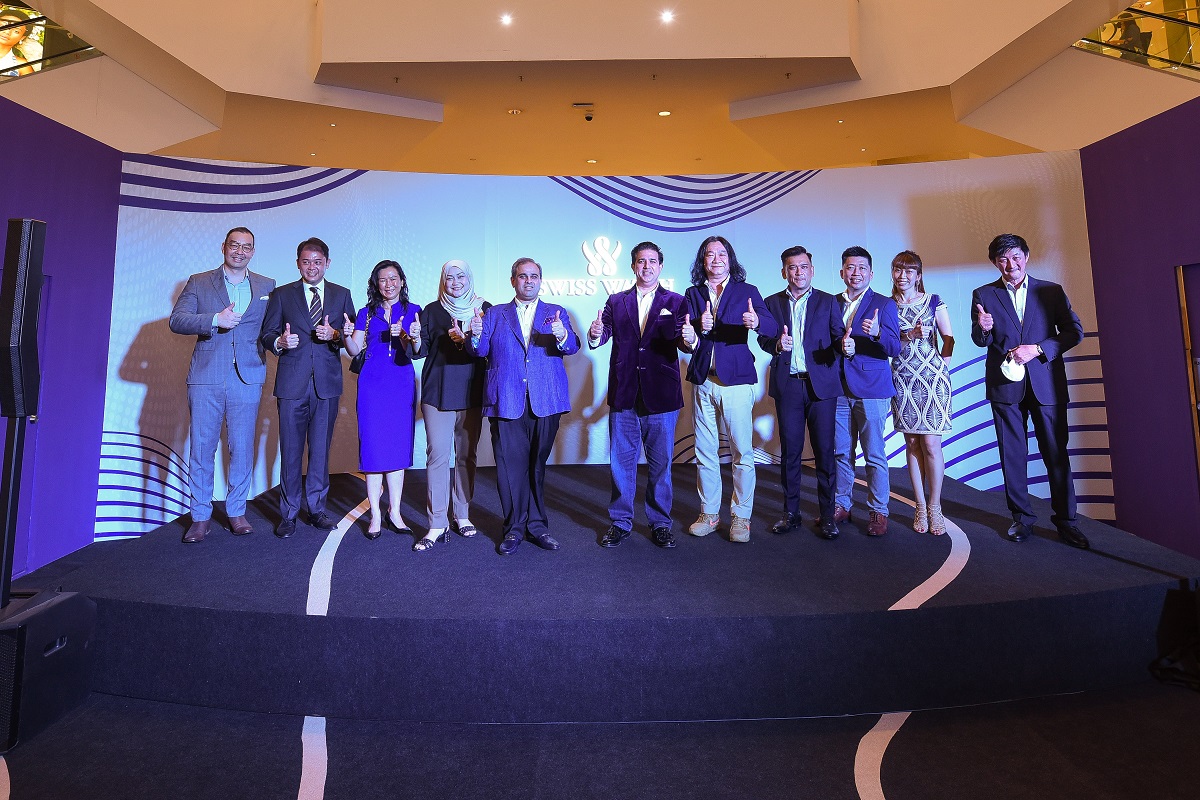 KUALA LUMPUR (Oct 21): Swiss Watch's signature timepiece event Art of Time has returned to Pavilion Kuala Lumpur for its seventh edition to enthrall Malaysian watch lovers once again.
The showcase headlined by Arnold & Son, Bell & Ross, Breitling, Graham, IWC Schaffhausen, Jaeger-LeCoultre, Panerai, Tudor, Ulysse Nardin and Zenith will provide visitors a glimpse into the watchmaking world.
It also marks the start of Swiss Watch's milestone anniversary of providing two decades of passion into the luxury watch community in Malaysia and beyond.
Art of Time 2021 was officially launched on Wednesday (Oct 20) by Valiram Group executive director Ashvin Valiram, witnessed by representatives of brands partners and event partners as well as guests.
Luxury and lifestyle retail Valiram owns and operates Swiss Watch.
In conjunction with Art of Time, Swiss Watch showcased a collaboration by two Malaysian artists — Anniketyni Madian and Nor Tijan Firdaus — both highly respected personalities in the local art scene.
Swiss Watch said the talented women had used their art forms to highlight important issues, such as social change and sustainability.
It said in this collaboration with Swiss Watch, both Anniketyni and Nor Tijan brought "time" to life, with their individual interpretations of time through their respective art forms and craft.
Valiram said Anniketyni and Nor Tijan's passion and commitment towards the arts and their craft are synonymous with Swiss Watch's dedication to celebrate the creative spirit that goes into the creation of each beautifully crafted timepiece.
He said Anniketyni is currently ranked as perhaps the foremost sculptor of her generation, with an innate ability to bring a sense of movement and fluidity into what is considered a hard, inflexible material.
"Her boundary-pushing woodworking techniques and elaborately designed sculptures also draw close resemblance to the intricate art of watchmaking.
"Nor Tijan, on the other hand, has been making waves as a full-time contemporary artist with her masterful play of mixed media, especially e-waste," he said.
Art of Time by Swiss Watch will transform Pavilion Kuala Lumpur's concourse area into a 4,273 sq ft contemporary and immersive gallery.
This year's exhibition design takes inspiration from the Piazza del Campidoglio, an architectural achievement bordered by three buildings which uses clever illusion tricks in perspective and perception to make the space seem more perfect than it is and recognised as one of the most beautiful squares in the world.
Valiram said through Art of Time, the exhibitors are looking to evolve customers' interest in watches and fuel their passion.
"It goes without saying that the changing landscape of the world we live in today has brought countless setbacks to organising such an exhibition today.
":It has pushed us out of our comfort zone, and we are proud that this year, we have a strong line-up of some of the most iconic names in the world of luxury watches," he added.
He said visitors can expect a collection comprising noteworthy pieces such as the Arnold & Son Luna Magna Gold, Graham Chronofighter Vintage Emergency Gold 2021, IWC Portugieser Constant Force Tourbillon Double Moon and Jaeger-LeCoultre Dazzling Rendez-Vous Moon, to name a few.
"Visitors will be guided into gaining a deeper understanding of Arnold & Son's high-complication pieces and the synergy between sports and timekeeping with Panerai.
"They will also be led on a discovery of IWC Schaffhausen's ties to aviation and its collaboration with the world's foremost precision flight teams, and witness how Tudor sets a new standard for affordable luxury and more," he said.
This year's exhibition is also enhanced with digital technologies through the introduction of AR Watches that allows shoppers to experience watches from 10 participating brands on their wrist through their phones.
The AR Watches are integrated with a specially designed photo booth located at the Bukit Bintang entrance of Pavilion Kuala Lumpur.
Shoppers are invited to capture their Instagram-worthy moments of these watches on their wrist in front of alluring backdrops as well as share photos taken with these AR Watch filters on Instagram with the hashtags #SwissWatch20Years and #ArtofTime2021.
The most creative post stands to win a luxury timepiece worth RM20,000 or more.
Other shopping privileges at Art of Time include up to RM3,000 Valiram gift certificates with any purchase, an up-to-24 months interest-free payment plan and five times reward points for Affin Bank credit card holders.
Art of Time debuted in 2011 to commemorate the 10th anniversary of Swiss Watch.
Art of Time 2021 is presented by Swiss Watch in collaboration with Affin Bank, Maybank, Delonghi, Mercedes-Benz by Hap Seng Star, PACE and Pernod Ricard.
It runs from Oct 18 to 31, 2021 at Centre Court, Pavilion Kuala Lumpur.