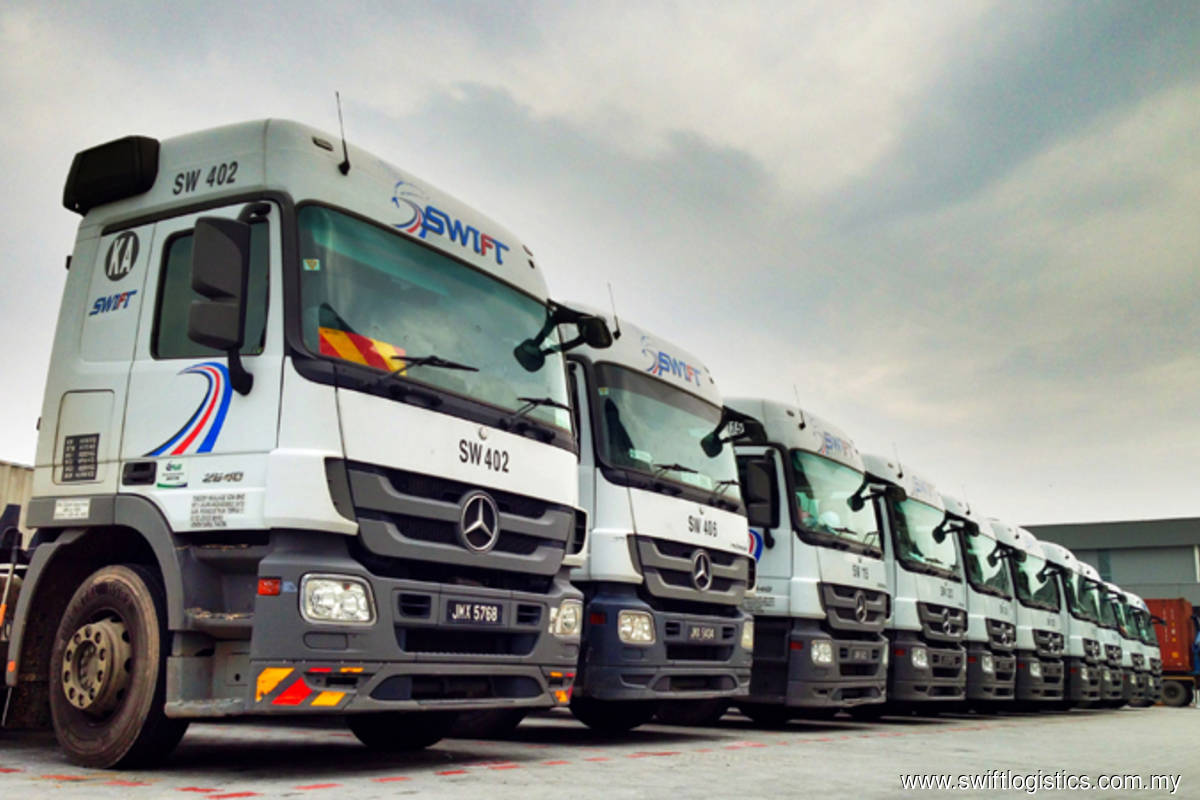 KUALA LUMPUR (Nov 30): Logistics services provider Swift Haulage Bhd, which is set to list on the Main Market of Bursa Malaysia on Dec 21, has confirmed that it has attracted nine cornerstone investors for its initial public offering (IPO).
Slated to raise RM161.9 million at an issue price of RM1.03 per share, Swift Haulage's IPO will be one of the largest this year, the group noted in a statement on Tuesday (Nov 30).
The total market capitalisation of the group upon its listing would be approximately RM916.5 million.
The Edge, quoting a source, reported on Nov 15 that Swift Haulage had secured nine cornerstone investors for its IPO.
Confirming this on Tuesday, the Kumpulan Wang Persaraan (Diperbadankan) (KWAP) investee said the cornerstone investors have taken up about 58.7% of the institutional offering (excluding the shares offered to Bumiputera investors approved by the Ministry of International Trade and Industry).
The cornerstone investors are AIA Bhd, AmFunds Management Bhd, AmIslamic Funds Management Sdn Bhd, Areca Capital Sdn Bhd as fund manager of Areca Dynamic Growth Fund 10, Kenanga Investors Bhd, HSBC Global Asset Management (Hong Kong) Ltd, Nikko Asset Management Asia Ltd, UOB Asset Management (Malaysia) Bhd and Zurich Life Insurance Malaysia Bhd.
Swift Haulage said it first started in 2011 with container haulage and land transportation.
"Over the past decade, we have grown into a major integrated logistics service provider in Malaysia with a staff strength of 3,284, a fleet of 1,546 prime movers, 5,518 container trailers and 811 box/curtain-sider trailers.
"Additionally, Swift Haulage boasts a warehousing space (owned, leased and third party management) of more than 2.7 million square feet and container depot capacity of 28,500 TEUs," said Swift Haulage group chief executive officer Loo Yong Hui.
"Our impending listing on Bursa Malaysia comes at an opportune time as global economic recovery continues. I would like to thank our investors for their overwhelming support and have no doubt that this will enhance Swift Haulage's reputation and brand presence," he added.
In an IPO document filed with Bursa Malaysia, Swift Haulage said that from the proceeds raised, RM69.73 million will be allocated for repayment of bank borrowings, RM41.56 million to purchase land and RM28.56 million for the construction of a new warehouse in the Port Klang Free Zone.
Meanwhile, RM12 million will be used for the purchase of prime movers to expand its commercial vehicle fleet and the remaining RM10 million for estimated listing expenses, according to the group.
On the purchase of land, the group said it entered into a share sale agreement on May 28 to acquire the entire equity interest in Ann Joo Properties for a total consideration of RM10 million. The acquisition was completed on July 15.
"Ann Joo Properties has, among others, leased the Bandar Sultan Sulaiman land from the developer, PKNS. As part of the lease agreement for the Bandar Sultan Sulaiman land, Ann Joo Properties has the option to purchase the Bandar Sultan Sulaiman land from PKNS."
Swift Haulage said the group's strategy is also to purchase new prime movers for its business operations in Malaysia throughout 2022 with the aim of expanding its commercial vehicle fleet.
"These prime movers are similar to the ones that we currently own and operate to provide our integrated logistics services. We intend to purchase 30 new prime movers, which are estimated to cost RM12 million, by using our IPO proceeds," the group said.
The IPO involves the sale of 314.14 million shares, comprising 157.14 million new shares and 157 million existing shares.
Up to 275.2 million shares will be involved in the institutional offering, representing 30.93% of the enlarged share capital, with 157 million existing shares being offered to institutional and selected investors. The remainder of the institutional offering comprising 118.2 million new shares will be offered to institutional and selected investors, including bumiputera investors.
The retail offering comprises 38.93 million new shares, representing 4.37% of the enlarged share capital. Of this, 17.79 million new shares will be made available for the Malaysian public via balloting, of which at least 8.89 million new shares will be earmarked for bumiputera investors. The remaining 21.13 million new shares will be made available to eligible directors, employees and other persons who have contributed to the success of Swift Haulage.
Swift Haulage said applications for the issue shares under the retail offering opened on Tuesday (Nov 30) and will remain open until Dec 7.
MIDF Amanah Investment Bank Bhd is the principal adviser, joint lead bookrunner, joint bookrunner, managing underwriter and joint underwriter for the IPO.
Read also:
Swift Haulage secures nine cornerstone investors for RM160m IPO — source
S Kanagaraju & Surin Murugiah