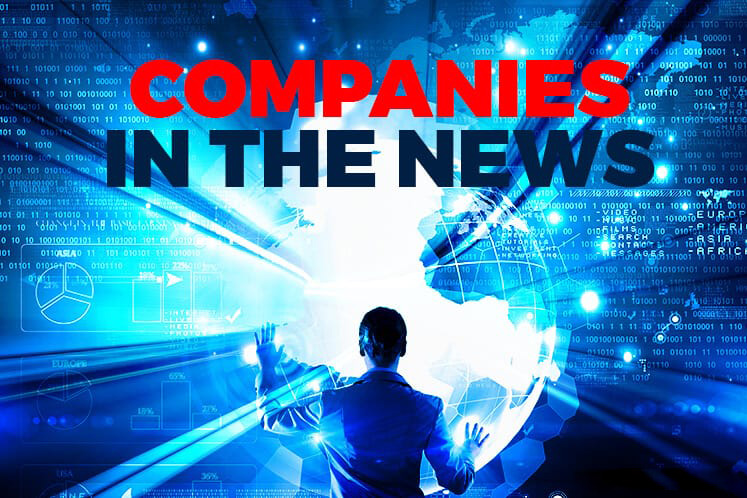 KUALA LUMPUR (Nov 24): Based on corporate announcements and news flow today, stocks in focus on Monday (Nov 27) may include: Supermax Corp Bhd, Top Glove Corp Bhd, Adventa Bhd, Berjaya Food Bhd, Time Dotcom Bhd, Eita Resources Bhd, Chemical Company of Malaysia Bhd, Ann Joo Resources Bhd, Sime Darby Bhd, UMW Oil & Gas Corp Bhd, Malaysia Airports Holdings Bhd, SKP Resources Bhd and Damansara Realty Bhd
Supermax Corp Bhd's group managing director Datuk Seri Stanley Thai Kim Sim was sentenced to a five-year jail term and fined RM5 million for insider trading.
The Sessions Court convicted Thai, who was formerly the  managing director of APL Industries Bhd (APLI) along with former remisier Tiong Kiong Choon. He was convicted of communicating non-public information between Oct 26, 2007 and Oct 29, 2007 to Tiong.
Supermax said the court has granted a stay of execution and an appeal has been filed against the conviction and sentence.
Top Glove Corp Bhd has entered into a term sheet with Adventa Capital Pte Ltd to acquire the entire equity interest in glove manufacturer Aspion Sdn Bhd.
Top Glove said Adventa Capital wholly owns Aspion, which manufactures surgical, medical, medical examination and protection gloves.
Top Glove said: "The purpose of the term sheet is to set out the indicative terms of the proposed transaction and for both parties to further negotiate exclusively with each other with a view to enter into a definitive sale and purchase agreement for the proposed transaction and other ancillary documents needed to effect the proposed transaction."
Berjaya Food Bhd is exiting the Kenny Rogers restaurant business in Indonesia with the disposal of a 99.9% stake in PT Boga Lestari Sentosa.
BFood said the disposal provides an opportunity for the group to divest its non-profitable foreign investment and recover a portion of the inter-company debt.
Time Dotcom Bhd's net profit for its third quarter ended Sept 30, 2017 dropped 49% to RM28.23 million from RM55.38 million in the previous year, owing to higher margins that were received from one-off revenues in the previous corresponding quarter.
It had also recorded lower interest income, higher interest expenses as well as a net loss on foreign currency exchange compared to a net gain in the corresponding period, the group said in a filing today.
Revenue grew 4% to RM203 million from RM194.73 million a year ago, which the group attributed to solid growth in data and data centre product segments, despite having no one-off Indefeasible Rights of Use sales recorded in the current quarter.
For the cumulative nine months, net profit shrank 60% to RM117.16 million versus RM292.77 million in the previous period, while revenue grew 15% to RM626.73 million from RM545.36 million a year ago.
Moving forward, the company expects the telecommunications industry to remain competitive and challenging in the remaining months of 2017 as traditional revenue streams continue to be threatened and telecommunication service offerings become more and more commoditised.
Eita Resources Bhd secured a sub-contract worth RM14.46 million to supply and install lift systems for a 68-storey office building.
Eita said its wholly-owned EITA Elevator (M) Sdn Bhd received a letter of award from Synergy Promenade Sdn Bhd to supply and install 18 units of lifts for the  building located on Jalan Perumahan Gurney in Kuala Lumpur.
Eita expects to complete the sub-contract by Sept 9, 2019.
Chemical Company of Malaysia Bhd (CCM) returned to the black in 3QFY17 with a net profit of RM8.2 million versus a net loss of RM20.65 million in 3QFY16, mainly due to the absence of its disposed loss-making fertilizers division.
Quarterly revenue stood at RM88.12 million, up 17% compared with RM75.51 million in the corresponding quarter last year, mainly due to improved revenue from its chemical business.
For 9MFY17, the group's cumulative net profit jumped more than seven-fold to RM22.84 million, from RM3.06 million for the same period last year, while revenue came in at RM261.48 million, up 17.4% from RM222.64 million in 9MFY16.
On prospects, CCM said it will continue to evaluate opportunities within the respective markets to ensure growth for its chemicals and polymer business.
Steel maker Ann Joo Resources Bhd's net profit for 3QFY17 more than doubled to RM47.24 million from RM22.92 million in the previous corresponding quarter last year, in line with revenue growth.
Quarterly revenue jumped nearly 84% to RM595.15 million, from RM323.73 million, contributed by higher selling prices in line with the up-trend of international steel prices.
This brings Ann Joo's cumulative net profit for 9MFY17 to RM149.86 million, 24% higher than RM120.84 million posted in the same period a year ago.
Cumulative revenue, meanwhile, grew 13.4% to RM1.59 billion from RM1.4 billion in 9MFY16.
The listing reference price for Sime Darby Plantation Bhd and Sime Darby Property Bhd shares have been pegged at RM5.59 and RM1.50 respectively.
The shares in both companies will be credited into the Central Depository System accounts of the entitled shareholders on Nov 29 and will be listed on the Main Market of Bursa Securities from 9am on Nov 30.
Trading of Sime Darby Bhd shares will be suspended on Nov 27 to facilitate the distribution of shares under the group's demerger exercise.
UMW Oil & Gas Corp Bhd has returned to the black in3QFY17, after it had been in the red for seven consecutive quarters.
Net profit came in at RM3.4 million in 3QFY17, compared with a net loss of RM135.4 million in the year-ago corresponding quarter.
Quarterly revenue increased by more than three times to RM180.5 million during the quarter from RM49.7 million recorded in 3QFY16.
For 9MFY17, UMW narrowed its net loss to RM151.7 million from RM267.8 million in the corresponding period a year ago, while revenue grew by 47.6% to RM394.7 million from  RM267.3 million registered in 9MFY16.
Moving forward, UMW said the gradual but continuous increase in oil price indicates potential further recovery in the oil and gas industry, albeit at a slow pace.
Malaysia Airports Holdings Bhd (MAHB) posted an over seven-fold jump in its net profit year-on-year for 3QFY17 to RM79.69 million from RM10.67 million, as revenue strengthens amid strong passenger growth group-wide, and as profitability from its Malaysian operations jumped.
Significantly lower taxation and zakat booked during the quarter — down 66% to RM11.03 million from RM32.03 million — also boosted the bottomline.
MAHB reported that quarterly revenue rose 13% year-on-year to RM1.21 billion from RM1.07 billion, as both its airport and non-airport operations registered growth.
SKP Resources Bhd's net profit for 2QFY17 rose 54.4% to RM35.07 million from RM22.72 million a year ago, following a 30.2% rise in quarterly revenue to RM594.16 million from RM456.45 million.
Cumulative six-month net profit jumped 67% to RM68.43 million from RM40.97 million a year earlier, with revenue rising 44% to RM1.12 billion from RM777.01 million.
Moving forward, SKP said it is confident of reporting consistent positive growth in the bottomline, backed by the strong orderbooks from its existing customers and operational efficiency.
Damansara Realty Bhd has received the Economic Planning Unit (EPU)'s approval for the acquisition of a piece of 53.14-acre land in Johor for RM130.3 million.
Damansara Realty said the acquisition forms part of its proposed RM141.5 million settlement agreement with Johor state investment arm Johor Corp, allowing it to reduce its net current liabilities and return its balance sheet to health.
Group CEO Brian Iskandar Zulkarim said with completion of the acquisition, the group has met almost all of its obligations under the settlement agreement with JCorp, and will reduce its net current liabilities by RM132 million.