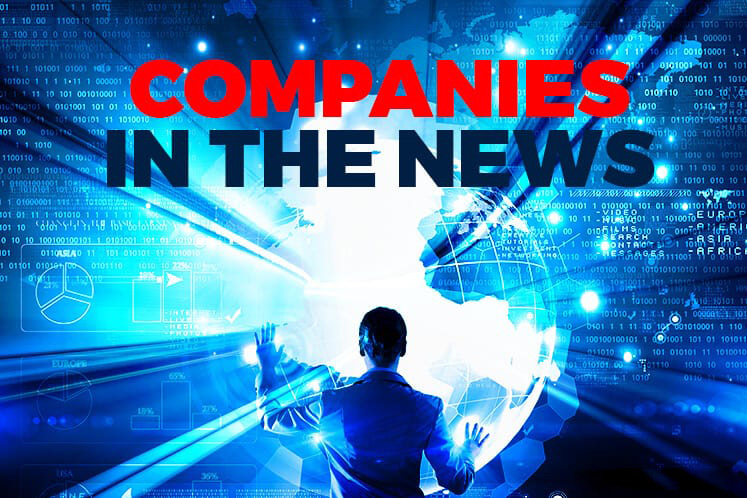 KUALA LUMPUR (Aug 9): Based on corporate announcements and news flow today, stocks in focus tomorrow may include the following: Supermax Corp Bhd, Gamuda Bhd, Kumpulan Perangsang Selangor Bhd (KPS), Sunway Real Estate Investment Trust, Bintai Kinden Corp Bhd, Far East Holdings Bhd, Datasonic Group Bhd, Velesto Energy Bhd, Barakah Offshore Petroleum Bhd, My EG Services Bhd, Ranhill Holdings Bhd, Asdion Bhd and IHH Healthcare Bhd.
 
Supermax Corp Bhd said a succession plan is in place and that its business remains intact after the Kuala Lumpur Session Court today convicted its group executive director Datin Seri Cheryl Tan Bee Geok — who is the spouse of Supermax's founder and former executive chairman and group managing director Datuk Seri Stanley Thai — of insider trading offences involving APL Industries Bhd (APLI) shares.
APLI was one of the companies under the Supermax's group of companies.
Supermax added that it is "business as usual" at the group and the management is confident of maintaining and improving the company's performance in the next few quarters ahead
Gamuda Bhd and Kumpulan Perangsang Selangor Bhd (KPS) announced today that they have resolved to accept the State government's offer for Syarikat Pengeluar Air Sungai Selangor Sdn Bhd (SPLASH), confirming a report by The Edge Financial Daily published on Aug 6.
SPLASH Holdings (Syarikah Pengeluar Air Sungai Selangor Holdings Bhd is the parent of SPLASH) expects to commence negotiations with Air Selangor to finalise the terms and conditions for the sale and purchase of SPLASH, through a share purchase agreement to be executed by Air Selangor and SPLASH Holdings,
Both companies said Pengurusan Air Selangor Sdn Bhd (Air Selangor) and SPLASH are expected to finalise the terms and conditions of the SPA by Sept 14, 2018.
Sunway Real Estate Investment Trust has cautioned of the "fundamentally challenging oversupply situation" brought about by tremendous new supply of retail, hotel, and commercial space in the market, exacerbated by lacklustre foreign direct investments and tourism activities.
The caution came on the back of a 5.36% fall in the REIT's net profit to RM207.11 million in the fourth quarter ended June 30, 2018 (4QFY18) against RM218.84 million a year ago.
An improved performance in the office segment however nudged its net property income (NPI) 1.8% higher to RM100.27 million from RM98.52 million before. Revenue in 4QFY18 rose 2.8% to RM136.25 million from RM132.54 million before, supported by higher average gross rent in Sunway Pyramid Shopping Mall.
For the full year, the REIT's NPI was 8% higher at RM419.93 million, from RM388.82 million in the previous year. Its net profit rose marginally to RM427.69 million from RM424.48 million, while revenue was 7.18% higher at RM560.41 million from RM522.87 million.
It declared a distribution per unit (DPU) of 2.15 sen in 4QFY18 totalling RM63.32 million, payable on Sept 12.
Bintai Kinden Corp Bhd has been appointed subcontractor to undertake works related to the construction of elevated stations for the Mass Rapid Transit 2 (MRT2) project. It anticipates the contract completing by November 2021.
The contract, valued at a provisional sum of RM13.3 million, was awarded to its wholly-owned unit Kejuruteraan Bintai Kindenko Sdn Bhd (KBK), by MRCB Builders Sdn Bhd on Aug 8.
Far East Holdings Bhd has posted a 5% increase in net profit to RM10.52 million for the second quarter ended June 30, from RM10.04 million a year ago. Quarterly revenue fell 4.9% to RM96.12 million from RM101.09 million in 2QFY17.
For the first half, the group posted an 8.5% decline in net profit to RM33.07 million from RM36.16 million in 1HFY17, due to lower crude palm oil (CPO) and palm kernel selling prices, which on average fell 10% and 23% respectively.
Cumulative revenue improved 6.3% y-o-y to RM205.38 million from RM193.28 million, due to higher fresh fruit bunches (FFB) production, and more FFB received and processed by the mill.
Looking ahead, Far East expects a favourable result in view of sustainable CPO prices.
Datasonic Group Bhd is partnering Bahraini company Dynamic Structures WLL (DSWLL) to expand its security business internationally in 18 countries in the Middle East and North Africa (MENA) region.
For this, it entered into a five-year exclusive agency agreement with DSWLL to jointly develop and coordinate business activities of secure identification, personalisation solution, integrated security and surveillance system.
Datasonic will provide the full funding to establish a regional office, while DSWLL will assist Datasonic to obtain the licences, permits, and registrations which are required to commence operations.
The agreement is not expected to see any contribution for the financial year ending March 31, 2019.
Velesto Energy Bhd has bagged two drilling contracts from Petronas Carigali Sdn Bhd with an estimated combined value of US$10.8 million (about RM43.9 million).
It said the letters of award for the provision of drilling rig services for two jack-up rigs, namely NAGA 3 and NAGA 5, were awarded today to the group's unit Velesto Drilling Sdn Bhd.
The provision of the above mentioned services is expected to contribute positively to the earnings and net assets of the group during the contract period for the financial period ending Dec 31, 2018.
Barakah Offshore Petroleum Bhd has been awarded a five-year contract to provide maintenance, construction and modification services for Sapura Energy Bhd's oil and gas fields offshore Peninsular Malaysia.
Its wholly-owned subsidiary PBJV Group Sdn Bhd won the contract from Sapura Exploration and Production Inc to provide the services from 2018 to 2023.
The contract, which is effective July 11, has no fixed value and will be based on work orders, which will be issued by the client from time to time during the duration of the contract.
My EG Services Bhd today confirmed its expansion into Bangladesh, saying it has entered into a joint-venture with two other firms to provide technology and e-government services in that country.
Its wholly-owned subsidiary, MY EG International Sdn Bhd, signed the JV agreement with Bangladesh-based Control Data (BD) Ltd and My Paycheck Sdn Bhd.
Control Data will hold a 55% stake in the JV, while My EG International will have a 40% stake and My Paycheck the remaining 5%.
Ranhill Holdings Bhd has registered a 6.6% rise in net profit to RM15.43 million for the second quarter ended June 30 from RM14.51 million or 1.63 sen a year ago.
Revenue climbed 3.12% to RM379.47 million from RM367.98 million previously, mainly contributed by the environment segment, owing to the increase in the volume of water consumption in SAJ Ranhill Sdn Bhd.
In the first half, Ranhill recorded a 11.1% increase in net profit to RM33.57 million from RM30.21 million in 1HFY17, while its revenue inched up by 2.8% to RM739.76 million from RM719.93 million.
Ranhill said it targets to own and operate power plants that deliver clean energy of 1,000 megawatts (MW), and 3,000 million litres per day (MLD) of water and wastewater treatment capacity, 700 MLD from the international segment by 2022, particularly in China and Thailand.
Asdion Bhd has proposed a private placement of up to 10% of its issued shares, or up to 16.49 million new placement shares, to raise RM3.79 million to pay overdue finance lease liabilities and trade creditors.
Assuming an indicative price of 23 sen per share — a discount of approximately 4.64% to the volume weighted average market price of Asdion's shares for the five market days up to Aug 8, 2018 of 24.12 sen — the proposed private placement is expected to raise gross proceeds of up to approximately RM3.79 million.
IHH Healthcare Bhd's planned purchase of Indian hospital group Fortis Healthcare has been derailed by a court order initiated by Japanese drugmaker Daiichi Sankyo.
"Malvinder and Shivinder Singh, who founded Fortis, were ordered in January to pay 35 billion rupees in damages to Daiichi Sankyo over the sale of Ranbaxy Laboratories, a generic drugmaker. The brothers were found to have withheld critical information from Daiichi Sankyo, when they sold their stakes in Ranbaxy in 2008," Nikkei's report said.
The application could delay the timeline of IHH's acquisition into Fortis.