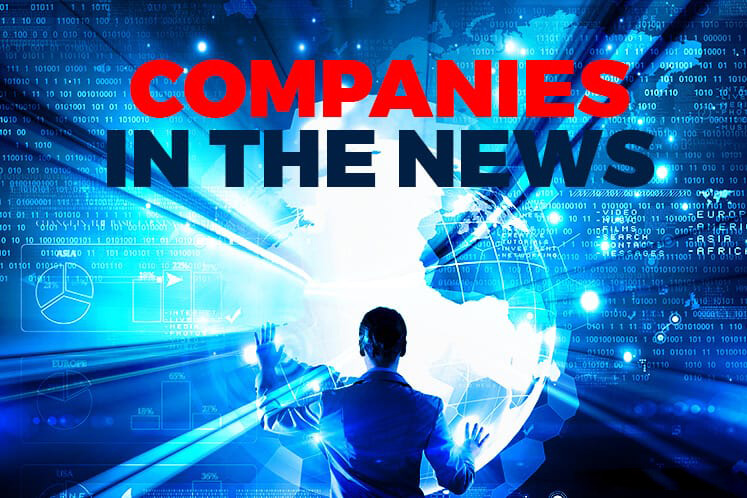 KUALA LUMPUR (June 13): Based on corporate announcements and news flow today, companies in focus on Thursday (June 14) may include: Supermax Corp Bhd, E.A. Technique (M) Bhd, Enra Group Bhd, Petra Energy Bhd, GFM Services Bhd, Mega First Corp Bhd and Gas Malaysia Bhd.
Supermax Corp Bhd, whose shares surged nearly 9% to a record high today, announced that its 70%-owned Japanese unit Aime Supermax KK has been granted the product licence for its contact lenses by the Pharmaceutical and Medical Device Authority of Japan.
The product licence effectively enables the Supermax Group via SuperVision Optimax Sdn Bhd to export the first Malaysian brand contact lens to Japan, one of the world's largest markets for contact lenses.
E.A. Technique (M) Bhd has recently been awarded a contract by Petronas Carigali Sdn Bhd for the provision of a unit of Fast Crew Boat for Petroleum Arrangement Contractors (PACs) Production Operations, shared between Petronas Carigali and EnQuest Petroleum Production Malaysia Ltd.
E.A. Technique said the three-year contract was offered vide a letter of award dated May 24, 2018. The job will start in July.
The services shall be performed on 'Call-Out basis' via an order at an agreed fixed schedule of rates to be shared between the sharing PACs, based on each PAC's actual utilization.
Enra Group Bhd is acquiring International Chemicals Engineering Pty Ltd (ICE), an Australian company involved in importing and distributing specialty chemicals in Australia and New Zealand.
The acquisition price will be a cash consideration of up to A$2.9 million (RM8.7 million) and the assumption of A$1.6 million  of existing shareholders' loans in ICE. The aggregate of these amount to A$4.5 million (RM13.5 million).
Petra Energy Bhd has received a one-year extension on its contract from Petronas Carigali Sdn Bhd for the provision of hook-up, commissioning and topside major maintenance services.
The contract was previously awarded to Petra Energy by Petronas Carigali for a duration of five years from May 21, 2013 to May 20, 2018.
Petra Energy said in its filing to the exchange this evening that the extension granted was from May 21, 2018 to May 20, 2019. No contract value was stated in the announcement.
GFM Services Bhd has won a four-year contract worth RM33.4 million from Pertubuhan Keselamatan Sosial (PERKESO) to provide integrated facilities management (FM) services for PERKESO's Rehabilitation Centre in Malacca through an open tender.
GFM said that the contract is for a period of four years, commencing June 2018 until June 2022.
The Inland Revenue Board (IRB) has appealed against a High Court order dismissing a RM26.33 million tax claim against a unit of Mega First Corp Bhd.
"Mega First wishes to announce that IRB had on June 7, 2018 filed a notice of appeal to the Court of Appeal against the order of the High Court dated May 14, 2018 dismissing the IRB's application for summary judgement," the company said in a bourse filing today.
In October 2016, the IRB had sent notices to Mega First subsidiary Idaman Harmoni Sdn Bhd (IHSB) over additional taxes arising from the sale of a joint venture property in 2004.
IRB argued the disposal was subject to income tax. It said the transaction was treated by IHSB as a capital transaction, which was liable to real property gains tax, and initiated legal proceedings against the company in February 2017.
Gas Malaysia Bhd announced today the revision of natural gas base tariff for the non-power sector in Peninsular Malaysia to RM31.92/MMBtu from RM30.90/MMBtu from July 1 to Dec 31, 2018. Gas Malaysia said the government has approved the natural gas tariff hike.
Gas Malaysia said the government had given its approval, via a letter dated June 12, 2018 from the Energy Commission, for Gas Malaysia to effect the revision of the natural gas tariff. The Energy Commission is also known as Suruhanjaya Tenaga.
The government has prescribed the incentive based regulation framework which sets the base tariff for a regulatory period of three years from January 2017 and allows changes in the gas costs to be passed through via the gas cost pass through (GCPT) mechanism every six months.