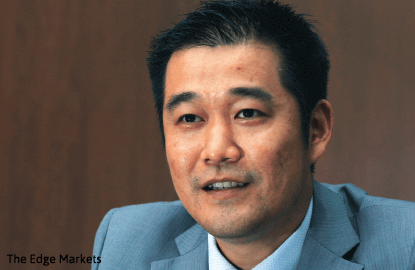 This article first appeared in Corporate, The Edge Malaysia Weekly, on April 18 - 24, 2016.
CLIMATE change is a menace but it also presents a business opportunity for the likes of Superlon Holdings Bhd, a low-profile thermal insulator manufacturer that is expected to finish its financial year ending April 30, 2016, with record-breaking revenue and profit.
According to the group's executive director Liu Han-Chao, there is growing demand for air conditioners and, in turn, the thermal insulation products manufactured by the company as many countries around the world are increasingly hit by extreme weather.
"We hate to say it but global warming is actually good for our business. When the weather is hot, people need air conditioning all the time. There will always be demand for our products because most countries in Southeast Asia do not experience winter," he tells The Edge in his first face-to-face media interview.
Superlon, which is owned by a Taiwanese family and is based in Klang, produces 7,200 tonnes of thermal insulation material a year. The material is a major component of the heating, ventilation, air conditioning and refrigeration (HVAC/R) system for residential, commercial and industrial buildings.
Liu explains that thermal insulation can be used as a vapour barrier against the prevention of condensation or frost formation in cooling systems, chilled water and refrigeration lines, as well as against heat-loss reduction in hot water plumbing, heating and dual temperature piping.
In view of the impact of climate change, Superlon also aims to contribute to a reduction in global energy consumption through its thermal insulation products.
"Insulation itself reduces the energy required to power an air conditioner. Our high-quality thermal insulation materials can give air-conditioning systems a longer lifespan," says Liu.
The 34-year-old Australian was appointed to Superlon's board in 2007 and is also the head of the marketing department where he is responsible for formulating business strategies.
The company was co-founded by Liu's mother, Jessica, who is Taiwanese Australian. She is the group's managing director and CEO and has more than 32 years of experience in the rubber thermal insulation industry.
With a collective 31.58% equity interest, the mother and son own the lion's share of the company.
Non-executive director Yee Wei Meng is the second largest shareholder with a 10.75% stake, after he divested an 8.8% stake between June and November last year.
A little-known individual — Chan Keng Chung — emerged as a substantial shareholder of the company in February with a 5.27% stake.
Superlon's revenue and profit have been on an upward trend in the past few years. Its top line grew from RM58.9 million in its financial year ended April 30, 2013 (FY2013) to RM74.5 million in FY2015 while its bottom line more than doubled from RM4.1 million to RM9.4 million (see table).
Liu says Superlon will likely to achieve records in both its top and bottom lines in FY2016. "Our earnings in the last three quarters have exceeded earnings for the whole of FY2015. We should be able to close FY2016 quite positively."
In the nine months ended Jan 31, 2016 (9MFY2016), Superlon's net profit more than doubled to RM12.9 million from a year ago while revenue rose 24.5% to RM66.8 million. The stronger financial performance was attributed to the ringgit's poor performance against the US dollar.
Today, Superlon, through its wholesalers and distributors, exports its products to some 70 countries in Southeast Asia, the Middle East, Oceania, Africa, Europe and the Americas. It is learnt that more than 90% of its exports are transacted in US dollars while 55% to 60% of its costs are US dollar-denominated.
Moving forward, the company is targeting a top-line growth of 10% in FY2017 as it sees more potential in the emerging markets as well as Southeast Asia and South America.
"We are steadily increasing our exports to Bangladesh, the Philippines and South America. Foreign investors are going into these countries and they are starting to develop infrastructure," says Liu, adding that his personal long-term target is to hit the RM100 million revenue mark within three years.
With a market capitalisation of about RM150 million, Superlon has the largest share — 55% to 60% — of the domestic rubber thermal insulation industry. Its major rivals include Italian firm L'Isolante K-Flex and local company Insulflex Corp Sdn Bhd.
"We can't say we are the largest player in Asia but we are relatively strong in the region. However, in terms of global presence, we would like to think that we are in fourth or fifth place," says Liu.
He recalls that his mother set up a manufacturing plant in Taiwan in the 1980s. From there, Superlon started exporting to other countries, including Malaysia.
"We had a big customer base here (in Malaysia), which is why we decided to shift our headquarters and operations from Taiwan to this country in the early 1990s," Liu says, adding that it was "a bold move" and "a big gamble" for Superlon to relocate to Malaysia but it "turned out good though".
Currently, Superlon is building a new 70,000 sq ft warehouse next to its existing factory, which is slated for completion in FY2017. The company is expected to spend RM12 million to RM14 million, which will be incurred in FY2017 through a combination of internally generated funds and bank loans of 70% to 80%.
In a non-rated March 28 report, MIDF Research analyst Ng Bei Shan highlights that Superlon's net cash level has improved to RM24.22 million, translating into cash per share of 30 sen after dividend payout.
"However, we note that the company might need to tap the cash pile to partly fund the expansion of its new warehouse to be built adjacent to the current factory," she says.
MIDF Research maintains its fair value of RM2.16 as it continues to like management's efforts to enhance its efficiency.
In a Feb 11 report, the Kenanga Research team highlights that Superlon is a potential dividend stock. "While Superlon has yet to implement a dividend policy, the company was able to distribute 51% of its profit in FY2015, leading to a six sen dividend at a 3.2% yield. We are confident that the company can keep up the payout ratio going forward."
Kenanga Research has a "trading buy" call on Superlon and a fair value of RM2.03, representing an upside of 5.73% from its Wednesday close of RM1.92.