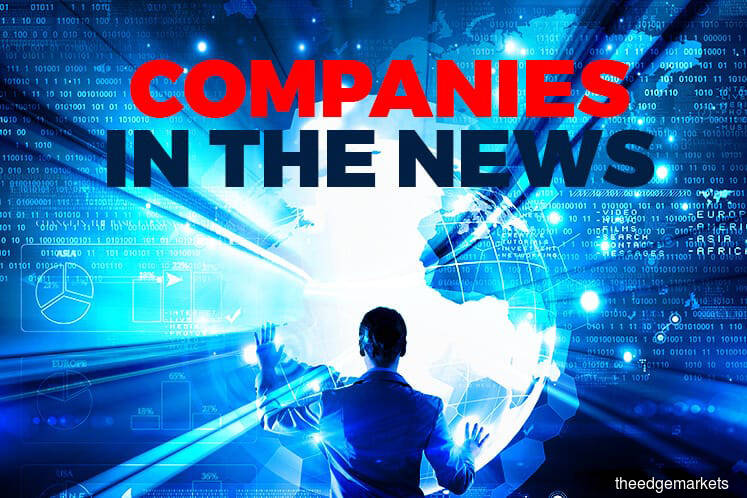 KUALA LUMPUR (July 1): Based on corporate announcements and news flow today, companies that will be in focus tomorrow (Tuesday, July 2) may include: Sunway Bhd, Oriental Interest Bhd, Prestariang Bhd, Merge Energy Bhd, Dialog Group Bhd, Genting Malaysia Bhd, Utusan Melayu (Malaysia) Bhd, FGV Holdings Bhd and Ranhill Holdings Bhd. 
Sunway Bhd has inked a privatisation agreement with the Selangor State Development Corp (PKNS) via its 60:40 subsidiary with the latter, Sunway PKNS Sdn Bhd, to develop a mixed development on a prime 9.5-acre parcel of leasehold land in Kota Damansara. 
The proposed development will comprise serviced apartments and lifestyle retail units with an estimated RM544 million in gross development value (GDV) and is targeted to be completed in 2025. A healthcare centre is also target to be open in the vicinity in 2022.
Property developer Oriental Interest Bhd is buying a piece of land in Kuala Langat district from Sime Darby Plantation Bhd for RM40.11 million, which is to be satisfied by internally-generated funds and bank borrowings. The 423,402-square metre land is currently planted with oil palm trees. 
The purchase, via Oriental Interest's 70%-owned subsidiary Myra Land Sdn Bhd, is part of the group's "future expansion with regards to its strength and niche in the property development market in the central region of Peninsular Malaysia" Oriental Interest said.
Prestariang Bhd, which is suing the government for terminating the RM3.5 billion National Immigration Control System (SKIN) it was installing for the Immigration Department, has just been awarded another contract by Putrajaya.
The group said the RM22.94 million contract is to supply Microsoft software licences, products and services to the Ministry of Education, under the Master Licensing Agreement (MLA) 3.0, for a one-year period.
Merge Energy Bhd has accepted a contract worth RM26 million from federal government agency Pengurusan Aset Air Bhd (PAAB) to undertake connection and installation works for the Langat 2 water treatment plant.
Scheduled for completion on July 23, 2020, its wholly-owned subsidiary Mewah Kota Sdn Bhd will be undertaking connection works to the existing system and mild steel pipe installations as part of the Langat 2 water treatment plant and water reticulation system in Selangor and Kuala Lumpur.
Dialog Group Bhd has been awarded a master service agreement from Petroliam Nasional Bhd (Petronas), in relation to plant maintenance and turnaround works for the national oil firm's plants, groupwide.
The contract covers integrated plant turnaround works and daily mechanical static maintenance work and is valid for a period of five years, with an option to extend by Petronas.
Videos of a fire at Genting Malaysia Bhd's new indoor theme park, the Skytropolis Funland, which just opened about eight months ago, have gone viral on social media and WhatsApp. The seven-second and 13-second videos show fire engulfing the landscaping that had plastic flowers near the escalators.
Utusan Melayu (Malaysia) Bhd has announced the sale of a second apartment unit in Jakarta to help fund its voluntary separation scheme (VSS). 
The Practice Note 17 (PN17) status company is selling the unit, measuring 277.97 square metres, in the Belezza Permata Hijau apartment building, to an individual buyer for 4.65 billion rupiah (RM1.35 million), and is expected to result in a net gain of RM84,011. 
FGV Holdings Bhd has aborted its plan to jointly develop a model to ensure palm oil sustainability with US consumer goods giant Procter & Gamble (P&G) and five other organisations. 
This follows the expiry of the memorandum of understanding (MoU) entered into between FGV together with P&G, as well as World Resources Institute (WRI), Malaysia Institute for Supply Chain Innovation (MISI), Wild Asia, Proforest Initiative and sustainable development consulting firm Daemeter. 
The MoU, signed on Dec 31, 2015, was to facilitate collaboration in developing the Smallholder Supply Chain Risk Assessment Model (SHRAM).
Ranhill Holdings Bhd, via its wholly-owned unit Ranhill Water Services Sdn Bhd (RWS), has secured a two-year contract worth RM151.5 million for non-revenue water (NRW) reduction in Johor. 
Ranhill said the project, which is expected to be completed by June 30, 2021, was a related party transaction as it was awarded by its 80%-owned subsidiary Ranhill SAJ Sdn Bhd (RanhillSAJ), after a competitive open tender process.