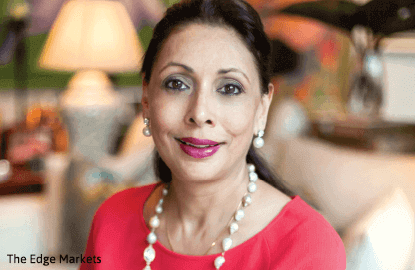 This article first appeared in haven, The Edge Malaysia, on Issue #77 February + March 2016.
Entrepreneur Priti Devi says dressing your home is easy if you buy what you love and prioritise quality — and she shows you how to with her luxury home accessory and interior styling portal, Decorator's Notebook
It is décor that turns one's house into a home, be it ever so humble, with a touch of chic and elegance. Not only does it express the personality of its inhabitants but it is also a depository of memories and experiences in the form of framed pictures, pieces of art, collectibles and furniture. 
"Whether you are a vibrant personality or a restrained, elegant one, that's what your home should reflect. It should also reflect things that make you who you are — your travels, your experiences," says Priti Devi, owner of the newly launched Decorator's Notebook.
If there was any one more well-versed in the art of setting up home, it would be Devi, whose career in the international oil and gas industry and that of her banker husband has seen them move and travel frequently around the world. Wherever they laid their hat, she always worked to ensure that the family home was cosy and beautiful at the same time. 
"I've always loved design and can spend hours in interior design stores," she confesses. "Friends too would always ask for my help or advice on decorating their home. So when I decided to opt out of the corporate world, it seemed like the most natural thing to do."  
Decorator's Notebook is essentially a black book of luxury home accessory and interior styling. The e-commerce site presents a meticulously curated collection of bespoke, handmade accessories sourced from all over the world, inspired by Devi's own experience in trying to furnish her new home in Singapore where she is currently based. Unable to find unique, inspiring pieces by interesting independent designers with which to dress her home, she started looking overseas, and from there cultivated an amazing directory of designers and craftsmen. 
Launched last April, Decorator's Notebook has a healthy following, both on Instagram and Facebook on top of website hits. Orders have thus far been shipped to New York, Switzerland, Indonesia, India and Singapore with queries received from a number of potential customers from other countries. 
A visitor to Devi's home will notice how all the elements blend together seamlessly. Careful thought has been given to the colours, furniture and accents, and the house exudes elegance but also has a dash of fun. The pieces in the home — from the dinnerware, cushions and glassware to fragrances, photo frames and furniture — are available in Decorator's Notebook.
"My home is full of things we've collected from around the world and they blend in with everything we have around us," says Devi, a member of the Indian royal family of Kapurthala. "My own heritage comes into play, so there is a sense of refinement. I like doing things elegantly.
"My mother is my biggest style influence — she was such an elegant and graceful figure in the home, and you are usually influenced by what you're exposed to and surrounded by growing up."
Devi describes her own style as understated and elegant, strongly influenced by her heritage, travels and penchant for art and nature. She loves classic and contemporary design and abhors anything overly modern and abstract. Minimalism is tolerated to a certain level but colour is always embraced and celebrated. 
In constant pursuit of classy and distinctive pieces, quality is key to Devi, who sources all the products herself. "I was taught from a very young age to always buy quality. I look at every detail, stitching and finishing down to the clip behind a photo frame. You buy quality and it will last for years — we have moved our things all over the world and they are still with us now," she says. 
Friends and family see a lot of Devi's style in the carefully curated selection on Decorator's Notebook — eclectic, tasteful and befitting any style. 
"I find accessorising such an interesting aspect in decorating. You don't have to adhere to a single style — you can mix a traditional piece with a contemporary expression. It helps to put a space together and adds character to your home," she says, adding that Italy is one of her most favourite countries to source from, as is South Africa. 
"I have had the privilege of seeing some beautiful, unique handmade products and meet some inspiring young artisans during my extensive travels," explains Devi. "The world is filled with so many traditions and cultures that you can find really beautiful products in every country." 
Decorator's Notebook debuted with a range of items that can be mixed and matched or stand individually. Among other things, it carries a horn and lacquer range culled from a decades-old Italian atelier based in Recanati, whose team of about 20 master craftsmen create objects fashioned out of sustainably sourced horn, using centuries-old cutting and polishing techniques.
The horn is worked over open fires and each piece passes through at least 12 pairs of hands before it is finished. The result is stunning polished lacquer and wenge-wood home accessories embellished with polished horn from Africa.
The horn is a completely natural product. It comes from cattle and not endangered animals. The process of creating the objects is not toxic. In fact, the end waste is used in organic agriculture, making each beautiful piece completely environmentally friendly, an added dimension to luxury that is rare to find in these modern times.
Decorator's Notebook also stocks rare, hand-blown, candy-coloured vases from Germany and Sweden that would make a gorgeous addition to any room. The wine glasses, jugs and tumblers from the Netherlands can be paired with the chic dinnerware.
Home fragrances are an essential aspect of home décor, setting the mood for any occasion. Decorator's Notebook works with artisanal specialists from India, Istanbul and Singapore to provide eco-friendly fragrances infused with aromatic flowers, exotic spices and fresh fruit, organic soy-scented candles and scented room diffusers.
Moreover, bespoke furniture made of unusual materials, such as shagreen, polished coconut shell and mother of pearl, has been selected from contemporary British designer Charles Orchard's assemblage. Many of Orchard's pieces adorn the homes of Hollywood A-list stars and the elite across the world.
"Whatever it is, buy what you love. And you must always buy quality products," stresses Devi. "I am a quick shopper — I can instantly see if something will fit my home or not. When do I know I've fallen in love with a piece? When I have to go back and get it." 
Devi also wants Decorator's Notebook to be a platform for new and emerging designers, especially young females. "There is so much young talent and when I meet them and see their beautiful things, I encourage them to work with us. Marketing is the most difficult part for any up-and-coming designer, so if they have a connection with someone with an e-commerce platform, I always tell them to ride with them," she explains. "As long as we have synergy, I would love to have them on my website. They need help and I am willing to take over their marketing burden." 
In her transition from corporate life, Devi worked in the not-for-profit sector for a while, heading Freedom to Create, a global foundation promoted by private investor Richard Chandler that focuses on raising awareness of social injustice in some of the world's most challenging countries. It is not surprising then that Decorator's Notebook is more than just an e-commerce venture. Its Luxe Woman section, Devi says, is devoted to high-end contemporary women's accessories by emerging female designers from around the world. The current collection includes jewellery and handmade leather handbags. Furthermore, the boutique retails a collection of black-and-white photography in collaboration with wildlife photographers who support the conservation of declining populations of iconic species like the rhino, tiger and elephant.
About 2% to 5% of the sales of Luxe Woman and Wildlife Photographs items go directly to organisations that work to prevent the trafficking of women and children, and support the conservation of tigers, rhinos and elephants.
Says Devi, "Yes, I do look at the ethics and value chain of the products I sell — I believe if I can do something and get my audience and customers to contribute as well, we can help make the world a better place." 
For more, go to www.decorators notebook.co.
From the Decorator's Notebook
Priti Devi's top five pointers for decorating a home 
1. Don't try and replicate a look you have seen somewhere else (especially a resort) without taking into consideration all the aspects of your own home — environment, size of your space and the ability to fit in the furniture you might have liked elsewhere.
2. If you are buying some furniture for your first apartment — buy one piece that is classic and of quality, like a bed or writing desk you absolutely love. It will last you a lifetime.
3. Accessories can transform a room — cushions on a sofa, a rug on the floor, photo frames with pictures on the dresser, a painting on the wall.
4. Fresh flowers finish and uplift a room — it's like putting on perfume when you go out…finishes the look!
5. Don't live with clutter, no home can ever be attractive if every space is untidy.