This article first appeared in The Edge Malaysia Weekly, on September 16, 2019 - September 22, 2019.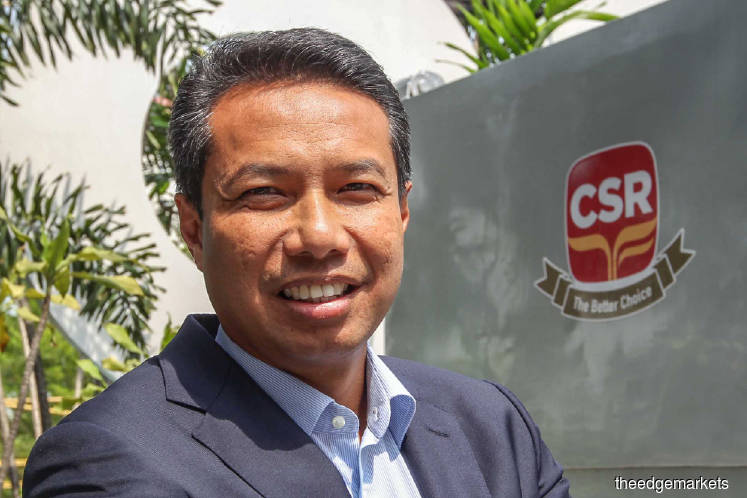 SUGAR refining used to be a sweet business to be in. But it may turn bitter in the coming years if Putrajaya continues its liberalisation push to allow more sugar imports into the country.
For the two local refiners — public-listed MSM Malaysia Holdings Bhd and its unlisted competitor, Central Sugars Refinery Sdn Bhd (CSR) — liberalisation means more competition, which pressures selling prices and may eventually shrink profit margins.
In theory, opening up the sector to more players so that they may import sugar directly for sale may lead to lower sugar costs, particularly for bulk purchasers such as food and beverage (F&B) manufacturers.
CSR managing director Hishammudin Hasan concedes that this may be the case. "If we continue on this path of opening up, eventually, it may be cheaper to import refined sugar."
However, there could be deeper implications in the longer term, he tells The Edge. Among others, a sustained supply of lower-priced imported sugar may hurt local refineries, eventually leading to potential closure and even the potential loss of local capacity to refine sugar.
By then, the country would have an added food security concern as it may be more exposed to global sugar price volatility and become dangerously dependent on imports for its domestic sugar needs, Hishammudin warns.
Sugar is a price-controlled item for retail buyers. The retail market makes up 30% to 40% of CSR's revenue. The rest comes from industrial bulk purchasers in the F&B business, which typically procure sugar on contracts of up to 12 months.
MSM and CSR together operate five refineries in Malaysia with a collective capacity of over a million tonnes annually. As local refiners, each is required to carry two months' worth of sugar stocks worth about RM180 million for supply security purposes, which is a disadvantage as non-refining importers do not have to do so, says Hishammudin.
As sugar is a major cost component for some F&B manufacturers, further liberalisation that offers them the option of getting cheaper sugar would be an attractive proposition. It could boost their margins, but would come at the expense of local refiners' margins.
As an example, sugar makes up 20% to 30% of total raw material costs annually for public-listed Fraser & Neave Holdings Bhd (F&N), according to MIDF Research.
In turn, procuring raw materials cost F&N RM1.6 billion in 2018, representing about 60% of its total cost of production that year, said the research house.
Gaining access to cheaper sugar would thus yield savings that directly lift the profitability of F&B manufacturers. However, such savings may not necessarily be passed on to consumers, given how sticky prices can be.
In June, the Ministry of Domestic Trade and Consumer Affairs approved eight permits for Sarawak F&B manufacturers to import up to 60% of their sugar needs.
Sabah is next, said Deputy Domestic Trade and Consumer Affairs Minister Chong Chieng Jen. It is unclear when the move might be expanded to Peninsular Malaysia.
"The message to the local refiners is that they have enjoyed protectionism for too long and that they will have to be competitive. If they sell cheaper to the end users, there is no reason for the players to import," Chong had told The Edge Financial Daily earlier.
The underlying takeaway appears to be that local sugar refiners need to be kept on their toes so that they do not take things for granted. That said, it is worth noting that the two local refiners are in contrasting situations when it comes to their financial performance in the latest financial year.
In the past five financial years, MSM's pre-tax profit margins have generally shrunk and its bottom line even turned red in 2017.
CSR reversed a similar trend in FY2018, however, when it managed to expand its margins by going on an efficiency drive and instituting cost-cutting measures, led by Hishammudin.
To Hishammudin, CSR's expanding margins from better efficiency despite lower revenue in 2018 shows that local sugar refiners have not grown complacent despite relatively little competition.
He says refining costs have fallen by 20% year on year in 2018 and "there is still much to do" to reduce costs further.
Asked whether the sugar tax, which kicked in on July 1, had impacted demand, he says it is too early to tell.
"It is a good move by the government and it is still early days still. We see that in countries that have implemented [it], the impact is not big."
Hishammudin says the primary concern now is whether F&B manufacturers could turn to sugar substitutes that may have a worse impact on consumers' health.
He maintains that "there is no protection per se" for the local sugar refiners as Malaysians can choose from a myriad of sugar brands populating supermarket shelves.
He also cites MSM's recent loss-making FY2017 as a sign of stiff competition domestically.
"I am against monopoly. This is not good. What I am repeatedly saying is that we must understand the environment and the role we play as part of the overall ecosystem in the food chain specifically food security," he stresses.
Hishamuddin cites multiple countries that restrict and even ban outright the import of white sugar for food security reasons, including Japan,  South Korea, China, Thailand, India and the US.
While the low raw sugar environment in recent years has made it easier for traders to enter the game, they may not survive once raw sugar prices "increase significantly in the next five years", he adds.
"Sugar, like some other commodities, is strategic. Malaysia has already eliminated sugar plantations as they are no longer viable. We now import raw sugar and, hence, we have lost the agricultural know-how in this area when many countries are strengthening this aspect. If we close down the refineries and move to become a trading nation, we will lose this expertise as well and we will then be exposed."