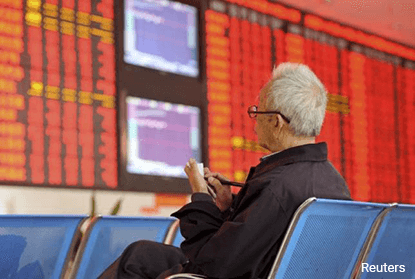 (March 27): Most Southeast Asian stock markets were cautious on Monday, in line with Asia, as a failure by U.S. President Donald Trump in getting a crucial healthcare bill passed raised concerns about  his plans of using fiscal stimulus to boost economic growth.
Trump witnessed a stunning political setback on Friday, when Republican leaders pulled legislation to overhaul the U.S. healthcare system, a major 2016 election campaign promise of the president and his allies.
The defeat of Trump's first major legislative initiative since taking office on Jan 20 not only raises concerns about his ability to get other key parts of his agenda, including tax cuts and a boost in infrastructure spending, through Congress, but also the Republican Party's capacity to govern effectively.
"The failure of the Trump government — the push for their own healthcare — has resulted in mixed results in the regional markets today," said Manny Cruz, an analyst with the Manila-based Asiasec Equities Inc.
"So, we (investors) are waiting for some developments before moving back to these markets."
In Singapore, shares fell as much as 1% to their lowest since March 10, with industrials leading the losses.
Jardine Cycle & Carriage Ltd shed 1.8%, the biggest percentage loser on the index.
The Philippine index fell 0.4%, as financial stocks weighed. Metropolitan Bank & Trust Company fell 3%.
Indonesia shed 0.3%, with financials accounting for more than half the losses on the index.
Vietnam hit a fresh more than nine-year high, with HUD1 Investment and Construction Joint Stock Company the biggest percentage gainer on the index.
In Asia, MSCI's broadest index of Asia-Pacific shares outside Japan fell as much as 0.2%.
SOUTHEAST ASIAN STOCK MARKETS:
Change at 0440 GMT
| | | | |
| --- | --- | --- | --- |
| Market | Current | Previous Close | Pct Move |
| Singapore | 3125.81 | 3142.9 | -0.54 |
| Bangkok | 1571.51 | 1573.51 | -0.13 |
| Manila | 7238.66 | 7269.62 | -0.43 |
| Jakarta | 5549.619 | 5567.134 | -0.31 |
| Kuala Lumpur | 1749.24 | 1745.75 | 0.20 |
| Ho Chi Minh | 725.07 | 722.14 | 0.41 |
Change on year
| | | | |
| --- | --- | --- | --- |
| Market | Current | End 2016 | Pct Move |
| Singapore | 3125.81 | 2880.76 | 8.51 |
| Bangkok | 1571.51 | 1542.94 | 1.85 |
| Manila | 7238.66 | 6840.64 | 6840.64 |
| Jakarta | 5549.619 | 5296.711 | 4.77 |
| Kuala Lumpur | 1749.24 | 1641.73 | 6.55 |
| Ho Chi Minh | 725.07 | 664.87 | 9.1 |