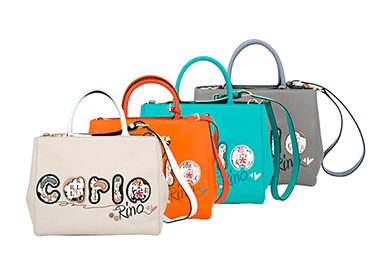 KNOWN for its bold embellishments and quirky prints, home-grown accessory label Carlo Rino has debuted a spring/summer 2015 collection that beautifully indulges in the playful sensibilities of the season. From a discreet flower charm on its signature monogram range to a contemporary stitch pattern design, the fashion accessories retailer is embracing the vibrancy of spring in anticipation of a fun summer. 
The standout design in the collection is the leather patchwork tote, which comes in four distinct colours. The monogram and ornamentation mimic fashion's current musings, adding a vibrant touch to the trendy design. 
Following in the vein of stitch work, the sailboat embroidery series is a more youthful and understated choice. The fun "doodle" stands out against black canvas and leather, which come in the form of tote, bowler bag, purse and wristlets. In contrast is a collection of white bags that feature whimsical stitching and a standout semicircle-shaped cut. A dangling charm and a hybrid leather-and-chain strap complete the look nicely.  
One of the more innovative designs of the collection is a three-in-one sling clutch bag that is made up of three slim clutches that are joined together. Meanwhile, aesthetically simple zipper totes and a sweet pastel range balance out the overall collection. 
Carlo Rino's shoes are about a play of colours, starting with a chic chequered makeover for the classic work pumps. The sharp-coloured kitten heels are given a retro-chic styling with a front bow, a practical yet bright combination that will liven up even the most sombre of corporate ensembles. 
Where comfort and sturdiness is paramount, the brand's soft-soled colourful flats and laser-cut low-heel sandals do the job. For the weekend, a relaxed range of brightly coloured footwear include chunky platform sandals as well as a versatile slingback that is perfect for a stylish weekend getaway. 
---
Carlo Rino's spring/summer 2015 collection is now available at all Carlo Rino stores nationwide. For more information, visit www.carlorino.net.
This article first appeared in The Edge Financial Daily, on June 16, 2015.