This article first appeared in City & Country, The Edge Malaysia Weekly, on December 27, 2021 - January 09, 2022.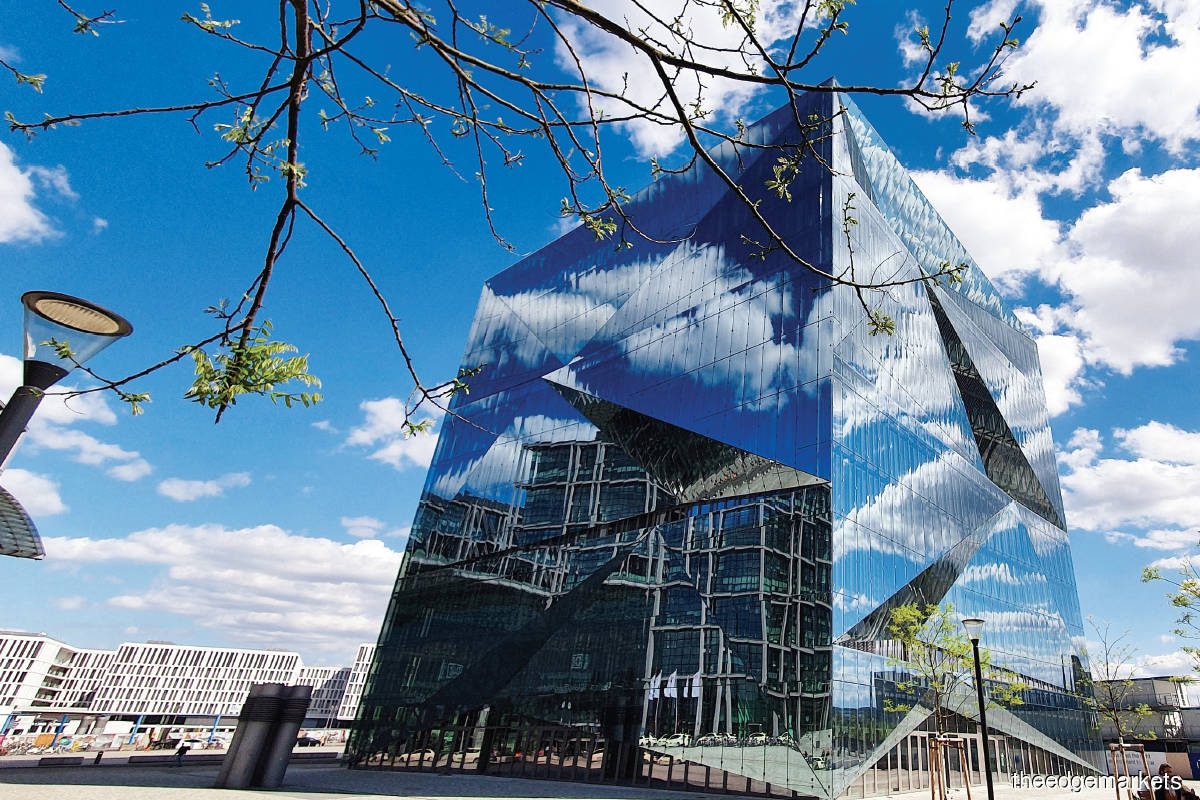 The Intergovernmental Panel on Climate Change's report in August was a "code red for humanity". It pointed out that global warming will likely reach 1.5°C above pre-industrial levels in about a decade and many changes would be irreversible by then. As it is, we are at 1.2°C and rising. Hence, it is crucial that we step up our efforts to limit, if not reduce, global warming and its effects.
In the property development sector, there are many ways to ensure sustainability in terms of design and construction. This photo gallery features some buildings around the world that are both unique and eco-conscious.
Cube Berlin, Berlin, Germany
Completed in February 2020, this office building occupies a prominent location in Washington Platz. It is designed as a sculptural centrepiece, with a layered façade made up of 12 glass elements, creating kaleidoscope-like reflections of its surroundings.
According to the architect 3XN's website, the overall compact building massing and effective façade-to-floor area ratio allow for 100% glazing. The ventilated double skin façade also offers high performance as a daylight provider and protection against heat gains while promoting natural ventilation.
The building is designed to be one of the smartest buildings in Europe, integrating an ideal Internet of Things environment to allow optimisation of everything from access and indoor climate control to maintenance and energy supply, and even the behaviour of its users.
Bahrain World Trade Center, Manama, Bahrain
This office building, comprising two 50-storey, sail-shaped towers, is the world's first skyscraper to incorporate wind turbines into its design to help reduce overall power consumption. 
According to bahrainwtc.com, the design takes advantage of its location by harnessing the sea breeze, and the power generated provides up to 15% of the electricity needs of the towers. Other measures to reduce demand for fossil-fuel energy reserves include innovative use of shading to minimise solar gains, deep gravel roofs that provide kinetic insulation and energy-efficient lighting.
Located in the business heart of Manama, the Bahrain World Trade Center was designed by Atkins and completed in 2008. It adjoins the luxury MODA Mall and five-star Sheraton Bahrain Hotel.
Malaysia International Trade & Exhibition Centre (MITEC), Kuala Lumpur, Malaysia
Sitting on 75.5 acres, MITEC is the third largest MICE (meetings, incentives, conferences and exhibitions) venue in Southeast Asia and the largest trade and exhibition centre in Malaysia, offering more than 51,000 sq m of exhibition space and triple volume exhibition halls, according to MITEC's website.
Forged by curves of steel and glass and adorned with songket weave motifs, MITEC's distinctive, contemporary design is inspired by the rubber seed.
Designed by RSP Architects Sdn Bhd and completed in 2016, the Green Building Index-certified building used recycled materials during construction. It installed 70% UV repellent glass, a rainwater harvesting system, CO sensors and fresh air fans, variable speed drives in the centre's chiller pumps, motion sensors in all public toilets, a garden watering system based on timers, hand basins that come with sensors in kitchens, a building automation system and a mould prevention system. Also, no chemical water treatment is used for the cooling towers.
Museum of Tomorrow, Rio de Janeiro, Brazil
Museu do Amanh (Museum of Tomorrow) is a 15,000 sq m two-storey building designed by Spanish architect Santiago Calatrava. According to calatrava.com, the building, completed in 2015, is primarily constructed from local materials and its innovative features include solar panels that move with the sun to maximise energy absorption, the collection of reusable rainwater and an air-conditioning system that uses water funnelled from Guanabara Bay. The water is then filtered, cleaned and returned to the bay through a small waterfall.
All the water in the LEED Gold-certified museum's washbasins, sinks and showers is treated and recycled, along with the water used to dehumidify the air, which can reach up to 4,000 litres per day. The website adds that these efforts save an estimated 9.6 million litres of water and 2,400MWh of electricity each year — enough to sustain more than 1,200 homes.
One Central Park, Sydney, Australia
Part of the 5.8ha Central Park urban development, this two-tower residential project comprises a 34-storey residential apartment tower and a 12-storey serviced apartment tower set on a common retail podium. 
One Central Park was designed by Ateliers Jean Nouvel, PTW Architects and Foster + Partners. The vertical landscape of this 130m high building was designed in collaboration with French botanist and artist Patrick Blanc and covers about 50% of the building's façade.
Completed in 2014, the façade is integrated with hydroponic walls and low-profile horizontal planters while cables support a variety of climbing and spreading plants. These act as a natural sunlight control device that changes with the seasons, shielding the apartments during the summer while allowing in sunlight in the winter, according to www.jeannouvel.com.
Marco Polo Tower, Hamburg, Germany
Located beside the Elbe in HafenCity, the 55m high residential tower, completed in 2010, comprises 58 apartments, with each turned a few degrees on its axis to allow its occupants to enjoy spectacular views of the harbour and city. According to architect Behnisch Architekten's website, the building's ecological features include recessed façades that are protected from direct sunlight by the overhanging terraces above, so that additional sunshades are not necessary. 
The design also incorporates vacuum collectors on the roof, ­using a heat exchanger to turn heat into a cooling system for the apartments. In addition, innovative sound-insulated air louvres in the sleeping areas encourage natural ventilation without increased noise pollution from the outside.
CopenHill, Copenhagen, Denmark
Also known as Amager Bakke, CopenHill is a waste-to-energy plant that is topped with a ski slope, hiking trail and climbing wall. Designed by Bjarke Ingels Group (BIG), the 41,000 sq m plant replaced a 50-year-old waste-to-energy plant with new incinerating facilities that are integrated with the latest technologies in waste treatment and energy production. 
According to the firm's website, the plant converts 440,000 tonnes of waste annually into enough clean energy to deliver electricity and district heating for 150,000 homes. The building also has 10 floors of administrative space, including a 600 sq m education centre, as well as a rooftop bar, crossfit area and viewing plateau.
The 10,000 sq m green roof addresses the challenging micro-climate of an 85m high park and rewilding biodiverse landscape while absorbing heat, removing air particulates and minimising stormwater runoff, says BIG. The power plant opened in 2017, and the artificial ski slope and recreational hiking area in 2019.
One Angel Square, Manchester, UK
As the Co-operative Group's new HQ, the 15-storey building has a three-sided structure with fully glazed double-skin façade that curves horizontally and vertically around the building. According to breeam.com, the website of the Building Research Establishment Environmental Assessment Method, the façade and open atrium are key to creating natural heating, cooling and lighting.
In addition to having its own source of heat and power generation through a combined heat and power plant, the building, completed in 2013, has other environmental features such as heat recovery from the IT systems that help heat the building, low energy LED lighting and IT equipment and systems, greywater and rainwater recycling systems for toilet flushing and irrigation, and high-efficiency passenger and service lifts, according to breeam.com.
ACROS Fukuoka Prefectural International Hall, Fukuoka, Japan
The building was conceived on what was the last remaining green area in the city. To reconcile the government's need for a new office building and concerns of the community for the green space, architect Emilio Ambasz reconciled the opposing desires by maintaining the original size of the park with a series of green terraced steps as the new building's façade, according to his website, ambasz.com.
Completed in 1994, there are 14 gardens on the rooftop building, which features pools and water features as well as panoramic views of the harbour and its surroundings. The public space of the building contributes to the reduction of the heat island effect as well as energy consumption and CO emissions, which contribute to a 15°C difference between the interior and exterior, says the website.
The 97,000 sq m interior includes an exhibition area, museum, 2,000-seat theatre, congress rooms, government and private offices, a tourist information centre, shops and four underground levels.
Taipei Beitou Public Library, Taipei City, Taiwan
The three-storey library designed by architect Kuo Ying-chao uses wooden construction and features deep balconies and vertical trellises. These, according to taiwantoday.tw, helps reduce power consumption and saves energy by lowering thermal radiation.
The eco-friendly features include rooftop solar cells capable of generating 16,000 watts of energy or 10% of the library's total power consumption, and rainwater harvesting and storage systems, which are used to flush toilets and for the gardens, adds the news portal.
Opened in 2006, the library houses more than 63,000 books, including a large collection dedicated to ecological conservation, it says.
Parkroyal Collection Pickering, Singapore
The 367-room property is known for its "hotel-in-a-garden" design that incorporates 15,000 sq m of elevated terraced gardens, almost double the area of the site. This allows each guestroom to have views of the tropical garden, according to architect WOHA's website.
Completed in early 2013, the BCA Green Mark Platinum-certified building with 29,811.54 sq m of gross floor area is inspired by the adjacent Hong Lim Park, rice terraces and topography of natural landscapes. Some of the building's passive design strategies include naturally ventilated corridors, solar-powered irrigation, rainwater retention and sunlight shading. The project achieved Singapore's Green Mark Platinum rating, the nation's highest environmental certification.