This article first appeared in City & Country, The Edge Malaysia Weekly, on May 11, 2020 - May 17, 2020.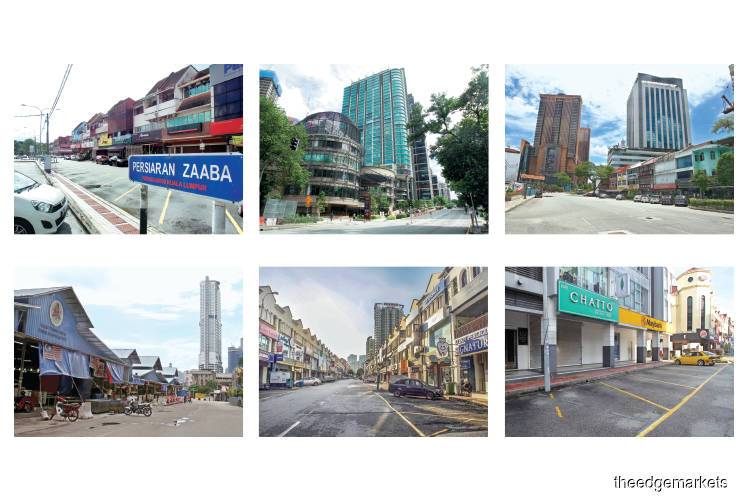 The Covid-19 pandemic and the subsequent lockdowns across half the globe have left normally busy streets deserted, creating a surreal cityscape. Malaysia was no different as people stayed home under the Movement Control Order. Some states have since moved into phase five – the Conditional Movement Control Order – which allows most businesses to resume operations, albeit with strict standard operating procedures and less restrictive movements. In this two-part compilation, we revisit a few streets we had covered in our Streetscape column previously.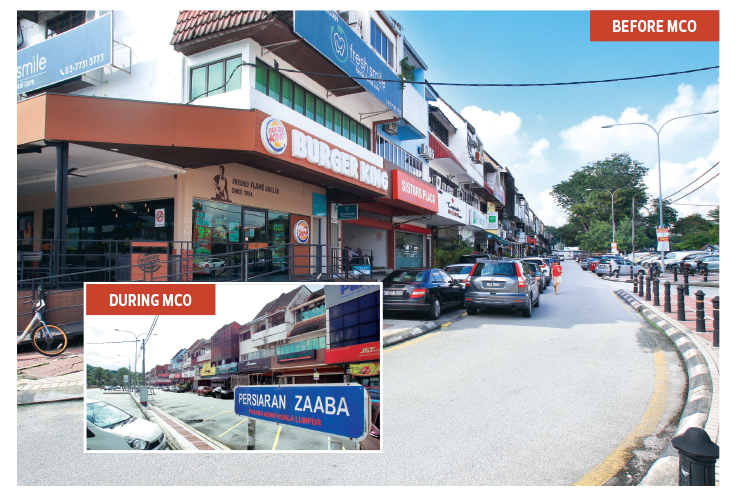 1 Persiaran Zaaba, Taman Tun Dr Ismail
There are a number of areas in Taman Tun Dr Ismail (TTDI) that bear the Zaaba name. Persiaran Zaaba, located off Jalan Datuk Sulaiman, is one of the quieter ones.
The name "Zaaba" came from educationist, writer and expert on the Malay language Zainal Abidin Ahmad (1895-1973), who was fondly known as Za'aba, according to Kuala Lumpur Street Names: A Guide to Their Meanings and Histories by Marianna Isa and Maganjeet Kaur.
Persiaran Zaaba is a loop road lined with shops and residential properties, and is home to Pos Malaysia TTDI as well as popular eateries such as Porto Romano, Burger King @ TTDI, Der Backmeister and Sweet Mill Frozen Food Bakery.
CCO & Associates (KL) Sdn Bhd executive director Chan Wai Seen puts the current asking price for the shops at between RM4.6 million and RM4.85 million. There have been only two transactions of the 3-storey shops (1,875 sq ft) in the past three years — one was sold for RM4.9 million in 2017 and the other for RM4.1 million this year.
The asking rent for ground-floor units is RM8,000 to RM11,000 and that for second-floor units is RM2,700 to RM2,850. Recent rental data shows that tenants are paying RM8,000 per month for ground-floor units while those on the first and second floors are paying RM3,500 and RM3,000 per month respectively.
Meanwhile, 2-storey terraced houses (lot size: 1,800 sq ft) were sold for RM1.25 million and RM1.61 million in 2017 and 2018 respectively. Semi-detached houses (lot size: 3,600 sq ft) were going for RM2.35 million to RM2.65 million.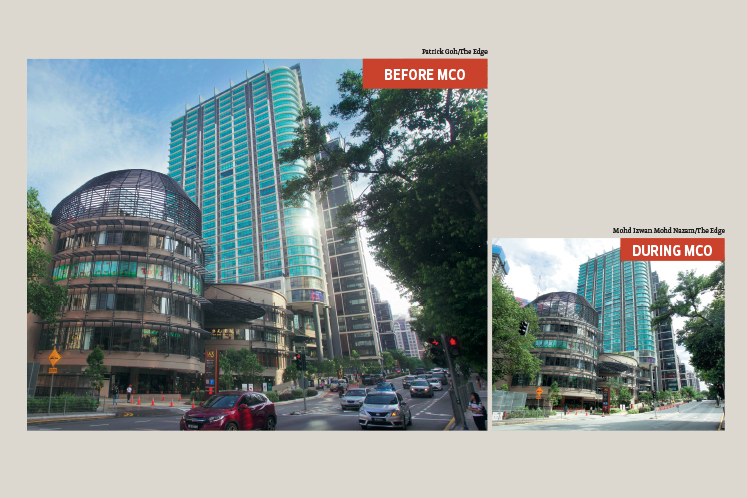 2 Jalan Kiara, Mont'Kiara
Located northwest of the Kuala Lumpur city centre, Mont'Kiara was a rubber estate before property tycoon Datuk Alan Tong Kok Mau acquired 100 acres of land and started its transformation into the high-end enclave it is today.
There are many high-end condominiums and neighbourhood malls along Jalan Kiara. Mont'Kiara Pines was the earliest condo built in the 1990s by Sunrise Sdn Bhd (now known as UEM Sunrise Bhd), priced at RM190 psf at the time of the launch.
According to VPC Alliance Sdn Bhd managing director James Wong, recent transactions for condos with built-ups of 699 to 3,186 sq ft averaged RM435,000 to RM2.4 million, or RM512 to RM890 psf. Office units, with built-ups of 592 to 1,560 sq ft, are priced at RM416,500 to RM1.19 million, or RM538 to RM885 psf. The bungalows, with built-ups of 2,895 sq ft, are priced at RM4.7 million.
Wong puts the asking rent for condos in Jalan Kiara at RM1.48 to RM4.10 psf and the yield at between 1.42% and 8.20%. Offices are asking for RM2.88 to RM5.50 psf, with a yield of 1.96% to 4.31%.
He believes Jalan Kiara, with its high-end residences near an international school and prime neighbourhood shopping complexes, will continue to attract expatriates.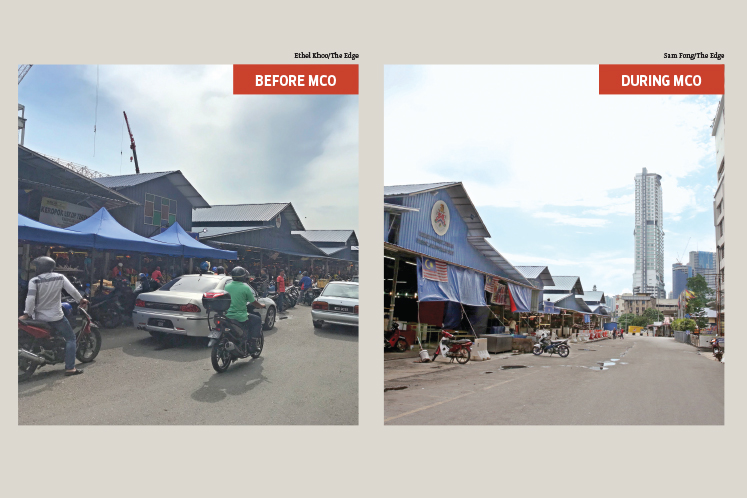 3 Jalan Raja Alang, Kuala Lumpur
Home to the popular Pasar Raja Bot, more commonly known as Chow Kit Market, Jalan Raja Alang is a thriving spot bustling with pedestrians.
The street was once known as Perkin Roads. In 1968, Datuk Raja Mohamed renamed it after his father, Raja Alang Raja Berayun, who was a Mandailing from Sumatra.
Other landmarks in the area include Safuan Plaza, which houses The Regency Hotel, and Guru Nanak Darbar Tatt Khalsa Diwan Selangor, a Sikh gurdwara. One can also find a number of shoplots occupied by restaurants, wholesalers of health products and beauty product retailers as well as residential properties.
Jalan Raja Alang's strategic location makes it ripe for any urban regeneration project. Henry Butcher (M) Sdn Bhd chief operating officer Tang Chee Meng says future prospects for the area will be busier should any urban regeneration project take place.
Data for Safuan Plaza, which has been struggling with a low occupancy rate, shows that a 114 sq ft retail unit was sold for RM35,000 in 2018, while a 5,750 sq ft freehold commercial site in Jalan Raja Alang was transacted for RM1.5 million in 2010 and a 8,353 sq ft freehold commercial parcel was sold for RM2.8 million in 2017.
Currently, a 17,416 sq ft freehold residential parcel along the street is going for RM7.97 million while a 17,847 sq ft freehold commercial site is priced at RM8.92 million.
In Safuan Plaza, a 215 sq ft office lot is on sale for RM115,983 while a 280 sq ft office lot is on the market for RM163,296. The asking price for a 290 sq ft office lot is RM156,078. 
At Tamu Residence serviced apartments, the asking price for units with built-ups of 917 sq ft is RM1.35 million, or RM1,472 psf.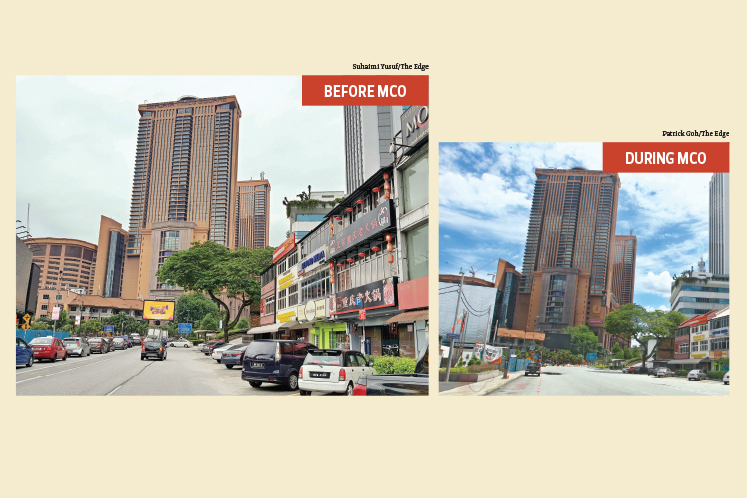 4 Jalan Imbi, Kuala Lumpur
Jalan Imbi is a busy street with a mix of new and old developments and houses eateries, hair salons, laundrettes, clinics, courier service providers, travel agencies and budget accommodations. A few landmarks that have remained in their original spots are Oversea Restaurant and Jalan Imbi Chapel.
Jalan Imbi was originally known as Imby Road and named after Sergeant Imby Seedin, who was born in 1845. He joined the police force at the age of 16 and became chief native warder four years later.
He bought a parcel at the junction of Jalan Imbi and Jalan Pudu and built himself a traditional Malay house. When the cart road that connected Imby's house to Jalan Bukit Bintang was gravelled in 1905, the Street Naming Committee decided to name the road after him as his home was considered a landmark. In 2018, the landmark was replaced by the Metro Hotel.
There are a few hotels along the road, including Dorsett Kuala Lumpur, The Ritz-Carlton Kuala Lumpur, Tribeca Hotel & Serviced Suites and Capri by Fraser. Berjaya Times Square, which has 2.1 million sq ft of retail space, is located at the junction of Jalan Imbi and Jalan Pudu.
Metro Homes Realty Bhd executive director See Kok Loong says demand for commercial properties in the area is high but supply is limited. Many owners inherited the shops from the previous generations and there are very few transactions.
According to Metro Homes data, 2 and 3-storey shopoffices with built-ups of 2,544 sq ft are priced at RM7 million to RM8 million. Rents range from RM10,000 to RM12,000 per month.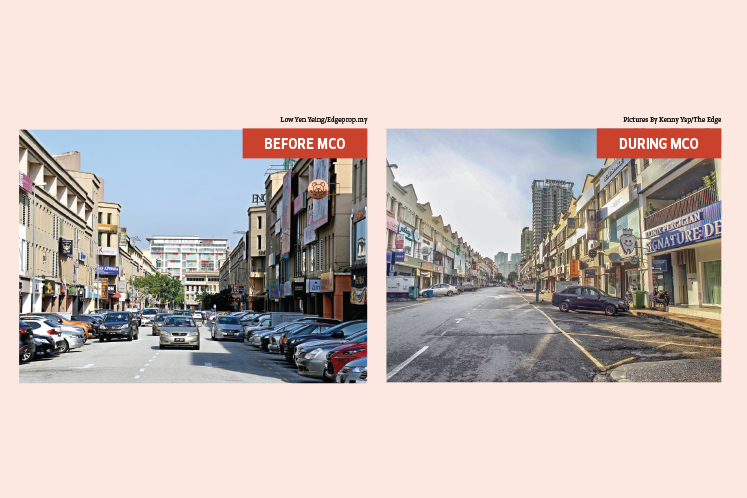 5 Dataran Sunway, Kota Damansara
The commercial centre in Kota Damansara, Dataran Sunway is a popular spot for the M40 group. It comprises mainly 3 to 4-storey shopoffices, 3-storey retail shops and small office/home office (SoHo) and office suites in Sunway Nexis.
It is also known for the wide variety of food options that range from nasi kandar and Chinese hawker fare to Japanese and Korean cuisines. The F&B outlets include crowd favourite Original Kayu Nasi Kandar Restaurant, Warakuya Japanese Garden as well as TK Bakery.
Other notable landmarks in the area include Royaltea, The Hunter, Chatto Handcrafted Tea Bar, Xing Fu Tang, Sushi Mentai, Hakka Rang Restaurant, Steam King Seafood Restaurant, Sunway Giza Mall, Sovotel Boutique Hotel and Superstar Family KTV.
According to PPC International Sdn Bhd managing director Datuk Siders Sittampalam, the 3 and 4-storey shopoffices have built-ups of 1,650 to 4,797 sq ft. In 2019, a unit was put up for sale at RM2.7 million to RM3.3 million, or RM570 to RM710 psf. He puts the rent at between RM7,500 and RM20,000 per month, giving a yield of 2.5% to 3.4% per year.
At Sunway Nexis, the SoHo and office suites (built-ups: 850 to 1,980 sq ft) were sold from RM700,000 in 2018 and 2019. The retail shops (built-ups: 4,133 to 8,718 sq ft) were sold from RM4 million. Rents range from RM2.20 to RM3.40 psf a month, translating into yields of 2.5% to 3.4% a year.
Siders says residential properties near Dataran Sunway, with an average built-up of 1,600 sq ft, were transacted for RM330 to RM1,000 psf in 2018 and 2019, depending on the type of property and location. Rents range from RM1,200 to RM6,500 a month, giving a yield of 2.7% to 4.7% a year.