This article first appeared in City & Country, The Edge Malaysia Weekly, on June 8, 2020 - June 14, 2020.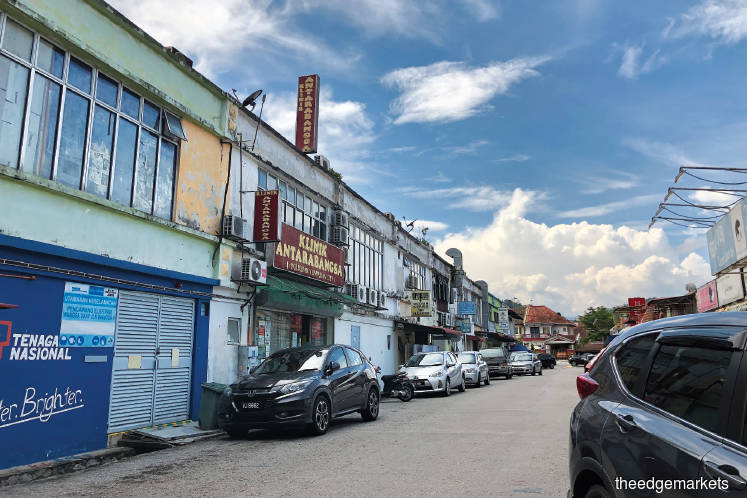 Developed by Superview Development Sdn Bhd in the mid-1980s, Jalan Wangsa 11 is intersected by Jalan Wangsa 4 and forms part of Taman Kelab Ukay in Bukit Antarabangsa, Ampang, says Laurelcap Sdn Bhd executive director Stanley Toh.
The two streets comprise single and 2-storey shophouses occupied by eateries, laundry shops, clinics, hair salons, hardware shops and convenience stores. Among them are Hillside Corner, My Makan Café & Coffee Shop, Restoran Krua Amani, Kedai Dobi Magnate, City Dhobi, 99 Speedmart, Jotun, Klinik Antarabangsa and Klinik Idzham.
The businesses cater for the surrounding housing areas such as Taman Bukit Jaya, Taman Bukit Utama, Taman Bukit Mulia, Taman Bukit Mewah, Taman Riana Ukay, Taman Wangsa Ukay, Laman Oakleaf, Pinggiran Ukay and Sering Ukay.
According to Toh, the shophouses have an average built-up of 3,718 sq ft and were sold at between RM570 and RM830 psf last year. A 2-storey shophouse in Jalan Wangsa 11 was transacted three times at RM1.92 million, RM2.15 million and RM3.08 million in 2009, 2010 and 2013 respectively. The current asking price for intermediate shophouses on both streets is around RM1.5 million.
"Meanwhile, a 2-storey corner-lot shophouse with the same built-up in neighbouring Jalan Wangsa 2 was transacted at RM3.65 million in 2017," he says.
"In terms of monthly rent, the ground floor is RM3 to RM3.50 psf per month. The higher the unit, the lower the rent, with units on the first floor being rented out at RM1.20 to RM1.50 psf per month, translating into yields of 4% to 5% a year," he adds.
"As for the nearby residential properties, the 2-storey detached houses and 2 and 3-storey terraced houses — with built-ups ranging from 1,700 to 3,000 sq ft — were transacted at RM700,000 to RM2 million in 2019. Rental rates are from RM1.30 to RM1.50 psf per month, giving yields of 2% to 3% a year."
Amy, 25, who has lived in the area for more than 10 years says, "I buy groceries from Giant Supermarket and often hang out with my friends at My Makan Café & Coffee Shop, which is only a two-minute walk from the former."
Joey, a mother of two, is a frequent customer at Hillside Corner,  a stone's throw away from My Makan Café & Coffee Shop.
The restaurant serves a mix of local and Western cuisine and the ambience is quiet and peaceful. "One of my go-to orders is the Nasi Goreng Kampung. The Malay-style fried rice, served with crispy fried chicken wings and a fried egg (sunny side up), is priced at RM13. In terms of desserts, the carrot cake, chocolate cake and cheesecake are my favourites. They are not overly sweet and are reasonably priced at RM6 to RM7 a slice," she says.
Toh notes that the collapse of Highland Towers Block 1 in 1993 and a major landslide in 2008 resulted in negative sentiment towards Bukit Antarabangsa.
"Nevertheless, the shophouses in Jalan Wangsa 4 and Jalan Wangsa 11, along with the nearby Petronas station and Giant Supermarket, are prime assets in Bukit Antarabangsa, as [the location] is the sole commercial hub in the area."
The area is easily accessible via major highways such as the Middle Ring Road 2, Duta-Ulu Kelang Expressway and East Klang Valley Expressway.