This article first appeared in City & Country, The Edge Malaysia Weekly, on March 16, 2020 - March 22, 2020.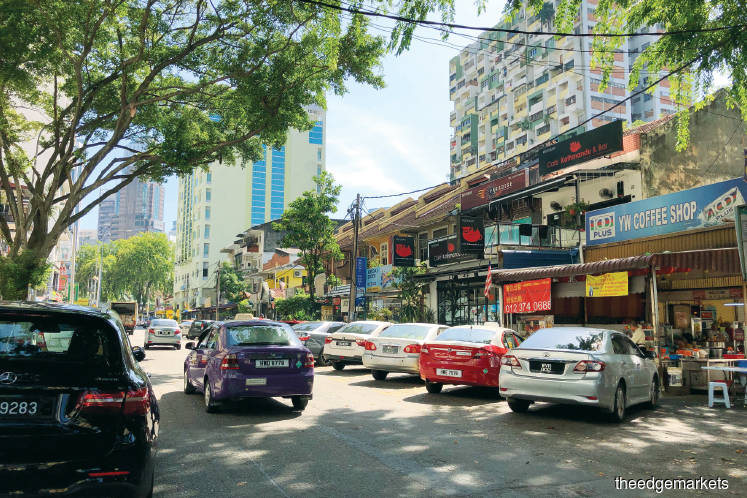 Properties in the area were originally two-storey terraced houses built in the 1930s. Photo by Chung Ying Yi/The Edge
Click / Tap image to enlarge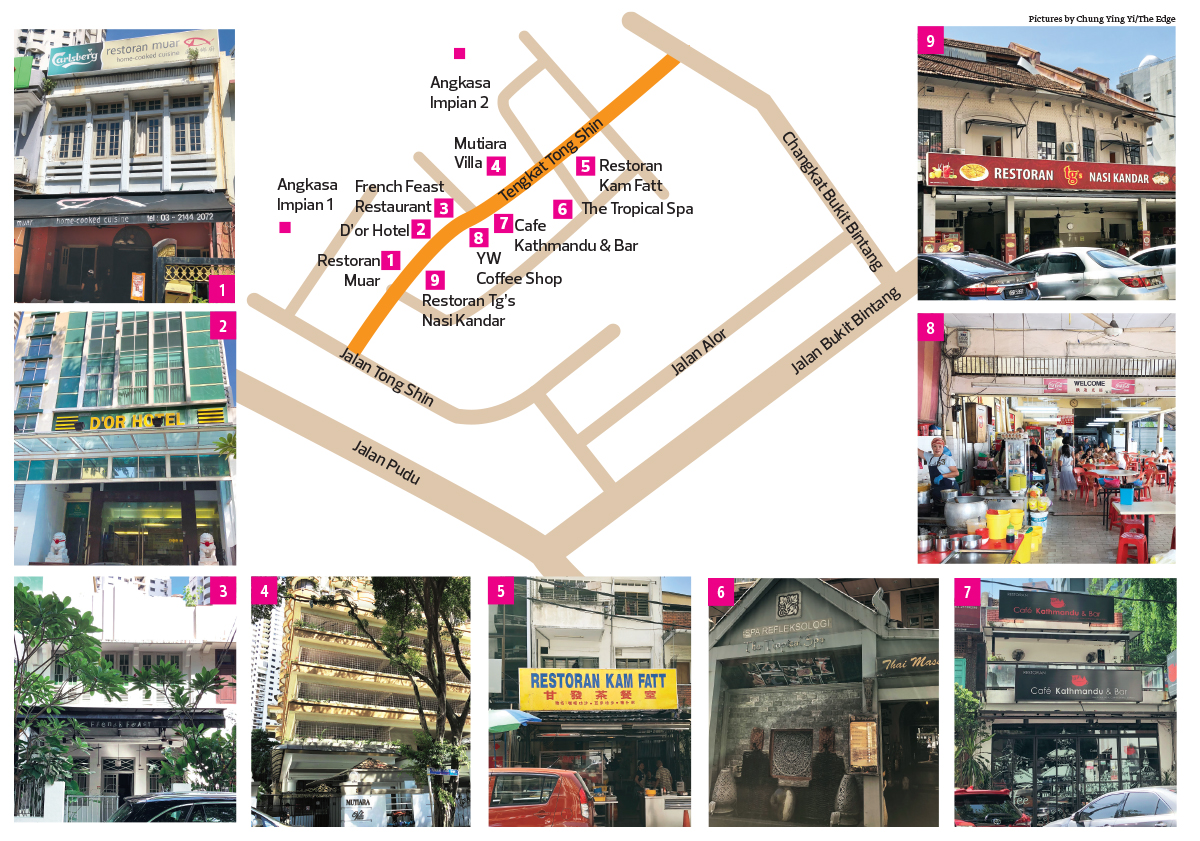 Often overshadowed by its more vibrant and prominent neighbour Jalan Alor, Tengkat Tong Shin in Bukit Bintang has experienced tremendous growth and development over the years, with the opening of guesthouses, hotels, spa and reflexology centres, hawker stalls, restaurants and bars.
You need to take a slow stroll to take in the details and ambience of this short lane near Jalan Alor and Changkat Bukit Bintang in downtown Kuala Lumpur.
Properties in the area were originally two-storey terraced houses built in the 1930s and have built-ups of 2,000 to 3,000 sq ft. They have been converted into mainly F&B and other commercial outlets, says Nawawi Tie Leung Real Estate Consultants Sdn Bhd executive director and regional head of research and consulting Saleha Yusoff. "As they are older properties, however, there have not been any transactions recorded for the past few years. The only recent transaction was in its neighbouring road, Jalan Pudu Lama, where a 7,240 sq ft shopoffice was sold at RM4 million in 2018.
"Rental rates range from RM4 to RM5 psf. Owing to the limited transacted rental data, it is difficult to work out the rental yields for the commercial properties," she says.
Notable residential developments in the area include Pearlcom Sdn Bhd's Mutiara Villa and UDA Holdings Bhd's Angkasa Impian 1 and Angkasa Impian 2, which were completed in 1993, 2004 and 2006 respectively.
"From 2013 to 2019, the units in Mutiara Villa with built-ups of 570 to 2,820 sq ft were sold at an average price of RM539 to RM563 psf. As for the 570 to 2,690 sq ft units at Angkasa Impian 1 and Angkasa Impian 2, they were sold at an average price of RM523 to RM445 psf during the same period," says Saleha.
Rents for the residential properties range from RM2 to RM3 psf per month, with yields at 5.5% to 5.9% per year.
One of the main problems in the area is a lack of parking space, resulting in cars being double-parked and cramped into parking lots, blocking other drivers. Nevertheless, a wide range of local food is sold along Tengkat Tong Shin, making the hassle of parking worthwhile.
YW Coffee Shop is my go-to breakfast place on weekends. The corner-lot coffee shop houses several hawker stalls serving delicious local delicacies.
One of my favourites is the fish ball noodles. Unlike the generic, fake-tasting versions, this one is served with fish balls, fish cake slices, fish dumplings, bean sprouts and fried pork lard. The bouncy fish balls are handmade daily using fresh fish.
Apart from the fish ball noodles, the pork noodles are good too. Despite its slightly murky appearance, the broth is flavourful and comes with a generous amount of fragrant minced pork and pork slices.
For those looking for a casual dining spot, French Feast Restaurant, located across the road from YW Coffee Shop, offers a variety of classic French cuisine and wine. According to its official website, the art deco terrace house was built in the 1930s. Its modernist façade combines fine craftsmanship, stained glass and wood to provide a unique charm with a strong sense of place.
The slow-cooked specialties that showcase red meat, fish and poultry are the cornerstone of French Feast Restaurant. "My favourite dish is the beef bourguignon — the tender beef stew is braised in red wine with glazed vegetables and comes with a side of soft and creamy mashed potato that complements the stew," says David, who dines regularly at the restaurant.
In addition to beef bourguignon, highlights here include house-made smoked pork offal sausage, slow-cooked young lamb shank, duck leg confit and lemon tart.
Other notable eateries and landmarks in Tengkat Tong Shin include Café Kathmandu & Bar, Restoran Kam Fatt, Restoran Muar, Restoran Tg's Nasi Kandar, Restoran Wong Fook Kee, Sao Nam Vietnamese restaurant, D'or Hotel, Number Eight Guest House, Tung Shin Hospital and The Tropical Spa.
Saleha says Tengkat Tong Shin is a mature area with limited vacant land. Nonetheless, because of its proximity to the Bukit Bintang shopping district, there are opportunities such as the refurbishment or redevelopment of the older buildings to blend in with the upcoming developments in Bukit Bintang.
In terms of connectivity, the area is easily accessible via major roads in the city centre such as Jalan Bukit Bintang, Jalan Ceylon, Jalan Changkat Bukit Bintang, Jalan Pudu, Jalan Raja Chulan and Jalan Sultan Ismail. It is close to the Bukit Bintang, Imbi and Raja Chulan monorail stations.