This article first appeared in City & Country, The Edge Malaysia Weekly, on March 2, 2020 - March 08, 2020.
PJS 11 comprises shoplots and terraced factories that have been converted into cafés, restaurants, motorsport-related businesses and car workshops
Photo by Sam Fong/The Edge
Click / Tap image to enlarge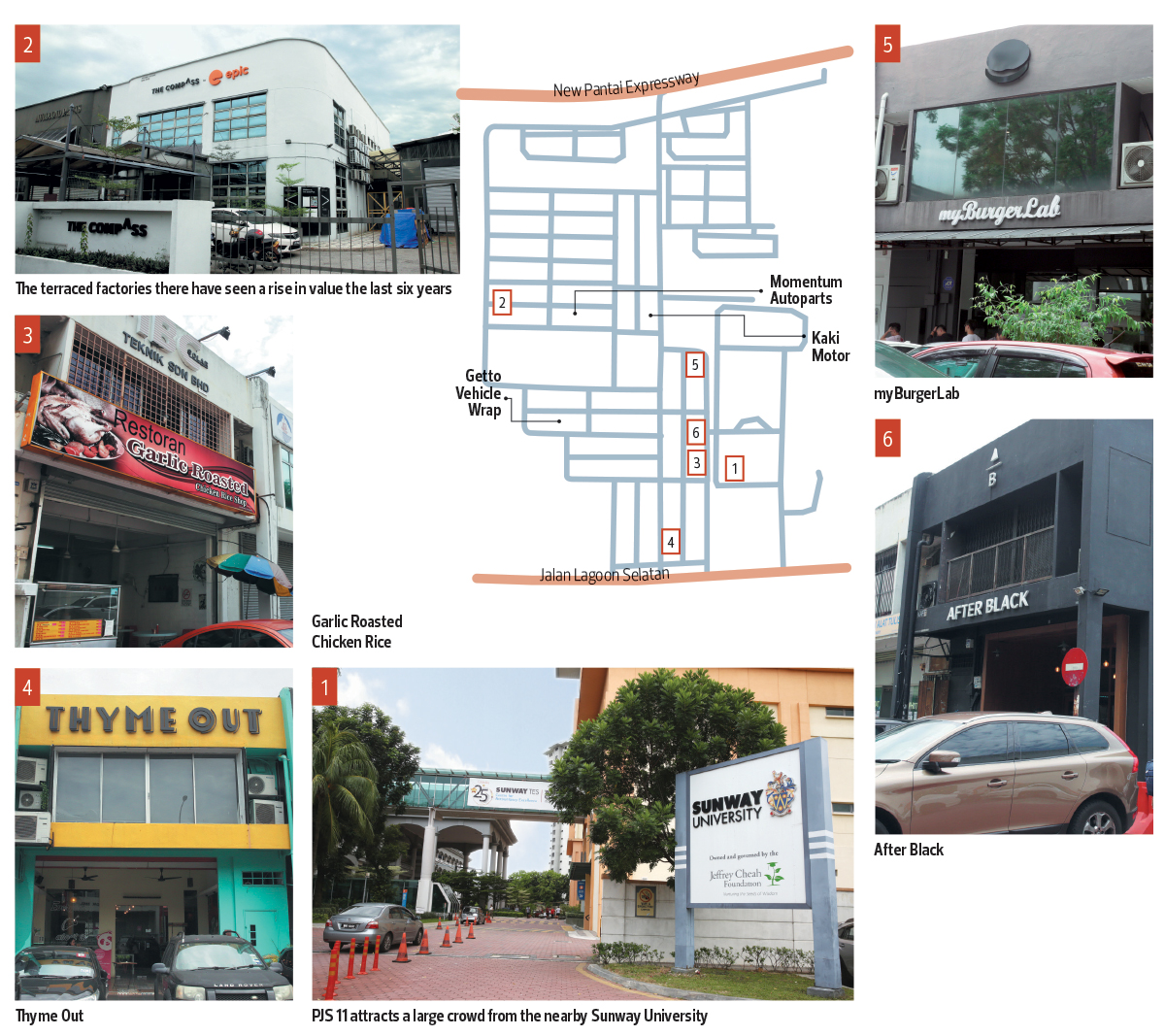 Pictures by Sam Fong/The Edge
On our visit on a weekday afternoon, PJS 11 in Bandar Sunway was a hive of activity.  The commercial area is mostly made up of shoplots and small factories that have been converted into cafés, restaurants, mini marts and speciality shops.
Due to its diverse offerings, PJS 11 receives a good mix of visitors. We saw young professionals and students from Sunway University entering a trendy, Mexican-themed café and other restaurants that offer student-friendly lunch deals, while others were admiring car accessories on display at motorsport- themed shops.
Located in the heart of Bandar Sunway, PJS 11 comprises several lanes, from Jalan PJS 11/2 to Jalan PJS 11/22. Notable cafés and restaurants include myBurgerLab, Epic Fit Meals Co, Subway, Thyme Out, Restoran Garlic Roasted Chicken Rice, Kor B Korean, 3 Budak Gemok, Rock Café, Face to Face Noodle, Rasai Machan, Garage 51 and After Black. There is also an event venue called The Compass by Epic.
Amenities and shops include Family Mart and Vape Century. Motorsport shops and manufacturers, include Getto Vehicle Wrap, Kaki Motor,  Momentum Autoparts and Redzone Motorsport, to name a few.
LaurelCap Sdn Bhd executive director Stanley Toh says, "The vast majority of terraced factories have been converted into cafés, restaurants, motorsport-related businesses and car workshops. Apart from 1½-storey terraced factories, semi-detached and detached factories, PJS 11 also offers shopoffices and serviced apartments," says Toh.
"PJS 11 is an established 800-acre township with well-integrated commercial and residential centres. It is 5km away from Petaling Jaya. For 50 years, until the mid-1980s, it was tin-mining land and remained desolate until Bandar Sunway was built. Today, the township is a self-contained and thriving resort city with houses, apartments and condominiums, commercial centres, educational institutions, medical centres, theme parks, hotels and shopping malls."
According to Toh, sales transactions in PJS 11 have been steadily increasing in the past few years. "The terraced factories have seen a rise in value over the last six years. In 2014, the price per psf [on the built-up area] was about RM750 and, today, it is some RM1,200, so, there has been a 37% jump. This appreciation is due to the presence of Sunway University [with a growing number of students] as well as other catalysts nearby, such as Sunway Lagoon, Sunway Pyramid, Sunway Hotel and Monash University," says Toh.
The current average rent psf [for terraced factories] is RM1.70 to RM2.40 per month, according to Toh. "The yields of [terraced factories at PJS 11] are 2.5% to 3%."
However, Toh says there are challenges in the area. "One of the key challenges is that the properties are leasehold with an expiry term of 76 years. Another is that the food and beverage businesses are largely dependent on the student crowd and there is a scarcity of car parking spaces. 
"The future of PJS11 relies largely on the student enrolment at Sunway University but we do not foresee a decline in the number of students anytime soon. Rents are depressed, which dampens yields, but values have risen, indicating that most properties are owner-occupied and not for investment."