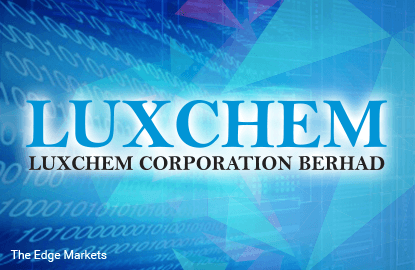 Luxchem Corporation Bhd (+ve)
WE last featured Luxchem (Fundamental: 1.7/3, Valuation: 2.4/3) in Stocks with Momentum on August 14. The stock rose to a 3-year high of RM1.29 last Friday, before closing 3.9% lower to RM1.24 yesterday.
Luxchem reported strong earnings for 1H2015, as sales increased 12.3% y-o-y to RM333.6 million while net profit surged 17.1% to RM11.4 million. Excluding employee share option (ESOS) expense of RM8.7 million, normalised net profit more than doubled to RM20.1 million, due to higher contribution from both trading and manufacturing segments.
Concurrently, the company declared an interim dividend of 2 sen per share, which will go "ex" on September 11. As at end-June, it has net cash of RM26.3 million or 10.0 sen per share.
Luxchem mainly trades and distributes industrial chemicals and materials, as well as manufactures and trades unsaturated polyester resin (UPR) and related products. The company supplies over 400 types of industrial chemicals and materials, and is a market leader in domestic UPR market. Last year, Luxchem expanded its UPR manufacturing plant in Melaka, boosting its annual production capacity by 50% to 30,000 metric tonnes.
For 2014, sales jumped 15.0% to RM603.5 million while net profit increased 11.8% to RM22.0 million, thanks to higher profit generated by the manufacturing segment. Local market accounted for 75.8% of sales, with the balance from export, mainly to Vietnam, Indonesia, Thailand and Singapore.
Up to June 15, Luxchem has granted a total of 33.4 million ESOS to eligible directors and employees, out of which 3.5 million options have been exercised. All the ESOS are in the money, whereby 32.0 million have an exercise price of 71 sen.
The stock is trading at a trailing 12-month P/E of 14.3 times and 1.99 times book. Dividends totalled 4.5 sen (adjusted for bonus issue) in 2014, giving a net yield of 3.5%.
This article first appeared in digitaledge Daily, on August 18, 2015.