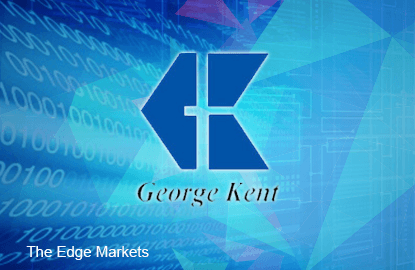 George Kent (M) Bhd (-ve)
George Kent (Fundamental: 1.4/3, Valuation: 1.8/3) was picked by our momentum algorithm for the second time this week with its share price adding another 2.2% to RM1.42 yesterday. This came after it clinched a RM31.2 million contract to supply water meters to the Water Supplies Department in Hong Kong over the next two years.
Last Friday, Prasarana announced the appointment of the joint venture between MRCB and George Kent as its PDP for the RM9 billion LRT3 project. The ground work for the 36-km LRT line connecting Bandar Utama and Klang is expected to start by early 2016 and is set for completion by August 2020. 
The project delivery partner stands to get 6% of the total contract value as management fees. MRCB and George Kent each owns a 50% stake in the joint venture. 
George Kent, an engineering company which specialises in water-related projects, made inroads into the transport and railway construction sector when its joint venture with Lion Pacific was awarded the RM1.08 billion Ampang Line LRT Extension project in 2012.
The company has two core businesses: engineering (infrastructure construction and investment) and metering (manufacturing, trading and export of water meters). The former accounted for 72.6% of total revenue in FYJan2015 while the latter contributed the other 27.4%. 
For 1QFY16, revenue dropped 9.0% y-o-y to RM59.0 million, mainly due to the completion of the Pahang Selangor Raw Water Transfer Project in the previous financial year. Net profit, however, jumped 52.5% to RM9.9 million, boosted by certain construction projects with higher profit margin. 
Net cash stood at RM119.7 million at end-April, equivalent to 28.7% of its market capitalisation. Excluding cash, the stock is trading at a trailing 12-month P/E of 9.5 times. Dividends for FY2015 totalled 5.3 sen per share, giving a decent yield of 3.8%.
This article first appeared in digitaledge Daily, on September 10, 2015.