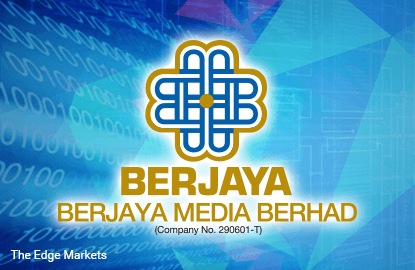 Berjaya Media Bhd (-ve)
Shares of the rarely-traded Berjaya Media (BJMedia) (Fundamental: 1.65/3, Valuation: 0.3/3) closed unchanged at 43.5 sen yesterday, despite a surge in trading volume to 39,000 shares - nearly five times its average daily trading volume.
BJMedia is the publisher of theSun, Malaysia's first and only free daily English newspaper with an average circulation of 305,000 copies every weekday, to mainly Klang Valley, Penang and Johor Bahru, as well as in major cities and towns stretching across Peninsular Malaysia.
The company fell into the red in FYApril2012 with net loss of RM35.2 million, which widened to RM43.5 million in FY13. The losses were mainly attributable to exceptional items, in particular, the writing down of its publishing rights. Excluding the exceptional items totaling RM35 million in FY12 and RM44.15 million in FY13, it would have made a small loss in FY12, and a marginal profit in FY13.
The company managed to return to the black in FY2014 with a net profit of RM4.1 million on improved advertising income. However, the turnaround was short lived. It recorded a net loss of RM31.2 million in FY15, due mainly to impairment of publishing rights of RM25 million and impairment of certain quoted investments of RM4.5 million. Excluding the impairment losses, normalised net loss was RM1.6 million. Revenue, meanwhile, fell 8.3% to RM53.8 million, hit by lower advertising income.
Of note, BMedia's book value of its publishing rights has fallen nearly 80% to RM23 million, from RM108 million in FY11.
As at end-April 2015, BJMedia has a net cash of RM9.0 million, or 3.8 sen per share. The company has not been paying dividends since FY2000.
The stock is currently trading at 1.5 times book. By comparison, Star Publications trades at 1.6 times book with trailing 12-month P/E of 14.6 times.
This article first appeared in digitaledge Daily, on August 19, 2015.