This article first appeared in The Edge Financial Daily, on March 16, 2020.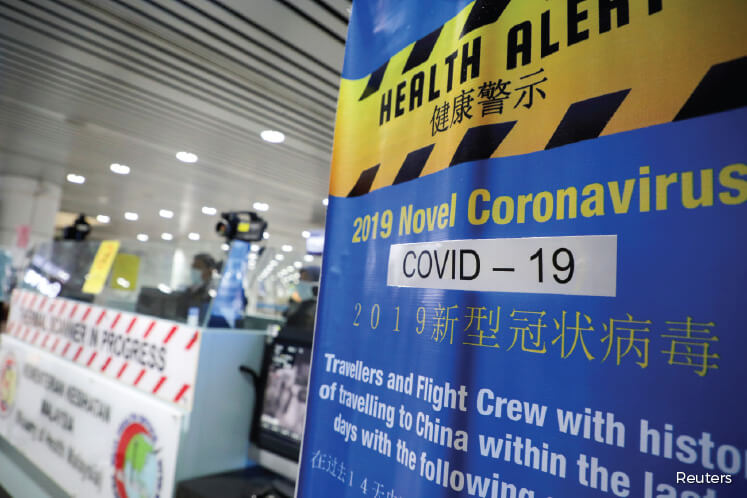 KUALA LUMPUR: Government bodies, event organisers and various institutions announced steps to limit the spread of Covid-19 yesterday as the country reacted to news of more people testing positive for the virus after contact with infected persons.
Wisma Putra was making detailed preparations to bring back 323 Malaysians from Italy and 55 from Iran, following the worsening Covid-19 outbreak in the two countries, Bernama reported.
Foreign Minister Datuk Seri Hishammuddin Hussein said preparations included identifying the locations of all Malaysians in the two countries as well as ensuring they were registered with the Malaysian embassies in Italy and Iran.
"This is important to ensure our representatives obtain accurate and the latest information for the mission to bring them back," he said on his Facebook account.
Last month, Malaysia flew back its citizens in Wuhan, China via two Humanitarian Assistance and Disaster Relief missions.
In the first mission, the government flew back 107 Malaysians and their family members trapped in Hubei province on Feb 4 while the second mission involved 66 people from the same province on Feb 26.
Deputy Domestic Trade and Consumer Affairs Minister Datuk Rosol Wahid said the shortage of face masks and hand sanitisers in the midst of the current situation will be raised at the Cabinet meeting on Wednesday.
"The minister (Domestic Trade and Consumer Affairs Minister Datuk Alexander Nanta Linggi) has also said that the government is ready not to export existing stock [of face masks], so this will help ensure there are sufficient numbers for our country," Rosol told members of the media in Kuala Terengganu.
The human resources ministry advised employers to prioritise the welfare of employees in the ongoing Covid-19 crisis.
Its Minister Datuk Seri M Saravanan said that among the action that needed to be taken was adherence to provisions of employment law, collective agreements and codes of conduct.
He said Malaysia Airlines Bhd had informed the ministry that it would freeze all new recruitment processes and promotions, while encouraging staff to voluntarily take three months of unpaid leave or five days of unpaid leave per month over a three-month period.
The ministry was also informed that Malaysia Airlines believed there was no need to retrench workers for now, and that such a move would be a last-resort measure.
The Congress of Unions of Employees in the Public and Civil Services Malaysia (Cuepacs) suggested that the government consider including Covid-19 in the list of infectious diseases that allows for quarantine leave.
Its president Adnan Mat said Covid-19 should be included in the Service Circular Number 11 Year 2016 considering that the disease has been declared a pandemic.
The circular pertains to the provision on quarantine leave for six infectious diseases, namely hand, foot and mouth disease; dengue fever and dengue haemorrhagic fever; measles; chickenpox; diphtheria; and malaria.
In Sarawak, the state government ordered all government and public gatherings involving the participation of more than 50 people to be postponed, the state disaster management committee said in a statement.
Sarawak recorded 11 new Covid-19 positive cases yesterday, bringing the total to 20 cases since last Friday when the first three cases were reported.
The Sabah State Education Department advised principals and teachers in the state to cancel all activities involving students including extra classes during the current school holidays from March 14 to 22.
The visiting hours at government hospitals in Negeri Sembilan and the Universiti Sains Malaysia Hospital (HUSM) in Kelantan have been shortened, effective today, in line with the directive issued by the health ministry on Saturday.
In Negeri Sembilan, acting state health director Dr Mohammad Faid Abd Rashid said the number of visitors will also be limited and children below the age of 12 would not be allowed at the hospital for visiting.
"The visiting hours have been shortened from 1pm to 2pm and 5pm to 7pm every day, including on public holidays," he said.
HUSM director Professor Datuk Dr Ahmad Sukari Halim, in a statement, said visitors with symptoms of influenza, like sore throat, cough, flu, fever, vomiting and diarrhoea would not be allowed in the wards, while those with chronic diseases and with low immunity, such cancer patients undergoing treatment, would not be allowed to visit patients.
Tourism, Arts and Culture Minister Datuk Seri Nancy Shukri said in a statement yesterday that effective immediately, all counters at Malaysia My Second Home (MM2H) centre at the tourism, arts and culture ministry here are closed until April 30 as part of the Covid-19 preventive measures.
She said the decision was made after taking into account that most of the visitors to the centre were foreigners from various countries.
"This measure is also important in reducing the probability of MM2H personnel being infected with the virus by foreign visitors," Nancy said.
Among sports events, this year's Malaysia Junior Hockey League (MJHL) was postponed.
The Malaysian Hockey Confederation announced that the new dates for the preliminary rounds of the men's Division One and Two categories of the MJHL, which were scheduled to be held on March 25-April 19, will be decided later.
Several authorities had to issue denials to counter misinformation about the situation. Among them was the Selangor Islamic Religious Department (JAIS) which denied ordering the closure of the Al Munawwarah Mosque in Section 27, Shah Alam. This followed a media report stating that the mosque was closed temporarily when a member of its congregation was believed to be down with Covid-19 after returning from Vietnam.
JAIS director Mohd Shahzihan Ahmad told Bernama no such directive was issued by the department.