This article first appeared in The Edge Malaysia Weekly, on April 13, 2020 - April 19, 2020.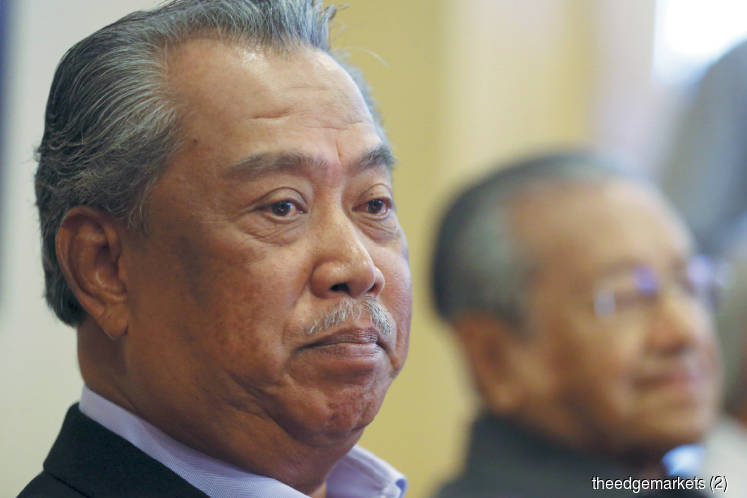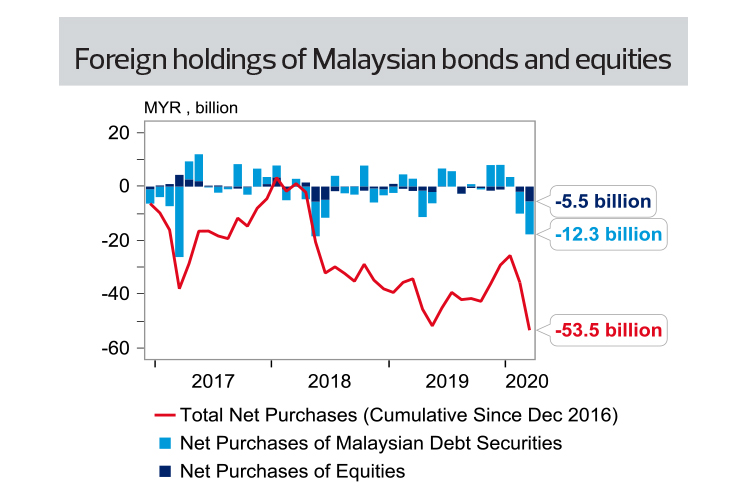 Source: Macrobond, Uob Global Economic & Markets Research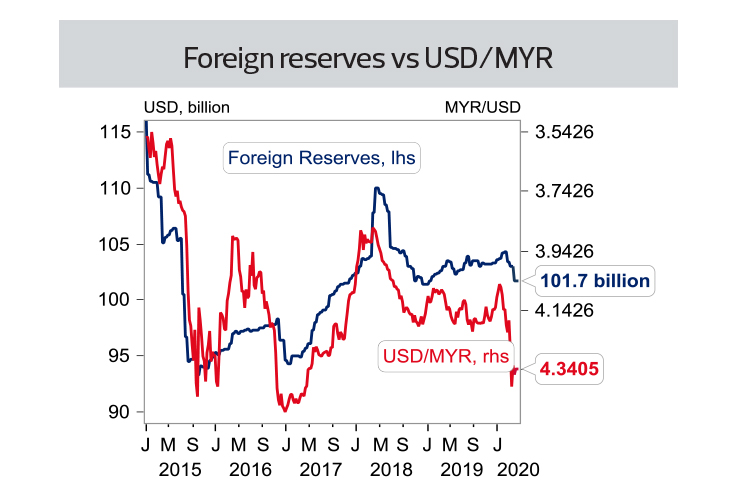 Source: Macrobond, Uob Global Economic & Markets Research
THERE is no denying these are extraordinarily trying times. In what is described as the worst fallout since the 1930s Great Depression, the International Monetary Fund now expects global economic growth to be sharply negative in 2020 — with only partial recovery seen in 2021 — owing to the novel coronavirus outbreak.
Amid calls to temporarily abandon fiscal limits to pump-prime the economy for the people's sake, the Malaysian government has so far chosen to strike a balance by demonstrating its willingness to extend help where necessary without botching prudential limits.
Fiscal prudence — which basically means the Malaysian government promises to spend responsibly — was mentioned by former interim prime minister Tun Dr Mahathir Mohamad as well as Prime Minister Tan Sri Muhyiddin Yassin when they announced the respective stimulus packages to counter the adverse effects of the Covid-19 pandemic on people's livelihood, businesses and the economy.
A marked difference in their speeches, however, was the missing guidance on the actual impact on the federal government's fiscal balance in both of the incumbent's stimulus telecasts on March 27 and April 6.
When delivering the first stimulus package on Feb 27 (when the number of Covid-19 cases here stood at 23 with zero deaths), Mahathir said the RM20 billion stimulus package would raise the fiscal deficit to 3.4% of GDP this year from the original target of 3.2%.
Conversely, the fact that Malaysia's fiscal deficit will be 4% post the RM230 billion package unveiled on March 27 and 4.7% post the additional RM10 billion package announced on April 6 was only made known when Finance Minister Tengku Datuk Seri Zafrul Tengku Abdul Aziz appeared in separate television interviews on Astro Awani (March 27) and TV3 (April 6) that did not run immediately after the live telecast of the stimulus speeches.
In other words, it was only several hours later that number crunchers knew RM35 billion or 13.5% of the RM260 billion stimulus packages announced so far requires direct fiscal spending by the government.
Another letdown is the fact that a detailed reconstruction of the federal government's Budget 2020 numbers remained elusive at the time of writing — leaving economists and market watchers to make their own educated guesstimates on how exactly the fiscal deficit could have only climbed from 3.2% to 4% of GDP with RM25 billion of extra fiscal spending being 1.65% of GDP and should have implied a 4.85% fiscal deficit. The additional RM10 billion fiscal spending from the third stimulus on April 6 pushed the extra fiscal spending further to RM35 billion or 2.3% of GDP and the fiscal deficit to 4.7% of GDP (and not 5.5% as per back-of-the-envelope calculations, without revenue enhancement or operating expenditure recalibration).
To put that into perspective, RM35 billion is 14.3% of the RM244.53 billion total federal government revenue and 10 times the RM3.5 billion current balance (revenue minus opex) projected in Budget 2020 last October. It is also 1.2 times the RM28.6 billion investment income originally expected for this year, which includes the RM24 billion "normal" dividend that Petroliam Nasional Bhd had committed to pay, RM2 billion from Bank Negara Malaysia and RM1 billion from Khazanah Nasional Bhd.
There are scant specifics on how the additional spending will be funded apart from looking to the trio for additional dividends. Bank Negara has now committed to pay a RM3.5 billion dividend.
It is not immediately certain if the government has found other means to unlock good value from its assets in the current challenging environment to supplement the necessary fiscal spending.
It is also not immediately known if the government will tap the National Trust Fund or Kumpulan Wang Amanah Negara, which was set up in 1988 to conserve the country's wealth from natural resources and whose asset base stood at RM16.92 billion as at end-2017.
Urusharta Jamaah Sdn Bhd, the vehicle set up under the Ministry of Finance to take over the underperforming assets (including land) of Lembaga Tabung Haji that were worth RM9.63 billion in December 2018, for instance, has been selling a number of its equity holdings in recent weeks amid bearish sentiment, stock exchange filings show.
The (unknown) size of additional dividend expected from Petronas is keenly watched, given that the RM30 billion special dividend it paid the government last year cost its credit rating to be reduced to one notch above the government's sovereign rating instead of two — more so with Brent crude oil hovering at US$30 per barrel levels.
There are also few details on how the federal government's opex has been recalibrated to allow the additional stimulus spending — a necessary move, given that oil-related revenue and tax collection will definitely fall short of the Budget 2020 assumption and Malaysia can only borrow to fund development expenditure, not opex.
Even though we know that the government has revised its oil price assumption to between US$35 and US$40 per barrel versus US$62 before, there still needs to be an updated guidance on whether every US$1 change in oil price is still equivalent to RM300 million to government coffers. With Malaysia being a net oil and gas exporter, there is also a need to consider the impact of lower prices and demand for liquefied natural gas, with recent news that Korea Gas Corp has asked its suppliers, including Petronas, to defer LNG shipments.
In his speech on March 27, the prime minister did say the government "will ensure surplus in the fiscal current account and will not borrow to finance operating expenditure". He also said it "will need to resume fiscal consolidation measures in the medium term to create fiscal space in the long term", without specifying how.
While Bank Negara did provide a new 2020 GDP growth guidance of -2% to 0.5% (down from 3.2% to 4.2% as at Feb 27), taking into account a 2.8 percentage point boost from the stimulus measures, a reconfigured Budget 2020 was also not in the central bank's inaugural Economic and Monetary Review report released with its 2019 annual report on April 3 — one week after the RM230 billion stimulus was announced. Close to a fortnight had passed when Fitch Ratings affirmed Malaysia's rating at "A-" but revised its outlook for the country's long-term foreign currency Issuer Default Rating to "negative" from "stable" on April 9.
Fitch's outlook cut
It is not immediately known how the engagement between the government and Fitch went prior to the move. What we know is that the key rating drivers for Fitch's outlook revision to "negative" included how "the Malaysian economy is being heavily affected by the Covid-19 pandemic" and its impact on government finances.
"There is high uncertainty about the extent of the deterioration in economic growth and public finances, and the pace at which the pandemic will unwind. Recent political volatility may affect governance standards, which had been improving in the past two years," Fitch says in its April 9 statement, forecasting GDP growth to slow from 4.3% in 2019 to -1% this year before rebounding to 5.8% in 2021.
These growth forecasts, the rating agency says, "are subject to significant downside risks, depending on the length of the partial lockdown and evolution of the pandemic". Malaysia's fiscal deficit forecast is also "subject to significant downside risks, in Fitch's view, in particular given the announcement [on April 6] of additional relief measures to small and medium-sized enterprises".
The rating agency does note that most of the stimulus measures are one-off or temporary, something that Muhyiddin also mentioned in his speech on March 27.
Still, Fitch goes on to say in its note that "the government had indicated it aims to resume fiscal consolidation in 2021 but has not yet communicated a concrete strategy. This could, for instance, include measures to put the fiscal finances on sounder footing and make less use of temporary backstops to fill the gaps, such as dividends from GLCs and sale of their assets".
Note that "Malaysia's public finances are its key rating weakness" and "contingent liabilities are rising" were also mentioned when Fitch downgraded the country's sovereign credit rating outlook to "negative" from "stable" in late July 2013 before raising the outlook back to "stable" in early July 2015 without an actual rating cut. The rating outlook change seven years ago also happened during a period of heightened uncertainty in the global markets, specifically when investors were pulling out funds from emerging markets following the so-called "Taper Tantrum" when the US Federal Reserve chief first spoke of reducing the central bank's massive bond purchases in May 2013.
While the share of Malaysia's foreign currency-denominated debt is low at 3% of total debt, Fitch points out that the country is "relatively dependent on foreign financing, with foreign holdings of domestic government bonds around 23% of the total, down from a high of 34% in 2016" (see accompanying story).
The saving grace here is the balance sheet strength of Bank Negara and a number of Malaysian institutions, including the Employees Provident Fund, Permodalan Nasional Bhd and Kumpulan Wang Persaraan (Diperbadankan).
Even Moody's Investor Service, which updated its credit opinion on April 8 without a change in its "stable" outlook or rating, notes that Malaysia's "credit challenge includes the government's narrow revenue base [that has become more reliant on petroleum revenue], which limits fiscal flexibility in response to shocks such as the coronavirus outbreak as well as the external vulnerability to volatile [confidence-based] capital flows".
Malaysia's rating, Moody's says, could be upgraded "if prospects for fiscal consolidation were to improve significantly, particularly through measures that broadened the currently narrow revenue base, pointing to a sustained decline in government debt burden and improvement in debt affordability".
Conversely, the rating could be downgraded if government debt were to see a marked increase over the next few years. "Rising political tensions and divergent views within the government that undermine policy effectiveness and threaten the stability of capital flows could also lead to a rating downgrade. In the context of broad-based and likely lasting global trade tensions, weaker medium-term growth prospects, including through lower investment, could also lead to a rating downgrade," Moody's says in its April 8 note.
Even though the receipts from the Goods and Services Tax were overstated, economists and credit analysts largely concur that government finances had become more reliant on petroleum revenue following the abolition of GST in 2018. The current environment makes it impossible to reintroduce GST or any new taxes until the need for government aid to the people and businesses no longer takes centre stage. In fact, the ideal should be where tax collection increases because profits and income are growing and not because tax rates have gone up.
Details come May 18?
When announcing the third stimulus last Monday, Muhyiddin did say the government "will table an Additional Supply Bill for all the economic stimulus packages that have been announced" when parliament next convenes.
"I guarantee that the government will continue to be transparent in its spending and all actions taken are based on the provisions of the law and the federal constitution," he said on April 6.
Still, there is no telling if parliament can reconvene on May 18 as scheduled due to the need for social distancing to curb the pandemic. The Movement Control Order that began on March 18 and was scheduled to end on April 14 was extended to April 28 last Friday, running into the fasting month of Ramadan that begins on April 23.
Even if all the fiscal numbers should be out when the supplementary supply bill is eventually tabled when parliament reconvenes, a timely update of key details would have won more brownie points for the administration that everyone knows is faced with a daunting task and had only taken office on March 1 following a political transition outside of a general election.
"An important rating driver is the government's approach to governance reforms. The previous administration made progress on this front, as evidenced by an improvement in Malaysia's World Bank governance score for 2019," Fitch says.
Just as the government is rightly balancing the need for fiscal prudence and helping the people and businesses, making the said key numbers available when the stimulus was announced would not only have lent credence to its words but also cut the need for more guesstimates at a time so many parts are already uncertain in the face of the global health, fiscal and economic crisis.