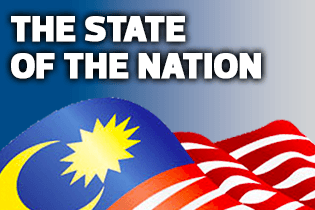 THE cooling measures introduced by Bank Negara Malaysia to curb excessive speculation in the property market has continued to see its intended effects, with the latest statistics by the Ministry of Finance (MoF) indicating a marked decline in property transactions in the first quarter of this year.
Deputy Finance Minister Datuk Chua Tee Yong, citing data from MoF's Valuation and Property Services Department (Napic) Property Market Report 2014, said property transactions in 1Q2015 fell 6.2% quarter-on-quarter to 88,600 units, from 94,500 in the preceding quarter (4Q2014). Year-on-year, transactions fell 4.6% from 92,900 in 1Q2014.
Chua pointed out that in spite of expectations that home buyers would rush in to purchase properties before April 1 on fears of higher property prices upon the implementation of the Goods and Services Tax (GST), Napic data showed that there was no pre-GST buying of residential properties.
"Many developers had said that with the increase in prices [post-GST], home buyers would choose to purchase properties before the GST implementation. However, based on the data we have, this was not the case," Chua was quoted as saying at the launch of the report last week.
According to the Property Market Report 2014, a total of 384,060 property transactions worth RM162.97 billion were recorded last year, representing a marginal 0.8% increase in volume and a 7% rise in value. In 2013, property transactions had actually dropped 10.9% to 381,130 units.
The bulk of the transactions, 247,251 units or 64.4%, was contributed by the residential sub-sector. Transaction in this segment recorded a 0.4% growth from 2013's 246,225 units. Meanwhile, commercial properties, which accounted for 9.3% of the total transactions, saw volume grow 3.6% to 35,528 units.
Foo Gee Jen, managing director of C H Williams Talhar & Wong Sdn Bhd, tells The Edge in a telephone interview that the market failed to see a surge in residential property purchases in light of the implementation of GST as the impact is small relative to commercial and industrial properties.
"The tax impact for residential properties is only 3% to 4% while the price increase for commercial and industrial properties is more immediate — besides the 6% increase for GST, purchase of commercial properties require more than a 10% down payment as well as a 3% stamp duty. In some cases, buyers of commercial properties have to pay 30% of the property value upfront — the psychological impact is a lot higher," he explains.
He notes that as most of the transactions on sale value is dominated by residential properties, the overall growth for the property market was therefore insignificant.  
Analysts also say that the lack of pre-GST property purchases was not a surprise given that banks are being more stringent in their loans approval process.
"The transaction numbers were pretty much expected. A year ago, we would have thought that there would be pre-GST buying as seen in other countries, but we made a change in view once we noticed that there has not been much pent-up demand over the last year.
"At the end of the day, financing is very crucial [to the sales performance of the property market]. I wouldn't say that Bank Negara has been too strict in this regard; it's simply that they are focused on getting quality loans," notes an analyst who declines to be named.
Indeed, data on the banking system shows that loan applications for residential and non-residential properties have been falling on a month-on-month basis (see charts). The gap between loans applied and loans approved for both the residential and non-residential property sectors has progressively widened since 2008, indicative of a stricter loan approval process.  
Nevertheless, the analyst opines that interest in the property segment could return once buyers have adjusted to the post-GST environment.
"Interest might return within three to six quarters. We have seen many banks offering attractive fixed deposit rates to bump up their deposits in the past three to six months, which means that they could have more aggressive loans growth on the line," he notes, adding that banks' loan-to-deposit ratio is currently at above 80% compared with about 70% a year ago.
Going forward, analysts expect the property market to remain soft in 2015 as lending remains tight.
Notwithstanding the poorer market sentiment, Napic data showed that transactions for residential properties priced between RM200,000 and RM500,000 increased by 37% to 102,082 units in 2014, from 74,153 transactions in 2013.  Analysts say this was partly due to the rising supply of properties in this category last year.
According to Sarkunan Subramaniam, managing director of Knight Frank Malaysia, there will be a focus on affordable housing in this category going forward.
"Yes, most of the speculators are out of the market by now. There is real demand for affordable homes below RM500,000 in value," he says, adding that higher-end properties in the RM500,000 to RM1 million and above RM1 million ranges are no longer a trend.
This article first appeared in The Edge Malaysia Weekly, on April 20 - 26, 2015.