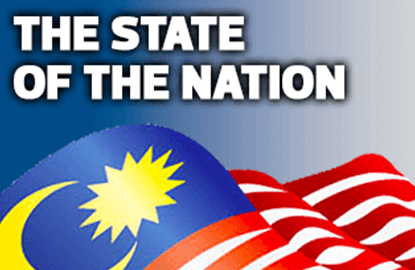 This article first appeared in The Edge Malaysia Weekly, on February 22-28, 2016
It surprised many that Malaysia's economy was still in relatively good health in the last quarter of 2015, given the "external headwinds" that have dominated headlines and economic policymaking. However, the central bank warns of tougher times ahead.
Gross domestic product growth came in at 4.5% year on year in the fourth quarter (4Q2015), slower than the 4.7% in 3Q2015 and 5.7% in 4Q2014. For the full year, the economy expanded 5%, falling safely within the government's revised GDP forecast of 4.5% to 5.5% for the year.
The figures, though, are higher than economists' consensus compiled by Bloomberg. The median forecast stood at only 4.1% for 4Q2015 and 4.8% for full-year 2015. Much of the element of surprise in last year's data came from the resilience of the private sector. In 4Q2015, private consumption accelerated 4.9% after two quarters of slowing growth. Meanwhile, private investment managed flat 5% growth in 4Q2015, despite a subdued economic environment that saw a plunge in crude oil prices and the sharp weakening of the ringgit.
Market observers found these numbers heartening because several indicators were pointing towards weakening consumer sentiment and private-sector investment. The Malaysian Institute of Economic Research's (MIER) Consumer Sentiment Index was lower for the fifth consecutive quarter — down to a record low of 63.8 points in 4Q2015 — signalling the growing fear of higher prices and the deteriorating state of jobs and incomes.
At the time, MIER's business conditions index moved up marginally to 87.1 points, during the period in light of deteriorating sales, new local orders and export orders. The Nikkei Malaysia Manufacturing Purchasing Managers' Index has been flat and hovering below the 50-point threshold, pointing to an economic contraction. Further, the growth in the Department of Statistics Industrial Production Index was stuttering in the final quarter of 2015.
Growth in private consumption in 4Q2015, economists say, is a sign of the waning effect of the Goods and Services Tax (GST), which was implemented on April 1, 2015. Private consumption grew 6.4% in 2Q2015 before slowing to 4.1% in 3Q2015. It is worth noting that the pre-GST buying rush led to high private consumption growth of 8.8% in 1Q2015.
"It seems that the impact of the GST on private consumption eased after six months as private consumption rebounded significantly in 4Q2015, when it surged 9.8% quarter on quarter on a seasonally adjusted annualised rate," says an MIDF Research economist.
Despite that, Bank Negara Malaysia's warning of "a challenging operating environment in the future" and prevailing "downside risks to growth" hints at tougher times in 2016.
To start with, domestic consumption, which is the country's hardest working engine of growth, is expected to slow. Consumers will face higher prices and cost of living due to the subsidy rationalisation programme, which involves withdrawal of government subsidies from essential goods such as cooking oil and flour as well as increase in taxes on consumer items such as cigarettes. While Malaysia still sees full employment, the jobless rate ticked up in the last quarter of 2015.
According to Maybank Investment Bank Research, Malaysia will see a higher inflation rate of 3% to 3.5% in 2016 and a higher unemployment rate of 3.3% to 3.4%. The downside, though, could be limited by stimulus measures for consumer spending under the revised Budget 2016. They include the tax relief of RM2,000 for those earning RM8,000 and below and the 3% cut in workers' contribution to the Employees Provident Fund.
Private investment growth, too, is expected to be more sluggish. In a Feb 18 note, HSBC Global Research points out that "business sentiment had continued to hover near multi-year lows, picking up only marginally in 4Q2015. Given the caution surrounding domestic and global growth, it remains likely that the private sector-led strength in investment largely reflected ongoing residential construction — where conditions remain bubbly — rather than private firms making outlays for future business expansion".
Economists say businesses are unlikely to expand aggressively in anticipation of a higher cost of production. Employers and trade organisations feeling the pinch of escalating costs have also been vocal about policy changes such as the increase in minimum wage and migrant worker levy, which could have a negative impact on output.
Based on Malaysian Investment Development Authority's (Mida) data, approved investments in the first nine months of 2015 fell 15% to RM153.2 billion from a year ago. It is worth noting that there are drops in private investments in the oil and gas and real estate sectors.
Public sector-led growth was sustained in 4Q2015. Public investment moderated to 0.4% year on year during the quarter due to lower growth in fixed asset spending by the federal government. Public consumption, on the other hand, grew at a sustained rate of 3.3% during the quarter as stronger growth in emoluments was offset by slower growth in supplies and services expenditure.
Going by the revised Budget 2016, the government is expected to be more restrained in both operating and capital expenditures this year. Low-priority initiatives, such as purchases of land, will be put on hold. According to Maybank IB Research, this will not affect public investment levels as major infrastructure projects, such as the Klang Valley MRT2, LRT3, Gemas-Johor Baru double-track railway and the Pan-Borneo Highway, will go ahead as planned. Government-linked companies will also continue to pursue development projects like the Tun Razak Exchange and Bandar Malaysia in Kuala Lumpur.
Net exports remain on track for a recovery. Despite weaker global demand, the depreciating ringgit helped boost net exports by 4.2% in 4Q2015. But economists worry that external headwinds could weigh on export growth. AllianceDBS Research — which has a full-year 2016 GDP growth forecast of 4.5%, at the higher end of the government's targeted range of 4% to 4.5% — says a downgrade is likely if January data indicates a further slowdown in exports and production activities.
All in all, growth data for 4Q2015 may have surprised on the upside, but the same may not be said for this year.