This article first appeared in The Edge Malaysia Weekly, on October 5, 2020 - October 11, 2020.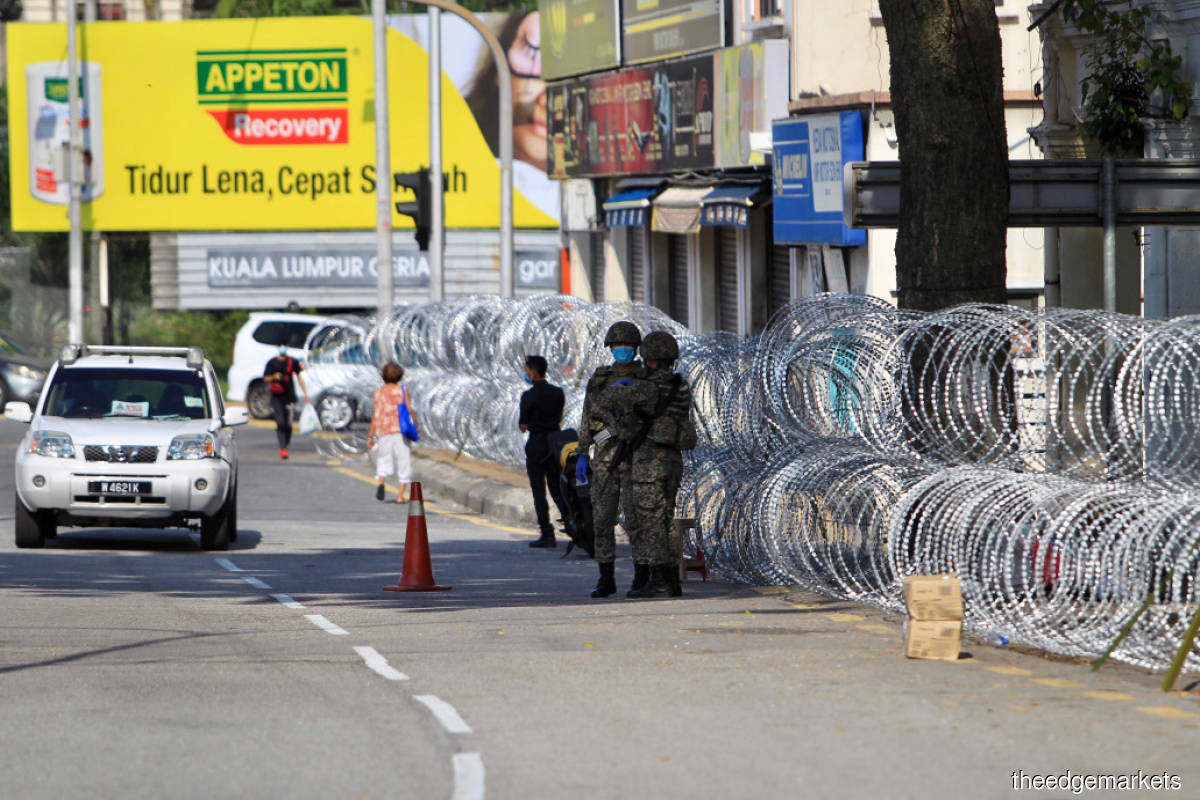 IT was the evening of Friday, Oct 2, when Health Director-General Tan Sri Dr Noor Hisham Abdullah said Malaysia had recorded 287 new Covid-19 positive cases — its highest ever daily figure, pipping the 277 cases recorded on June 4 and 260 cases on Oct 1.
The difference between the previous peak on June 4 and the two new high figures on Oct 1 and 2 is those who tested positive for the coronavirus last week were mostly locals whereas 270 of the 277 cases on June 4 were foreigners at the Immigration Detention Depot in Bukit Jalil — which means higher chances of transmission among the local populace.
In fact, one-fifth of the 11,771 Covid-19 cases Malaysia recorded thus far were made up of the 2,431 cases recorded from Sept 1 to Oct 2 — 94% or 2,286 of whom were not imported cases but local infections (including foreigners in Malaysia), records show.
More bad news for Malaysia, a net oil and gas exporter, is that oil prices skidded even as gold and other perceived safe-haven assets and currencies gained after US President Donald Trump and his wife tested positive for the coronavirus on Oct 2.
Will Malaysia go into a second round of lockdown?
That's probably the question at the back of many minds this week, not just due to the movement restrictions but the knock-on impact it could have on people's livelihoods and the green shoots of the country's economic recovery.
A gauge of the paranoia is that some even went as far as second guessing the government's RM10 billion Prihatin Supplementary Initiative Package (KitaPrihatin) on Sept 23, which included RM7 billion in cash handouts under Bantuan Prihatin Nasional 2.0 (BPN 2.0) — the first instalment of which would be paid by end-October, and the second in January 2021 — to the bottom 40% and middle 40% income groups as money for them to stock up on food and necessities. Some had linked these handouts to the Sabah election previously. They recall that the current government announced RM9.24 billion in cash handouts on March 27, just before announcing that the Movement Control Order (MCO) in place from March 18 — initially for a two-week period — would be extended.
Instead of two weeks, the MCO lasted for 47 days through May 3, during which unemployment rose to as high as 5.3% in May and the country's economy contracted 17.1% in the second quarter. That caused Bank Negara Malaysia to revise its 2020 GDP forecast to between -3.5% and -5.5% in August, from -2% to 0.5% previously.
Hisham saw it necessary to clarify his tweet, "How about all stay at Home for awhile again?" on Oct 1 as yet another reminder for Malaysians to do so if there are no important matters to attend to, rather than an indication of another nationwide MCO. Last Friday, the Communications and Multimedia Ministry, citing the Ministry of Health, denounced news that a nationwide MCO would be imposed again from Oct 3 to 16 as fake.
Yet, even the more level-headed observers, who reckon that the government will likely do all it can to avoid a second lockdown due to the impact on the economy and livelihoods, do not rule out the possibility completely, if the situation worsens further.
What's widely expected is tighter restrictions in so-called red zones and stricter social distancing rules.
A Targeted Enhanced Movement Control Order (TEMCO) has already been declared in Sabah, which is seeing a rise in cases. A total of 139 persons who tested positive between Sept 30 and Oct 2 had travelled to Sabah, according to data from the Ministry of Health.
While Sabah's relatively lower population density may have been a contributing factor in the decision to impose TEMCO there, there is concern that Selangor or the Klang Valley (Selangor, Kuala Lumpur and Putrajaya) may see tougher restrictions as well. This is because Selangor's R0 (pronounced R naught) value of 1.95 as at Sept 29 is higher than the 1.6 value that the health director-general deems as "critical", as well as Sabah's 1.26 and the country's average of 1.25.
The economy could lose as much as RM28.8 billion in output and demand (-1.9% of GDP), if a one-month-long TEMCO is implemented in the Klang Valley, given that Selangor, Kuala Lumpur and Putrajaya contribute about 40% to Malaysia's economy, experts at MIDF Research Imran Yassin Yusof, Kifni Kamaruddin and Abdul Mui'zz Morhalim point out in a note dated Oct 2.
"If another round of stricter MCO were to be implemented in the Klang Valley, weaker economic activities in the region will have a significant adverse impact on Malaysia's economy … In other words, a month-long TEMCO in Klang Valley will cause the contraction in Malaysia's economic growth this year to be even worse, with GDP estimated to contract at a steeper pace of -6.7% versus our current projection of -4.8% [assuming restrictions in the Klang Valley would be the same as the MCO]," the MIDF Research note reads.
"Weaker economic activities will potentially result in another round of rationalisation as companies will struggle financially to maintain their business operations … If the TEMCO in the Klang Valley causes around 100,000 workers to lose their jobs as businesses struggle to maintain payrolls, this could result in the unemployment rate to increase to as high as 5.4% from the latest 4.7% in July 2020," it adds.
There was already concern that consumer spending would fall after news reports that people at outlets in at least six malls in the Klang Valley had tested positive for the virus. A surge in cases among people in the peninsula being infected by those who had travelled to Sabah may well dampen efforts to revive domestic tourism as well as the food and beverage scene in the near term.
Citing the country's elevated debt levels and fiscal deficit of at least 6% this year, World Bank Group lead economist for Malaysia Richard Record told reporters on Sept 29 that "it will be tough for Malaysia to go through [an MCO] all over again".
Even so, the recent passing of the Covid-19 legislation in parliament — which raised the debt threshold from 55% to 60% of GDP and allows the government to borrow to fund operating expenses — provides it added fiscal space to stimulate the economy and protect people's lives and livelihoods.
"We opine that the federal government has the fiscal space to inject additional stimulus… Bank Negara Malaysia also has sufficient room to further ease monetary policy to support the economy, despite the Overnight Policy Rate [being] at historical low levels after the cumulative 125 basis points cuts this year," MIDF Research says.
They also noted that Malaysia's R0 reading of 1.25 is still below the "critical" level of 1.6. "While the situation does seem to be perturbing, we do not believe that Malaysia will re-impose a nationwide MCO. In our opinion, the most likely scenario will be localised restrictions or TEMCO for affected areas."
After all, existing standard operating procedures (SOPs) can be further tightened without causing businesses to temporarily close. "From the MCO experience, we are concerned that a prolonged closure will once again hurt the business community, particularly the SMEs, because they will face difficulty in retaining their workers due to challenges from depleting cash flows and weaker sales".
To be sure, Malaysia is not the first country to see a surge in cases after recording success in bringing down cases. While there is always room for improvement, the country's low Covid-19 fatality rate is proof that there are enough things being done right.