This article first appeared in The Edge Malaysia Weekly, on December 9, 2019 - December 15, 2019.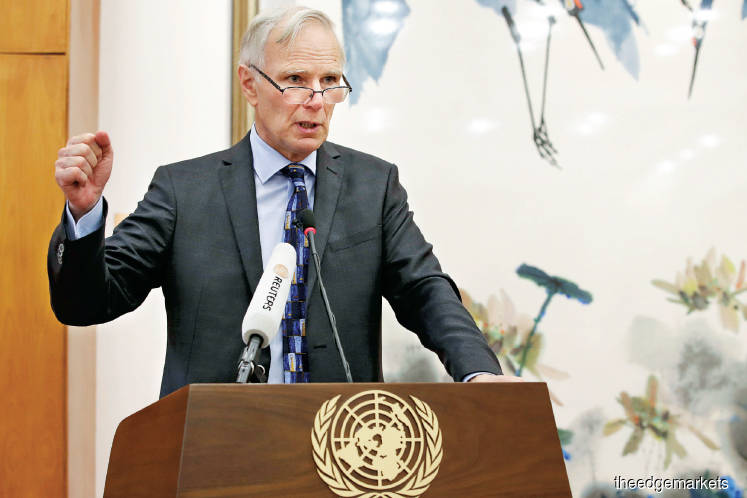 Alston: Malaysia is exceptionally non-transparent when it comes to access to data and statistics. Photo by Reuters
THERE is "a data-sharing task force in the government" figuring out the best way to share data, not just among government ministries but also with the private sector.
"Everybody realises that we need to share data … We have already started sharing data among ministries but how do we actually do that more broadly, what is the framework to share data with the private sector as well … there is a lot of good conversation happening right now," Surina Shukri, CEO of Malaysia Digital Economy Corporation (MDEC), told participants at the recent Employees Provident Fund 2019 International Social Well-­Being Conference in Kuala Lumpur.
It was befitting, perhaps prescient, that a question of where Malaysia is in terms of data-sharing was raised at a social well-­being conference. None with the right mindset would disagree that data transparency is essential for research and evidence-based policy and decision-making, the premise of the question raised by a conference participant. The wrong yardstick could render the country underprepared for a myriad of pertinent issues and the need for adequate social safety nets is even more important as the society ages.
Those who have been paying attention would recall an earlier academic discourse and not-so-academic claim that Malaysia's poverty levels were near zero. Prof Philip Alston, the United Nations Special Rapporteur on extreme poverty and human rights, had said at the time that the country's official insistence that fewer than 25,000 households in the entire country lived in poverty would "make it the world champion for conquering poverty" if not for the fact that the claim "is based on a statistical sleight of hand, which has had nefarious consequences" as it obscures the more troubling reality. More than 40 soup kitchens operate in Kuala Lumpur, for instance, where poverty is supposed to be near zero.
The prime minister's economic adviser, Muhammed Abdul Khalid, and author of the book The Colour of Inequality had said then that Malaysia should not be ashamed if a new yardstick were to show much higher poverty rates because it is imperative that the country admit that change is necessary when a measurement used is found wanting.
Even though absolute poverty rates in Malaysia had indeed vastly fallen from 49% in 1970 to 0.4% in 2016 — the figure cited by the Ministry of Economic Affairs — the lowball figure not only offers scant explanation on why 3.9 million households in Malaysia qualify for the government's Household Living Aid (BSH — Bantuan Sara Hidup) this year but also raises the question of whether the right people are being helped. There are eight million households in Malaysia this year while there were 7.6 million in 2016.
In his Bahasa Malaysia op-ed in Sinar Harian, published on Aug 27, Muhammed plainly said that Malaysia should just accept the reality that the existing poverty measure is outdated because that is the first step to finding a solution.
 
Data transparency and access to microdata
While poverty naturally grabs the headlines, Alston's statement, which resonated with academics and researchers, is Malaysia's lack of data transparency in access to data and microdata essential for policy research and decision-making.
"Malaysia is exceptionally non-transparent when it comes to access to data and statistics. One would expect the government to make public online the microdata from key national surveys, such as the Household Income and Basic Amenities Survey, and for the Department of Statistics to publish analytical reports with disaggregated data for vulnerable groups such as Orang Asli peoples," Alston tells The Edge in an email reply.
"As a result of the choice not to make such information public, policymakers, researchers and direct service organisations are significantly hampered in their ability to diagnose problems, devise solutions and evaluate the effectiveness of policies. Seeking to eradicate poverty without this information is like trying to solve a puzzle in the dark. The government must embrace data transparency as part of any new strategy to address poverty."
Alston's view on the lack of data is widely shared among researchers, and not just in social sciences.
"From my experience, and from speaking with academics, researchers and doctoral students, national survey data is prohibitively difficult to obtain in a complete, affordable and timely manner … These data sets are an abundant source of information on vital issues such as household income and expenditure, basic amenities and living conditions, labour participation and wages, household health, and firm characteristics and performance in particular sectors. The data sets are unrivalled. No organisation or research project has the funds and infrastructure to compile the same amount of information, and to repeat the exercise over time," Lee Hwok Aun, senior fellow with the Institute of Southeast Asian Studies (ISEAS)-Yusof Ishak Institute, says in describing the significance of the nationally representative time series of data and microdata of the Department of Statistics Malaysia (DoSM), owing to its national mandate.
"Scholars need access to raw data, also termed microdata — that is, the data that has not been processed and published by DoSM. Research projects investigate new and fresh questions; we need the raw form and the full data sets to answer these questions and engage in debate. The research community should be viewed as partners of DoSM in the creation of public knowledge that everyone, including government, can benefit from," Lee adds.
However, when researchers request these data, they are given only a subset of what is requested, charged exceedingly high access fees, or made to endure a slow response or a combination of factors that not only stalls or shuts down projects but also hinders them from generating original, insightful and robust findings.
"We are pre-empted from productively and rigorously contributing to public knowledge," one researcher laments, noting how a fellow colleague was "tragically" charged RM100,000 for truncated data after a prolonged wait when his PhD supervisor had only offered US$500 to aid his research.
"Is it worth our effort to hammer out a full-blown research proposal that is contingent on getting those data sets only to be at the mercy of DoSM? I don't mean to suggest that they are intentionally obstructive but rather, there is a need for [a paradigm shift for Malaysia to move forward]," the researcher adds.
It is understood that researchers who previously worked closely with the Economic Planning Unit were given access to more data but they too faced limitations. Even "government-friendly" entities such as Khazanah Research Institute (KRI) do not have free access to the valuable data.
Christopher Choong, deputy director of research at KRI, notes that the levels of disaggregation have improved in recent years but microdata — which allow researchers to analyse more complex questions, beyond the averages, that may well be more useful for policymaking — remains elusive and inaccessible.
"[Access to microdata] means we will know the demographic characteristics, income and expenses of every household and/or individual in the Household Income and Expenditure Survey. With that, we can do more complex analysis, including analyse the severity of poverty, find out the determinants of poverty and test different poverty measurements and/or concepts," Choong tells The Edge.
Academics note how governments could benefit when research flourishes and knowledge is generated in the public domain, and even save cost from not having to commission expensive consultancy reports.
It is understood that DoSM releases 30% of the sample or variable requested but the process can be lengthy and comes with "a hefty price tag".
When asked in what instance does DoSM choose to provide only a selected subset of data rather than what is requested, a spokesperson says the DoSM "always cooperates to fulfil data requests from any users without prejudice" but added that the department "could only disseminate aggregate data and not individual data" to ensure the confidentiality of respondents' information.
"DoSM strongly encourages the use of official data by researchers in conducting research that has an impact on the development of the nation and the well-being of the people. In terms of data-sharing with users, DoSM always cooperates to fulfil data requests from any users without prejudice.
"However, by following the provisions of Section 4(2), guidelines for handling and supplying microdata to users are established to provide systematic guidance on the microdata management to ensure the confidentiality of respondents' information is upheld. DoSM has a huge responsibility to hold the trust and confidentiality of the respondents in making sure their raw information is well taken care of. The Micro Data Policy applies to all users of microdata as long as the terms and procedures outlined in this policy are complied with. For the researcher, a clear research proposal is needed with the data request application. All the practices mentioned are in line with other National Statistical Office (NSO) like Singapore, Australia, New Zealand, Indonesia and some other countries," the DoSM spokesperson says in an email reply.
Yet researchers argue that confidentiality cannot be an excuse as all national survey data either do not identify respondents or can easily be anonymised.
"The data collection is publicly funded and should ideally be provided free of charge, or if absolutely necessary, for a nominal fee. It is also not difficult to set up a system that provides a swift response and minimal bureaucratic hurdles. There are codes of conduct governing research and publication; scholars should be trusted to do their work and be accountable to professional and ethical standards," says Lee.
"For an example of best practice in open data, look to South Africa — Malaysia's fellow upper-middle income country, with similar demographics and political economic structures, which call for continuous research on inequality based on race, class, gender, geography and so on. Complete national survey data sets are downloadable online for free, without the need for registration or permission from the authorities. That should be the way in this day and age," Lee adds.
On misinterpretation of data, researchers say metadata can be released to explain data structures, its limitations and how the data should not be used.
"If researchers were able to provide counter arguments on poverty and highlight the need for greater attention to the issue with limited data, imagine how much more insights to policy can be provided if there were access to microdata," one researcher says, questioning the rational of keeping the valuable information with a single authority and away from the public domain. "Is Malaysia not mature enough for deeper data-backed academic discussions?"
As a national statistics producer, DoSM agrees that there is a need for the strengthening of administrative data systems for more inclusive data and that it has "continuously strengthened the strategic cooperation with ministries/agencies to improve the official statistics".
The good news is that the data to further research for better-informed policymaking is available at DoSM, which will make available data from the Household Income & Expenditure Survey 2019 on request starting from May next year.
That there is now a data-sharing task force in the government is a good sign that policymakers intend to make informed decisions. The powers that be also need to decide just how big a helping hand it will give to researchers and academics looking to deepen knowledge for better policymaking. If this basic issue cannot be resolved, any big plan on data-readiness for machine-learning and data analytics in the age of artificial intelligence may underlive its potential.