This article first appeared in The Edge Malaysia Weekly, on September 16, 2019 - September 22, 2019.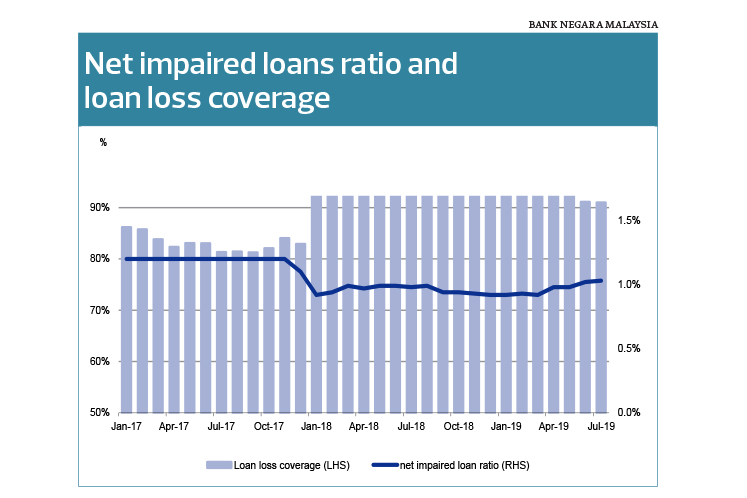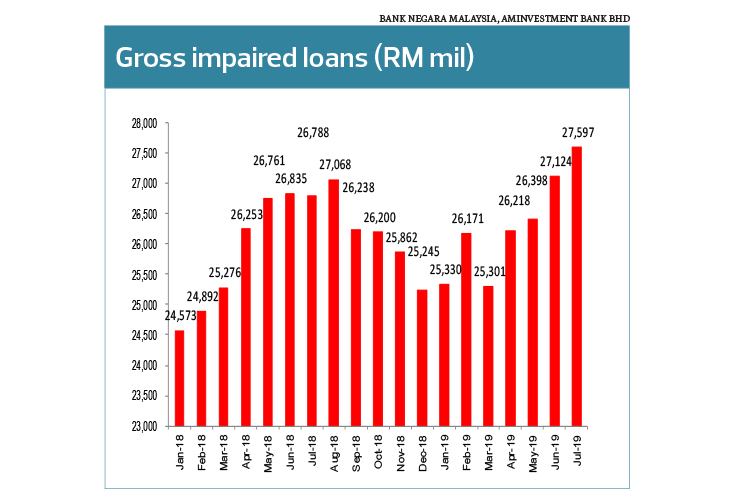 NON-performing loans (NPLs) have been inching up since the beginning of the year, according to monthly banking statistics released by Bank Negara Malaysia. Similarly, total provisions made in the banking system have moved higher in recent months compared with the beginning of the year.
Interestingly, the rising NPLs and provisions come on the back of a strong second-quarter gross domestic product growth of 4.9%, which was above consensus estimates.
Those tracking Bank Negara's statistics would notice that the gross impaired loans ratio had risen from 1.48% as at end-January to 1.6% as at end-July. In absolute terms, total impaired loans, or non-performing loans, had increased to RM27.6 billion in July from RM25.33 billion in January.
The details reveal that the biggest increase in NPLs in the first seven months of the year was in the primary agricultural and manufacturing sectors.
That the NPLs in the primary agricultural sector rose more than five times to RM1.24 billion in July from RM242.5 million in January is cause for concern. After rising steadily in the first two months of the year, the NPLs declined slightly to RM253.8 million in March before increasing to hit RM1.24 billion by end-July.
In the manufacturing sector, NPLs climbed 48% to RM3.64 billion from RM2.52 billion in the same period, albeit at an erratic pace in the first four months. From RM2.44 billion as at end-April, NPLs had accelerated to RM3.64 billion as at end-July.
In another closely monitored sector — household — NPLs grew 4.5% in the seven-month period, from RM9.98 billion in January to RM10.44 billion by end-July. NPLs declined from January to end-April, when they totalled RM9.91 billion, but reversed in the next three months.
In its Sept 6 report on the banking sector, Maybank Investment Bank Research notes that the banks under its coverage saw their NPLs rise 3% quarter on quarter in 2Q2019. The research house sees a further increase in the gross impaired loans ratio over the next two years for banks under its coverage, and projects a rise to an average of 2.15% (2020) and 2.24% (2021) amid domestic and external uncertainties.
"Household asset quality is likely to see mild deterioration amid higher living costs and we continue to keep a watchful eye on the oil and gas and non-residential property loan books," it says in the report.
But for now, with the current gross impaired loans ratio at 1.6%, many opine that asset quality is still stable.
"We are not expecting asset quality to deteriorate because we don't see the economy slowing down significantly this year. Having said that, the risk is now heightened because the US-China trade dispute has escalated. So, we are turning cautious, although we are still positive on the banking sector," says MIDF Research analyst Imran Yassin Yusof.
He believes alarm bells will start ringing if the gross impaired loans ratio rises above 2%, although he does not see that happening this year.
However, Imran warns that if trade tensions spill over into the Malaysian economy, resulting in a business pullback, that could affect banking's asset quality.
In a Sept 2 report, CGS CIMB Research projects the gross impaired loans ratio to hit 1.8% by the end of the year.
Meanwhile, total provisions in July amounted to RM25.11 billion, up from RM24.98 billion in January, and up 1.5% or RM360.4 million month on month, says the research house, adding that banks could have made more provisions for July.
Market observers believe there could be even more provisions in the quarters ahead, given global growth concerns.
What is also worth highlighting is that the loan loss coverage ratio for the banking sector has declined since the beginning of the year. The ratio, which is calculated by dividing total provisions by total impaired loans, dropped from 98.6% in January to 91% in July.
A lower ratio means banks are making less provisions for bad debts. Experts say a lower loan loss coverage ratio is not necessarily a negative, provided that future impaired loans do not increase significantly. Problems arise only if there is not enough coverage when impaired loans increase significantly.
That said, only time will tell if more loans become "non-performing" in the months ahead, should economic conditions turn sour on the back of global uncertainties.