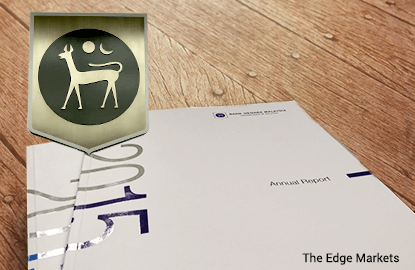 This article first appeared in The Edge Malaysia Weekly, on March 28 - April 3, 2016.
AT 89.1%, the level of household debt to gross domestic product (GDP) continues to be "elevated", even as economic growth moderated to about 5% last year from 6% in 2014.
But, as 61.4% of household debt in Malaysia is secured by property and securities (principal-guaranteed investments), net exposure is to loans "substantially reduced", according to Bank Negara Malaysia in its 10th Financial Stability and Payment Systems Report released with its 2015 annual report.
A "broadly stable employment and income outlook" also supports the capacity of households to service debt.
"Lower-income households also continue to be supported by various financial assistance programmes provided by the government to ease their financial burden in the face of rising costs. In addition, households that are already highly leveraged have more than half of their borrowings in the form of fixed rate financing, which reduces their sensitivity to changes in financing cost. In the higher-income groups, aggregate leverage levels have remained stable, averaging three times," Bank Negara went on to say.
In addition, the central bank said, the share of borrowings by highly leveraged lower-income households that earn RM3,000 or less a month declined further to account for 23.6% of total household debt from 24.3% in 2014 and 28.4% in 2013. Total banking financing to the household sector also fell to 20.4% in 2015 from 20.9% in 2014 and 25.1% in 2013 — reflecting improvements in affordability assessments.
According to the central bank, the aggregate leverage (measured as a ratio of outstanding debt to annual income) for households in this group has been hovering at about seven times since macroprudential measures were implemented.
Still, the level of indebtedness for this group will likely only ease gradually, given the length of the remaining debt tenure, which averages nine years. "Continued income growth and a deceleration in new financing growth will contribute to reducing leverage over time," the central bank said.
It is understood that conditions could have been worse, had the maximum tenure for personal loans not been cut to 10 years from 25 years by Bank Negara.
Even so, there is still a need to ensure non-banking financial institutions (NBFIs) — particularly among the medium and large-sized credit cooperatives that account for the bulk of personal financing to households — further improve their loan affordability assessments.
"An inappropriate easing of lending standards by NBFIs remains a concern that could impose excessive financing burdens on households over the long term and increase arbitrage risks. Financial education of borrowers and close vigilance will thus remain important," Bank Negara said, adding that the Credit Counselling and Debt Management Agency (AKPK) has continued to expand its outreach, providing financial counselling and advice to over 80,000 individuals last year.
Based on Bank Negara's ongoing engagements with banks and key NBFIs, higher delinquencies have been observed in the compact car hire purchase and personal financing segments.
"This likely reflects financial difficulties facing the more highly leveraged households in the lower-income group of borrowers," the central bank said, noting that this was consistent with enrolments in AKPK's Debt Management Programme, where about half are borrowers earning less than RM3,000 per month, and more new cases involving borrowings in these financing segments.
"For some borrowers, this has also started to increase the challenges faced in maintaining regular home financing repayments, resulting in slightly higher house financing delinquencies."
Stress test shows RM65.4 bil exposure
Stress tests conducted by Bank Negara Malaysia indicate that RM65.4 billion is the estimated maximum potential losses to banks in the unlikely event of simultaneous defaults occurring across all types of household borrowings.
Of this amount, an estimate of potential losses attributed to households earning a monthly income of RM3,000 and below is about RM15 billion.
"This is well within the excess capital buffers (above the regulatory minimum) of RM117.3 billion held by banks as at end-2015," Bank Negara said, adding that these potential losses have not taken into account the available savings and financial buffers of individual households or responses by the banks to manage such scenarios.
Over the past two years, banks have also gradually increased the level of provisions and regulatory reserves for collective impairment to 1.5% of total outstanding loans from 1.4% in 2014 as part of "ongoing measures during periods of healthy profits to strengthen buffers against potential loss events".
This level currently stands above the minimum regulatory requirement set by Bank Negara of 1.2% of total outstanding loans, net of individual impairment provisions.
Last year, the overall quality of banks' household loans improved further with household impaired loans and delinquencies (loans in arrears from one to three months) remaining low across all types of financing facilities.
Meanwhile, speculative buying of properties was muted in 2015, with official data showing those with at least three outstanding housing loans continued to account for only 3% of borrowers.
"The annual growth in the number of borrowers with at least three outstanding housing loans (a proxy for speculative buyers) was maintained at a low and stable rate of 3.1%, down from the much higher rate of a 15.8% increase last observed in 2010," the central bank said in its Financial Stability and Payment Systems Report 2015.
Bank Negara had required financial service providers to conduct affordability assessments based on parameters applied to unsecured personal financing on applications for additional loans.
There was also no change in financing extended for the purchase of houses priced below RM500,000, which are at lower risk of significant price corrections due to sustained strong demand. These accounted for 85% of outstanding house financing.
"About 84% of housing loan borrowers have only one outstanding housing loan, of which 88% are first-time homebuyers. Such borrowers have strong incentives to maintain loan repayments in an event of financial stress or negative equity on their homes, compared to investment buyers," Bank Negara said.
Evidence of "equity withdrawal" by borrowers who refinance their housing loans at a higher quantum against the current value of their properties has also been limited.
A reflection of the stable and improving credit profile of banks' housing loans, the vintage default rates for housing loans originated across the years since 2007 continued to show improvement, Bank Negara said.
"Banks have maintained positive cumulative profit to cover up to two times actual historical default for housing loans originated across the years. The share of impaired and delinquent housing loans also remains low at 2.4% of total housing loans.
"Based on a single-factor sensitivity analysis conducted on the housing loan portfolios of banks, excess capital buffers of the banking system would remain sufficient to cover about six times the estimated expected losses. The sensitivity analysis assumes a stressed probability of default (PD) of more than 12% (three times the current PD of 4.1%) and a severe correction of 40% in house prices," Bank Negara said.