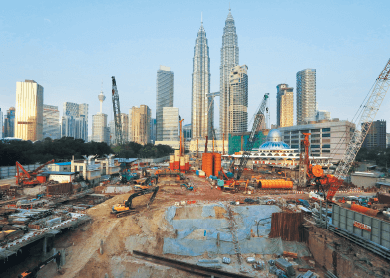 HIGH INCOME has to be coupled with high productivity — this appears to be one key underlying message from the government as conveyed in the recently unveiled 11th Malaysia Plan (11MP).
The fact that the government has decided to take the bold step of "right-sizing" the civil workforce shows that it sees the importance of improving productivity in order to propel Malaysia to a high-income nation. However, whether such a policy could be implemented as planned remains to be seen (see "Government bites the bullet to transform civil service" below).
According to The Conference Board, a research organisation based in New York, Malaysia's productivity is in fact higher than those of its peers such as Indonesia, Thailand and China. Statistics show Malaysia's labour productivity stood at US$24,934 (RM89,375) output per person employed in 2013, compared with Indonesia's US$11,880 per person employed, and Thailand and China's at US$17,414 and US$16,470 respectively.
However, we still have a long way to go when compared against the developed nations — for example, labour productivity in South Korea stood at US$46,097; in Singapore, it was US$51,468; and the US, US$70,293.
Recognising this, the government has put greater emphasis on growing multi-factor productivity (MFP), rather than just focusing on labour and capital productivity.
MFP measures the part of economic growth that cannot be explained by the increased utilisation of capital and labour. It is often interpreted as the contribution to economic growth made by factors such as technological progress, organisation innovation and quality of labour.
According to Bank Islam Malaysia Bhd's chief economist Afzanizam Abdul Rashid, having higher MFP is the way to go since input factors such as capital and labour would be exhausted at some point. MFP is often linked to technological know-how and innovation, which are closely related to education, he says.
"Promoting quality education is key to achieving higher MFP in the economy. The government has been putting significant amounts [of funds into] the education sector, especially to build schools.
"Nonetheless, providing the basic infrastructure for teachers to perform their duties is equally important too. For instance, having photocopy machines, transportation — especially for extracurricular activities — could assist the teachers in discharging their duties more effectively," says Afzanizam.
Under the 11MP, labour productivity growth is targeted at 3.7% per annum to hit RM92,300 per person per year by 2020. It is expected to be led by the construction sector, growing at 9.6% per annum, followed by the services sector at 4.1%, the agriculture sector at 3.6% and the manufacturing sector at 2.6%.
The question is: Has Malaysia's labour productivity grown fast enough to keep the country ahead of its competitors in the region? Can Malaysia's labour productivity catch up with those of the more advanced economies in Asia?
Malaysia cannot stay complacent if it wants to achieve the coveted high-income status by this decade-end.
Since the 1990s, Malaysia has been putting a lot more weight on labour and capital productivity to drive its growth, with modest contribution from MFP, which is lower than those of most of the developed economies.
Under the 11MP, the target is to increase MFP contribution to GDP growth to at least 40% by 2020, from the current 29.8%. The contribution of capital and labour will correspondingly be reduced to 44% and 16% respectively, from 48.8% and 21.4% currently.
To spearhead the drive for increased productivity under the 11MP, the government has come up with a few strategies, including a five-year productivity blueprint, setting up a National Productivity Council, and introducing productivity enhancement as a key performance indicator for all development initiatives.
However, among the strategies identified, economists The Edge talked to agree that the most important is the strengthening of human capital. The 11MP states that the quality of human capital will be strengthened by improving the efficiency of the labour market through better coordination between the labour demand-and-supply mechanisms.
Besides that, re-skilling and up-skilling of local talent, including through technical and vocational education and training, and attracting foreign talent as well as leveraging on Malaysia's diaspora will also be intensified under the 11MP.
The implementation of the minimum wage has boosted the income of the bottom 40% (B40) of the population by as much as 12.7% per annum between 2009 and 2014 to RM2,537 per month, according to the Statistics Department and the Economic Planning Unit.
However, industry players are saying that raising the minimum wage further will erode Malaysia's competitiveness to attract foreign and domestic investments.
Thus, a National Wage Index will be introduced, and the adoption of a Productivity-Linked Wage System will be further expanded. To reduce over-reliance on low-skilled foreign workers, industries will be incentivised to mechanise and automate their operation.
Innovation will also be given further emphasis under the 11MP, by focusing on relational capital that is improving collaboration and coordination among all stakeholders involved in research and development, commercialisation and innovation.
Another pressing issue that the government has to address head-on is the low productivity of the public sector. It intends to do so by rationalising the size of government institutions, as well as reducing overlapping functions and redundancy.
Since the 1990s, there have been six Malaysia Plans which have sought to address the issue of productivity. The government should now focus on implementing the 11MP and not be wavered by political pressure from any group that opposes change.
This article first appeared in The Edge Malaysia Weekly, on May 25 - 31, 2015.