This article first appeared in Digital Edge, The Edge Malaysia Weekly, on February 14, 2022 - February 20, 2022.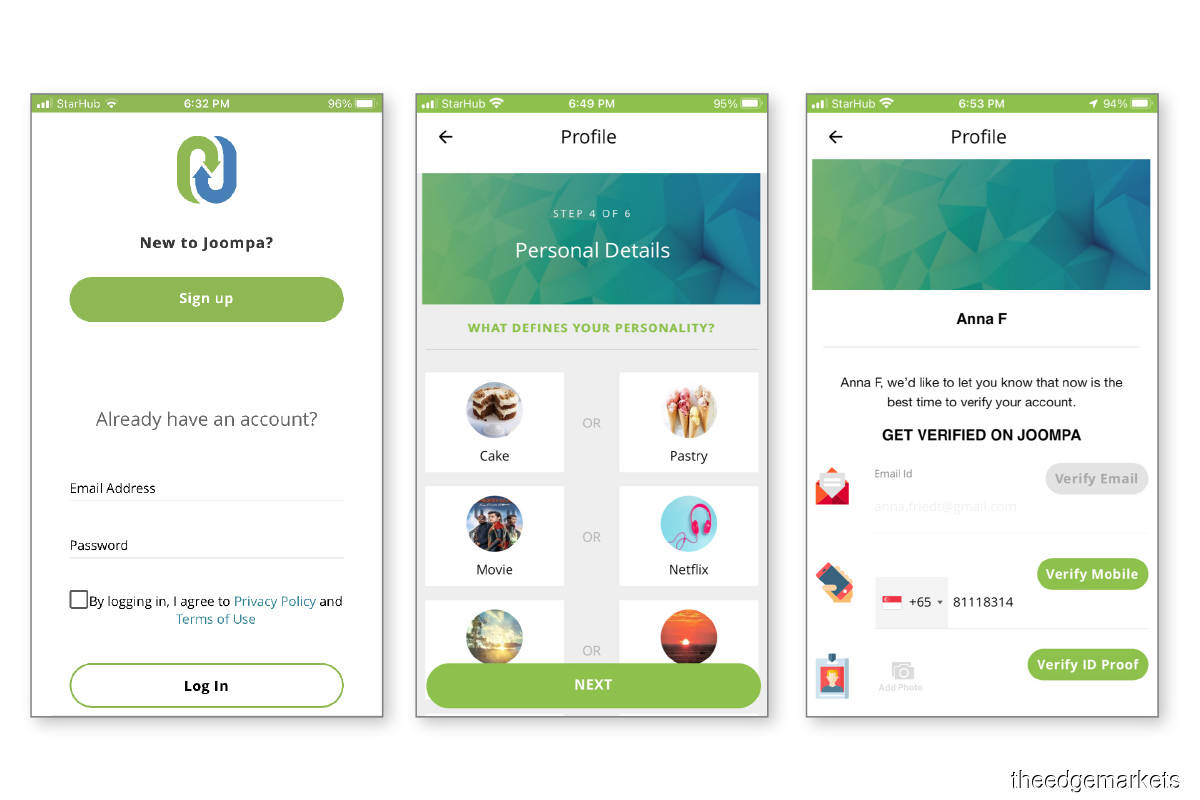 Having arranged marriages and initiated romantic relationships for 18 years as a matchmaker, Anisa Hassan found it odd that the plethora of dating apps available today had not made finding love any easier. It was even harder when prerequisites — such as faith — came into the equation, she says.
That got her thinking: maybe the problem was that the data and software powering the dating platforms were lacking the touch of a seasoned matchmaker.
So, Anisa decided to create Joompa to bring her offline expertise — she runs luxury matchmaking service Date High Flyers (DHF), headquartered in Singapore — to the online space. The Muslim-friendly dating app offers a safe space for users to find like-minded individuals seeking long-term relationships.
"Since I became a matchmaker in 2004, I have dealt with more than 12,000 clients and successfully paired up over 1,000 couples. But my clients who are Muslims often tell me how difficult it is to find partners sharing the same religion.
"This got me thinking about what the reason could be [considering that] we are in the new centre of the biggest Muslim population in the world — Indonesia, Malaysia and Singapore combined," says Anisa.
"There are so many dating apps out there but there isn't any app that is backed by a real matchmaker. So, I wanted to codify what I have learnt from my interactions and my knowledge of what makes a relationship work.
"I decided to focus on an app for the Muslim community first because that space got me thinking about codifying my experience," she continues.
Islam is the most widely practised religion in Southeast Asia, numbering about 240 million adherents and making up about 42% of the 655 million total population. "[This is] quite a sizeable market, which is why I decided on creating a matchmaking app catered for Muslim singles."
Anisa chose to launch Joompa in Malaysia in 2020, given the country's 19.5 million Muslim-majority population and high internet penetration rate. Since the launch, the app has garnered close to 10,000 active users in Asia.
According to market and consumer data provider Statista, the revenue from online dating is projected to reach US$3.677 billion (about RM15 billion) this year with an annual growth rate of 6.25%, resulting in a projected market value of US$4.686 billion by 2026.
The firm adds that the number of users is expected to total 501.7 million by 2026. Currently, most of the revenue is generated in the US and is projected to be US$829 million by the end of the year.
Unlike the more mainstream dating apps where the algorithms make match suggestions based on location, age and other preferences, Joompa spotlights a person's interests and values instead of their looks, says Anisa.
While the insights and intuition she has garnered from working with her DHF clients over the years cannot be easily codified, Anisa says she works closely with her team of technologists to automate as much of what she has gleaned as possible in Joompa.
Measuring compatibility 
Matches are made using a compatibility meter developed in-house, which is configured based on a series of questions — ranging from hobbies to the level of religiosity — that users must answer upon signing up.
The compatibility meter then curates users best suited for each other, after which it is up to the users to engage their match in conversation on the app.
Anisa decided against presenting endless choices as well as against including an option — such as that on Tinder — that allows users to swipe left or right for matches.
"Dating apps are being created by data scientists and coders … people who have no understanding of what would make a match work.
"From the work I do in my offline space, I know the struggles, the emotional roller coasters that our clients are being subjected to when they go out on dates — their fears, anxieties, doubts and beliefs about themselves and the person who they are going to meet," says Anisa.
"Sometimes the match doesn't work out and sometimes these things just pan out because dating is all about the experience gathered along the way.
"Being a matchmaker, I guide my clients, allay their fears, explain or sometimes reframe their thinking and mindset to ensure that they don't easily jump to conclusions or second guess their decisions or read too much into a situation," she continues.
"So, I know what makes a date work or what makes a pairing successful. There are more variables than things like a person's age and looks. Would it be good to pair someone who has never married before to someone who is divorced? Or with someone who is widowed with children, would that pairing be successful? Would pairings between two divorcees work?"
This is why users on Joompa are encouraged to engage in conversation and get to know the person they are communicating with instead of just relying on their looks before declining the match.
"The compatibility meter shows users who they are compatible with, and that they should consider starting a conversation with that person, rather than giving him or her a pass because of their profile pictures. Other platforms are very profile-picture driven," she says.
For starters, factors such as age, marital status and level of religiosity come in handy when it comes to the ongoing challenge of deciding on a possible match.
As Joompa prioritises matches for Muslims, users are given questions such as which sect — Sunni or Shia — one belongs to and if they practise fasting during Ramadan and perform daily prayers.
"Let's say somebody is very orthodox Muslim. Pairing him or her with a liberal Muslim or a moderate Muslim might not work as well. So, I believe we have to have the difficult conversations early on in the dating game. It's not something that you should discuss much later when you are fully invested in the relationship," says Anisa.
"What we want is for people to stay away from the superficial and go deeper into the conversation because that's how relationships are formed.
"It is to save you from the heartbreak and the hassle of such deal-breakers. We took into account the non-negotiables when we worked on refining our app, something that I doubt is being explored by the other regular dating apps."
While the app is targeted at Muslims, it is open to all ethnicities and people of different faiths, stresses Anisa.
"From the work I have done at DHF for 18 years, I know that interethnic relationships also work well. It is about the vision they share on what makes a good marriage. People of other faiths can skip the questions that are relevant to those of the Islamic faith. But for the Muslims, we encourage them to answer all of that because it gives us a glimpse into their level of religiosity."
To prevent catfishing and other fraudulent acts, users have to submit proof of identification upon signing up.
"You are asked for several things for verification purposes. We make sure that your photos or your selfies are somewhat similar to your proof of identification. And, of course, there's phone verification or email verification as well," she says.
The Covid-19 pandemic has contributed to the uptick in the use of dating apps given physical distancing rules, which is why Anisa is steadfast in her conviction that deeper conversations are essential to building sustainable relationships.
"Building a trusting relationship is all about being able to engage your five senses. But in a lockdown, this [online dating] is the closest that we can get to finding a partner without having that face-to-face interaction.
"The human heart and mind are fickle things. Even if I put five gentlemen before you to consider, if you aren't feeling a connection, there isn't much that can be done. We have our desires, parameters and preferences. So, as a matchmaker on an app, all I can do is to recommend options based on your preference. It is up to you to take it to the next level to see if you have the chemistry.
"Do not dismiss somebody just because he or she may not fit into the kind of mould that you're used to. It is essential to be open-minded. The intention of this app is not to hook up. It's not [targeted at those who want] casual meetups," Anisa stresses.
"It is to develop long-term and sustainable relationships that lead to marriage because we aim to match at least one million Muslim marriages worldwide."