This article first appeared in Enterprise, The Edge Malaysia Weekly, on January 8, 2018 - January 14, 2018.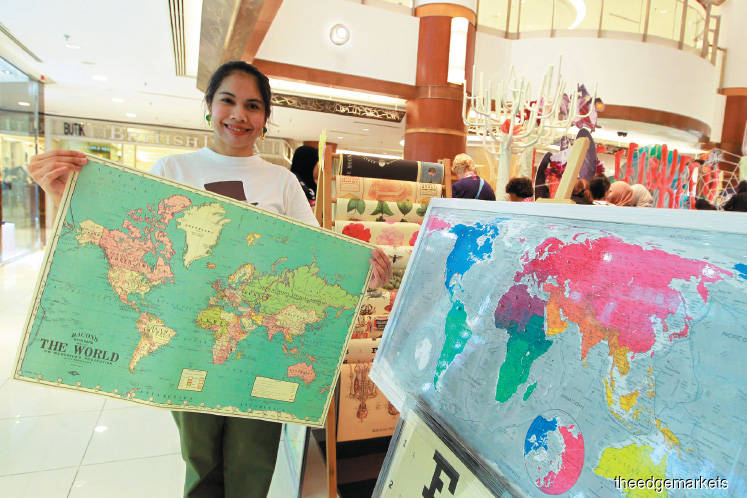 Juliana Ibrahim is a cartophile, or someone who has an interest in maps. A travel agent by profession, she developed a love of maps as she was always off on adventures to some part of the world.
As the ringgit weakened and the times became harder, she thought of supplementing her income by selling maps. But when she told her family this, they were not all that excited about it.
"My siblings were sceptical because maps are not a mass demand product and people usually go to popular stationery stores to buy them. How could I compete with these stores? But I decided to go for it anyway. I contacted a friend in London who is a supplier of world maps and the rest is history," says Juliana.
Calling herself a "mapreneur", she still runs her Seremban-based travel agency Proxima Travel and Tours. She inherited the agency from her father some 19 years ago when she was just 19.
"I wanted to dive into something else as I am more of a creative person, but my father insisted that I take over his business. Although I really enjoy the work, I knew that I had to do something else. I have three children and I want to provide for them the best that I can. That is why I have become a small, home-based entrepreneur," says Juliana.
Her brand, TheMapHatter, was officially launched in February last year. A common misconception that Juliana keeps having to clarify from time to time is that she makes her own maps; she doesn't. She gets her products from five suppliers — three are based in London while the other two are in Germany and the US. The maps are priced between RM20 and RM1,400.
"It is not easy to make maps. There are so many details that must be 100% accurate," says Juliana.
"It is so difficult that there are not many mapmakers around the world. I know them and have them supply me with their products, thanks to the contacts I have built over 19 years of travelling. Our main supplier is the Future Mapping Company — the first to produce magnetic maps."
The MapHatter sells globes as well as wallpaper, posters, wrapping paper and even tea towels with the world map printed on them. It also sells a range of non-map-related products such as posters of animals, moon phases and skeletal systems and Snellen charts. Juliana makes sure to only sell products that are not easily available at other retailers in the country.
Increasing brand exposure on social media
Knowing that it will be difficult to gain brand exposure for such a small business, Juliana says social media is the best platform for her to market her products. This means she will need to learn how to make the most of social media and its power of generating an audience that will translate into sales.
"I am in my late thirties and not so well-versed in social media platforms. So I had to lower my guard and take advice from the younger generation. Thankfully, they are more than happy to teach me how to build my brand presence online," says Juliana.
"One of the things they taught me is that I need to actively post a new photo on Instagram during peak hours, which is 9am and 9pm every day, to quickly gain followers. The first two days were a breeze. The third day, I was all dried up. I did not know what picture to post and what caption to write. Nevertheless, I persevered. Today, we have more than 5,000 followers on Instagram."
The business also leverages "Instagram influencers", or users with established credibility. Due to their large following, these users have the ability to persuade their audience to follow certain brands. Juliana sends influencers a gift in the form of a map in the hope of getting them to promote her brand to their followers.
Last year, Juliana worked with Neelofa — a local celebrity whom she knows personally — to feature her maps in a serial drama, Suri Hati Mr Pilot. Due to the drama's immense popularity, it won the silver award in the Best Social Media category at the Dragons of Malaysia and Asia Awards.
"At first, I did not think that I should ask Neelofa to tag my brand on Instagram. It was enough that it was featured. But people on social media were asking about the maps. So, I decided to reach out to her and ask if it was possible for her to tag my brand on her 'Instastory' (an in-app feature to share a photo or video that expires in 24 hours)," says Juliana.
"She said yes and asked me to come over straightaway to record a short video. I quickly applied my makeup and drove to her office, where we recorded a 15-second video in front of one of my world map wallpapers.
"She introduced me and my brand to her followers… I looked very nervous because I knew she had five million followers on Instagram, so at least a few million people would watch it. It went very well and our sales surged over the next few weeks. She has a very strong influence; people want whatever she has."
Physical presence still relevant
Last year, TheMapHatter managed to rack up RM120,000 in sales, by selling its products online and at weekend bazaars. This year, the numbers should be well above that as Juliana has not only managed to sell her products via retailer CzipLee, she is getting wholesale buyers from offices and schools.
Twice a month, she sets up her pop-up store at bazaars so that she can boost her sales and cater for those who do not shop online. "The Baby Boomers love maps, but they do not look for them online. When they see the maps, they usually buy them in bulk, which does not happen often on the website," says Juliana.
"Once, I had a customer who was a sailor. He was so touched looking at the geological maps I had on sale that he shared with me stories about himself and his life as a sailor. It was such a memorable moment for me."
The bazaars are also a way to attract public figures and affluent customers. According to Juliana, this is because shopping at bazaars has become a trend in Malaysia.
"These bazaars are hip and trendy. The goods are not cheap, but the concept works all over the world. There are many bazaars in Rio de Janeiro, Paris and London; they are just amazing line-ups of local brands. This trend has arrived in Malaysia and it is very good for small entrepreneurs such as ourselves," she says.
"Riuh at APW Bangsar is one of my favourites. It tries to replicate the Portobello Market in London. The place is cool and captivating. The moment I arrived, I said, 'This is what I want.' Everything — right down to the vendors' tables — was charming. The problem is, after letting us participate twice in a row, they opened up to other brands, so we cannot get a spot anymore."
Juliana is focusing on the local market and looking to promote her brand to more people. "I am juggling a few things — my travel agency, TheMapHatter and my clothing brand, cardio.logy. Some may say that I am doing too much, but the brands have been doing well and hopefully, we will get enough traction to market outside Malaysia as well," she says.