This article first appeared in Enterprise, The Edge Malaysia Weekly, on July 8, 2019 - July 14, 2019.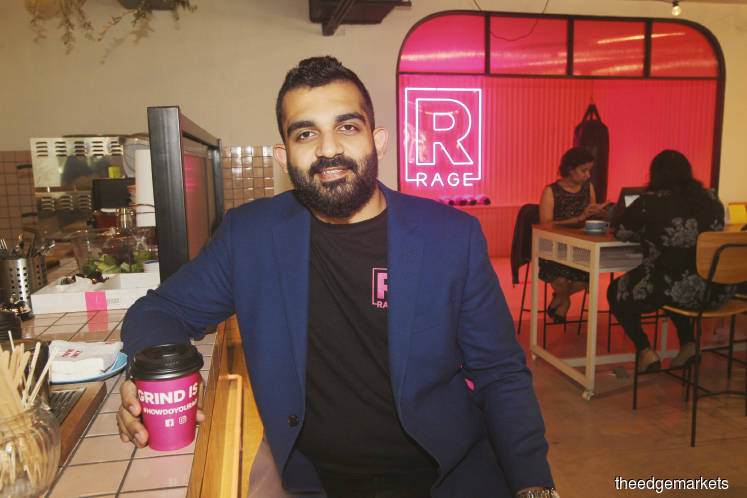 Jevin Singh (pictured) was studying law but had to drop out because of a lack of funds. The strange thing was he studied law not because he wanted to be a lawyer, but to be a politician instead, following in the footsteps of his hero, the late Karpal Singh.
The 20-year-old looked around for something else to do and decided to become an Uber driver. At the time, Uber was just starting up in Malaysia and he figured it was worth a shot.
"So, I became an Uber driver and did that for about six months," he tells Enterprise in an interview.
That was five years ago. Today, he steps out as a confident 25-year-old and CEO of a promising coffee and community-related start-up, RAGE.
He credits his Uber stint for starting him off on his career path. "Being a driver actually taught me multiple things, especially in terms of speaking to people. I spoke to a lot of my passengers and learnt a lot; no two days were the same. And obviously, I grew as a person, just listening to people's stories and connecting with them. And after that, I was lucky enough to become an intern at Uber as well."
An intern? "Yeah, an intern manages driver operations, driver on-boarding. I had a little fleet of my own as well where I would get taxi drivers who wanted to try out Uber and coach them on how to be an effective driver and maximise their earnings rather than spending 14 hours on the road unproductively, like they used to do."
From there, he graduated to become a full-time employee and moved on to bigger, better things. "During that period, as a driver operations manager in Kuala Lumpur, I not only handled the whole funnel of drivers from the time they signed up, but looked at ways of making it easier for them to sign up and make money from Uber."
Jevin also went on to launch the Uber business in Ipoh and Sandakan and its food delivery service, UberEATS, in Bangkok. Ironically, it was working for Uber that gave him the idea for RAGE.
"The drivers used to get together for an hour after our long shift and have teh tarik. It gave us that sense of belonging and community, that we all had each other's backs. After a long day at work (and a lot of us worked 12-hour shifts), we just wanted to sit down and relax.
"This was also what inspired me to create this space — for other people to come and enjoy," he says.
Basically, Jevin noted that he and his fellow drivers used to have two to three cups of coffee a day but there was no means of getting the coffee delivered to them.
This is why he and his partners came up with the idea of starting cafés and coffee carts, conveniently situated in high-density areas, and designing an app that would allow people in the vicinity to order coffee through the app and have it delivered.
But he was also eager to incorporate the community element. "Before this, cafés didn't really offer you an elevated experience. So, we decided that in our cafés, we would not only serve coffee but also host community events that we would blast out through our app."
He says RAGE is hosting an event on digital marketing, for example, and another on effective communications. "And you can only get that at RAGE right now, in terms of a café set-up. We're not a co-working space; we're just a space where the community can come and mingle around."
The devil is in the details. For instance, at its signature café at Menara UOA Bangsar (adjacent to the Bangsar LRT station), it provides communal seating to encourage interactions among patrons. "We're trying to get Malaysians in general to be less awkward about mixing around with people. We want them to start exploring and to come out of their comfort zones, and hopefully get inspired in the process. The same way I was inspired."
The interview is being held at this outlet that has, among other seating options, bean bags to camp on and punching bags to release pent-up rage and frustration. That is where the "RAGE" comes from.
But for the most part, the "R" in RAGE has little to do with anger and more to do with what Jevin calls the three key pillars — relationships, reinvention and revitalisation.
"Most relationships start over a drink and it doesn't have to be an alcoholic one. It can just be, 'hey, let's go grab a cup of coffee,'" he says.
And, Jevin says RAGE provides a space for patrons to come in and reinvent themselves. "Even internally, we are trying to reinvent the way people look at retail space, for example. Like, we don't need a whole retail space to set up a coffee place. In Menara KLK, for instance, we can make do with a small cart and still get the coffee delivered to you and are able to channel the cost savings [of a coffee cart versus a café] into more affordable pricing."
As for revitalisation, this has to do with the fatigue experienced by aspiring entrepreneurs when they hit a roadblock. "It's not just about being tired physically, but about how you feel when you keep coming up against stumbling blocks and feel like giving up halfway. Or you're mentally tired from working multiple long days while trying to build your product from scratch.
"We offer you a space as well as caffeinated drinks to keep you going. The only difference is whether you want this tiredness to stop you from achieving your goal or not," he says.
That, in a nutshell, is what RAGE is all about. "And no matter what we do internally or externally, it always comes back to these three 'R's."
For now, RAGE has three outlets — including coffee carts at Menara UOA 2 in Damansara Heights and Menara KLK in Petaling Jaya.
"Menara KLK has a lot of office space around it. And because we do deliveries, the area seems very dense to us and we can deliver to other buildings without much hassle. And also, the malls and supermarkets are nearby, so even if we need supplies, it's very convenient," he says.
The F45 outlet at Wisma UOA 2 in Damansara Heights covers the Damansara Heights area.
These outlets have been barely up and running for a month and at the time of the interview, the app had only been operational for a week but already had a very promising response. "Right now, about 56% of users have made repeated orders since signing up and over 34% of people have made more than three orders via the app. And we only started pushing out the app six days ago."
Jevin expects to have seven outlets up and running by this month, including at Nu Sentral, the Four Seasons Hotel and Mid Valley Megamall and 50 outlets in nine months. RAGE favours dense areas so that deliveries can be done on foot rather than on motorbikes. "Because at the end of the day, if you want to rely on motorbikes, there's a lot of factors like spillage and whether they will be able to get there on time."
What's with the punching bag? "It was just something we wanted to do because it goes together with the brand. A lot of people feel that rage has a negative connotation, but I feel it is something we all have inside of us — whether it is being angry or just having that fire inside to do more in life and actually succeeding, like entrepreneurs. Many entrepreneurs have the rage to succeed."
Hasn't coffee been overdone in Malaysia already? Jevin does not think so. "Our pricing is more affordable and our beans are of a higher quality compared with the outlets that feature dark roasts. As long as quality is up there, I am confident we can go head to head with those who are already in the market and still come out on top."
Considering the fact that it took only five months (from ideation to opening) for RAGE to come about, it is surprising how much Jevin has learnt about coffee and the right way to serve it. "You don't need sugar for a good latte, for example. As long as the milk is at the right temperature, the sweetness from the milk automatically goes into your drink. And did you know that coffee [without sugar] helps prevent Type 2 diabetes and matcha actually increases your metabolic rate?"
As he is considering growth on steroids (or caffeine), the company will need a significant amount of funding. It raised its first round of just over RM1 million from Insignia Ventures (a venture capital firm based in Singapore) and RHL Ventures (a local VC), as well as friends and family, and is now looking at raising its next round, which Jevin says will run into "double-digit millions".
Most of that money will go into buying coffee machines. "I enjoy coffee a lot and wanted to create something different. I took the risk and it seems to be paying off. Let's see how fast this can grow and how far we can go together."