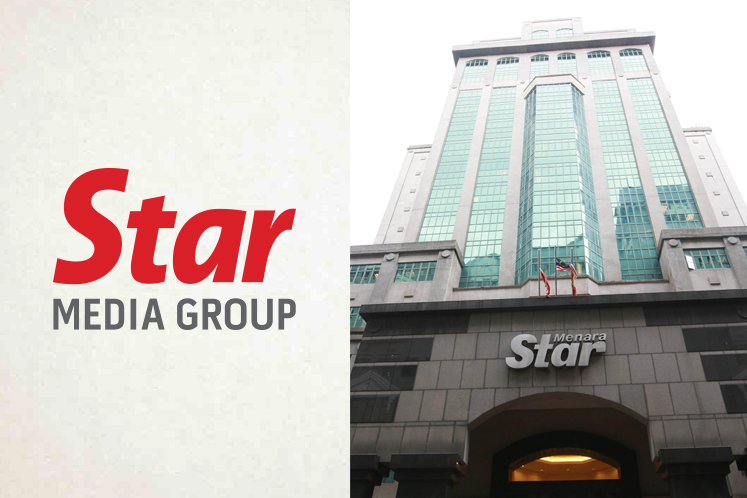 KUALA LUMPUR (Feb 26): Star Media Group Bhd reported today its net loss narrowed to RM9.06 million in its fourth quarter ended Dec 31, 2018 (4QFY18), from a net loss of RM155.15 million in the same quarter last year.
Revenue retreated 18.6% to RM93.04 million from RM114.32 million. It declared an interim dividend of 3 sen per share in respect of FY18, which will be paid on April 18.
In an exchange filing today, Star Media said its print and digital revenue declined by 18.5% to RM80.28 million during the quarter under review. The pre-tax loss of RM13.48 million in this segment was also impacted by losses at its over-the-top startup venture, dimsum.my, as well as an RM15.8 million MSS expense.
Though its radio segment was not spared the impact of a slowdown in ad spending, profit grew 44% to RM1.89 million during the quarter as a result of better cost management, while its event and exhibition segment also turned a profit of RM490,000 on higher revenue after holding two main events during the quarter.
For the full FY18, Star Media Group's net profit stood at RM5.26 million, compared with RM90.29 million FY17, while revenue came in at RM392.68 million, compared with RM469.19 million in the previous year.
Excluding the cost of the MSS and other exceptional items, the group's pre-tax profit grew 26.7% to RM28.87 million from RM22.79 million reported the year before, thanks to better cost management following the MSS and the Early Retirement Option (ERO) that was implemented since 4QFY17, and lower depreciation expenses from its print segment.
It recorded a higher pre-tax profit in FY17 largely because of a reversal of deferred tax liabilities. The impairment of property, plant and equipment attributed to the reversal of deferred tax liabilities which resulted in a tax income in the statement of profit or loss, it said.
Going forward, Star Media expects its print and digital segment to perform better as a result of better cost management following the MSS/ERO exercise, although advertising expenditure is expected to be soft and remain challenging in 2019 due to weak sentiments.
"We also expect robust revenue growth from the digital segment as more advertisers migrate into this space. We would also be driving new revenue streams beyond print. We will continue to focus on using new technologies and analytics to improve, deepen and predict how our customers consume content with the end goal of increasing engagement and monetisation.
"Dimsum has launched its advertising packages for brands to sponsor content within the platform in 4QFY18. As of mid-November 2018, dimsum went live in Singapore as part of its regional expansion. With this inclusion, dimsum is now available in Malaysia, Singapore and Brunei," it said.
Star Media said the restructuring that was completed in 2016 by positioning the radio to focus on Chinese and Malay audiences has also proven to be useful as it allowed better focus and in-depth audience knowledge development.
"Our radio segment is expected to contribute positively to the group results even though it has been affected by lower adex as a result of the slowing economy. In the events and exhibition business segment, the group will continue its efforts to strengthen its market position and increase its number of events in the upcoming months," it added.
Star Media shares slipped half a sen sen or 0.64% to finish at 77.5 sen today, giving it a market capitalisation of RM571.85 million.