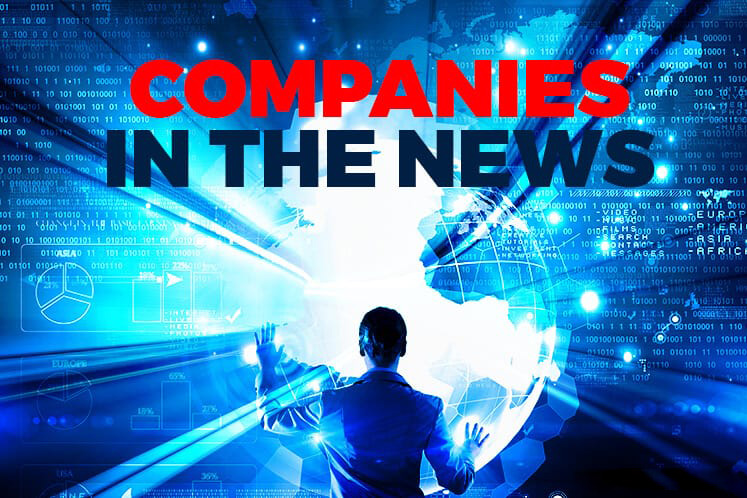 KUALA LUMPUR (Feb 27): Based on corporate announcements and news flow today, stocks in focus on Wednesday (Feb 28) may include the following: Star Media Group Bhd, MMC Corp Bhd, Tropicana Corp Bhd, Genting Bhd, Genting Malaysia Bhd, Sunway Construction Group Bhd, IJM Corp Bhd, Pharmaniaga Bhd, UMW Holdings Bhd, Ekovest Bhd, UEM Sunrise Bhd, S P Setia Bhd, CCM Duopharma Biotech Bhd, AirAsia Bhd and Press Metal Bhd.
Star Media Group Bhd reported a maiden quarterly net loss of RM155.15 million for the fourth quarter ended Dec 31, 2017 (4QFY17) due to lower print segment revenue and one-off expenses amounting to RM189.83 million versus a net profit of RM39.44 million a year ago.
Quarterly revenue fell 17.6% to RM126.34 million from RM153.38 million, mainly due to lower revenue contribution from its print and television segments.
Nevertheless, the group declared a second interim dividend of 6 sen per share for the financial year ended Dec 31, 2017 (FY17).
MMC Corp Bhd's net profit for 4QFY17 declined 68.2% to RM85.06 million from RM267.41 million a year earlier.
MMC said this was mainly due to a lack of sale of land in Senai Airport City (SAC), the completion of the Klang Valley Mass Rapid Transit (KVMRT) Sungai Buloh-Kajang (SBK) line, and a higher share of losses from associate company Zelan Bhd due to an impairment of receivables.
Revenue for the quarter fell 33.33% to RM1.23 billion from RM1.85 billion previously.
Tropicana Corp Bhd's net profit for 4QFY17 more than doubled to RM69.6 million from RM29.3 million in the previous corresponding quarter due to cost savings, release of low-cost provisions and advanced progress of projects.
Quarterly revenue expanded by 35.4% to RM619 million compared with RM457.3 million a year ago, reflecting higher progress billings from advanced stages of construction work.
Genting Bhd and Genting Malaysia Bhd announced special dividends of seven sen and eight sen per share respectively, on top of final dividends of six sen and five sen for FY17.
Genting's net profit for 4QFY17 plunged 88.26% to RM133.15 million, from RM1.13 billion in the same quarter of FY16, on greater net foreign exchange losses and a one-off disposal of RM1.3 billion of Genting Hong Kong previously.
However, quarterly revenue rose 10.64% to RM5.26 billion from RM4.75 billion on higher contributions from its leisure and hospitality businesses in Malaysia, UK and Egypt, its power division, and its oil and gas division.
Genting Malaysia's net profit came in lower at RM449.39 million in 4QFY17, from RM1.69 billion a year ago, as it had previously recognised a RM1.27 billion gain from the disposal of its Hong Kong investment.
Conversely, quarterly revenue rose 11.44% to RM2.54 billion from RM2.28 billion a year ago due to higher contribution from its leisure and hospitality business in Malaysia and an increase in casino business revenue in the United Kingdom and Egypt.
Sunway Construction Group Bhd (SunCon) saw its unit bag a RM274 million contract to be the project delivery partner for the proposed expansion of a nine-storey commercial development to Sunway Carnival Mall in Seberang Jaya, Penang.
Sunway Construction Sdn Bhd (SCSB) had accepted the letter of award by SA Architects Sdn Bhd, on behalf of Sunway REIT Management Sdn Bhd.
SCSB will plan, coordinate, build and complete the development within 32 months from March this year.
IJM Corp Bhd saw its net profit drop 26.7% to RM101.36 million in the third financial quarter ended Dec 31, 2017 (3QFY18) from RM138.36 million a year ago, mainly due to lower contributions from its property and manufacturing and quarrying divisions.
This was further compounded by a net foreign exchange (forex) loss of RM4.5 million.
Quarterly revenue slipped 1.9% to RM1.57 billion, from RM1.6 billion a year ago.
Pharmaniaga Bhd recorded a net profit of RM21.7 million in 4QFY17 versus a net loss of RM836,000 in the previous year, after booking in compensation received in relation to a previous joint venture company in China.
Quarterly revenue gained 5% year-on-year to RM613.2 million from RM582.82 million, mainly due to higher orders from government hospitals and improved contributions from the group's Indonesian operations.
Pharmaniaga announced a fourth interim dividend of six sen per share.
UMW Holdings Bhd's fourth quarter net loss narrowed to RM432.67 million from RM1.53 billion a year ago, on lower losses from its discontinued operations.
The group wrote down RM286.3 million to reflect the assets to fair value in 4QFY17, as opposed to a loss of RM1.53 billion with impairment of assets of RM1.16 billion in 4QFY16.
Quarterly revenue increased marginally to RM2.95 billion from RM2.94 billion.
Ekovest Bhd's net profit jumped 33.86% year-on-year to RM54.93 million in the second quarter ended Dec 31, 2017 (2QFY18) from RM41.03 million on the back of better contribution from its property development segment.
Quarterly revenue climbed 8.34% to RM297.88 million from RM274.96 million, although its construction sector achieved lower revenue due to the completion of phase two of the Duta-Ulu Klang Expressway.
UEM Sunrise Bhd is set to launch projects worth RM1 billion in gross development value (GDV) this year, with plans for a new township somewhere in the central region.
For 4QFY17, net profit fell 29% to RM37.66 million from RM53.29 million a year ago amid higher expenses and taxes, as well as lower contribution from associates and joint ventures.
Revenue for the quarter under review increased to RM748.12 million from RM624.66 million and the group proposed a final dividend of one sen per share for FY17.
S P Setia Bhd set a sales target of RM5 billion for 2018, after surpassing last year's sales target of RM4 billion to hit RM4.06 billion.
The property developer posted a 40% drop in net profit to RM279.57 million in the fourth quarter ended Dec 31, 2017 (4QFY17), from RM466.08 million a year ago, on lower revenue recognition from its Malaysian operations.
Quarterly revenue also fell 26.9% to RM1.45 billion in 4QFY17, from RM1.99 billion in 4QFY16, while the group declared a final dividend of 11.5 sen per share for FY17.
CCM Duopharma Biotech Bhd has proposed to issue up to 371.95 million bonus shares on the basis of four bonus shares for every three CCM shares held.
Concurrently, CCM proposed a dividend reinvestment plan to convert its dividend to new CCM shares, with the issue price to be determined later.
Its 4QFY17 net profit was up 40% y-o-y to RM11.87 million from RM8.43 million, as revenue grew 52% y-o-y to RM112.25 million from RM74.03 million.
AirAsia Bhd posted a 19.9% decline in net profit to RM372.65 million in 4QFY17, from RM465.32 million a year ago, dragged by income tax expense and deferred taxation.
Quarterly revenue, however, was up 37.2% to RM2.66 billion in 4QFY17 from RM1.94 billion a year ago, due to consolidation of PT Indonesia AirAsia and Philippines AirAsia Inc's accounts and a 17% year-on-year (y-o-y) increase in the total passengers carried during the current quarter under review.
Press Metal Aluminium Holdings Bhd's net profit went up almost 14% to RM150.19 million in 4QFY17 from RM131.78 million last year thanks to higher metal price.
Its quarterly revenue was 7.22% higher at RM2.14 billion, compared with RM2 billion a year ago.
Press Metal declared a fourth interim single tier dividend of 1.5 sen for FY17.