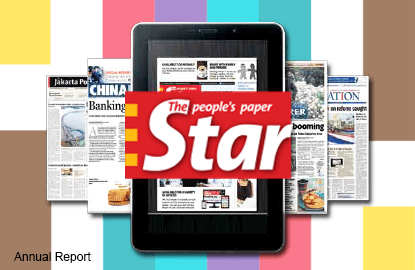 This article first appeared in digitaledge Weekly, on September 21 - 25, 2015.
WITH the weakening ringgit and soft domestic market, Star Media Group Bhd is looking at growing its earnings base overseas, says a top official with the group.
"We are using Cityneon [Holdings Ltd] and Leaderonomics [Sdn Bhd] as launch pads outside Malaysia," he says.
He adds that the group is looking at digital acquisitions "all the time" here but has yet to find anything suitable.
"We are sitting on a pile of cash. We want to go shopping, but so far, the pitches are either overpriced or not of core business. For example, the RM100 million Meru Utama deal fell through as we thought it was overpriced," the top official shares.
In February, The Edge wrote that Redberry Media Group, the media business wholly owned by agricultural chemical producer Ancom Bhd, was in talks to sell its 75%-owned airport advertising business — Meru Utama Sdn Bhd — and one of the parties it was talking to was Star Media.
As at June 30, 2015, Star Media (fundamental: 2.50; valuation: 1.40) had net cash of RM367.96 million.
Interestingly, the group's 64%-owned Cityneon recently signed a memorandum of understanding with Vietnamese property developer MIK Corp to provide interior designing (ID) services in Vietnam.
Citing that it is too early to determine the exact earnings from the deal, a Cityneon senior top management official says the Singapore-listed company is also looking at venturing into Laos and Cambodia.
"We want to focus on the Indochina market and are looking to provide ID services there. This is a new business we are growing. Our core business is events and exhibitions but we have hit a plateau. Trade shows happen in big First World countries, and these countries are very saturated and mature. We prefer not to go to these places to fight," he says.
"Now we want to go into emerging economies where there is demand for ID services, given that new hotel and property projects are coming up there. We are looking for new income streams."
Cityneon's first venture in that market was fitting out 60,000 sq ft of public space of a hotel of The Grand Ho Tram project in the coastal city of Vung Tau in December 2012.
Apart from Vietnam, the company is in Bahrain, Brunei, China, Myanmar, Oman, Malaysia and Indonesia.
Meanwhile, Leaderonomics Sdn Bhd CEO Roshan Thiran shares that the company is actively looking to venture into new foreign markets, including Myanmar, Bangladesh, Indonesia and Sri Lanka.
"We hope to increase our overseas revenue contribution to 70% in three years from the current 20%," he says.
"We will be focusing on developing markets. We feel that the local market is a great base but may be saturated for generic learning products. Yes, you can scale up here, but the opportunity in Malaysia is more towards the digital learning space, which is what we will be focusing on in 2016.
"Leaderonomics started venturing out of the country about two years ago, with Thailand being our first foreign market. Generally, our gameplay to enter new markets has been with a job in hand, and then find a local partner that we can work with."
The 51%-owned subsidiary of Star Media has offices in Thailand, Cambodia and Singapore (via its Iskandar office). It provides leadership training and development.
"Generally, these businesses (Cityneon and Leaderonomics) don't contribute that much to the group. It will be interesting to see how this can change or how else Star [Media] can grow its overseas earnings," says a local analyst who covers the stock.
"The challenge for Star doesn't seem so much as financially but how it can stay relevant."
For the financial year ended Dec 31, 2014, Star Media derived 80% of its revenue from Malaysia, with the balance coming from Singapore, the Middle East and other countries.
While the group may not have revealed its overseas earnings targets, it is clear that it has started diversifying its earnings base to ensure that it is not wholly reliant on its local print media business.
It has been aggressively venturing into new businesses and the digital space.
An example of a new business is its acquisition of the Cityneon stake back in 2008. Cityneon is Star Media's first venture into the events and exhibition industry. It specialises in providing creative solutions in interior architecture, events, exhibitions and the experiential environment.
The business made a profit of RM19 million in FY2014, compared with RM11 million in FY2013 and a loss of RM8.6 million in 2012. Its earnings of RM19 million made up 12.4% of Star Media's consolidated profit of RM153.4 million. That year, it was the only profitable business segment besides the group's print and digital business.
Nevertheless, for the six months ended June 30, 2015, the events, exhibition, interior and thematic segment registered a loss of RM118,000, compared with a profit of RM6 million, due to lower gross margins.
Cityneon is in the process of acquiring Victory Hill Exhibitions Pte Ltd, which will hold the exclusive rights to produce and operate travelling exhibition Marvel's The AVENGERS S.T.A.T.I.O.N.
---
Note: The Edge Research's fundamental score reflects a company's profitability and balance sheet strength, calculated based on historical numbers. The valuation score determines if a stock is attractively valued or not, also based on historical numbers. A score of 3 suggests strong fundamentals and attractive valuations. Visit www.theedgemarkets.com for more details on a company's financial dashboard.