This article first appeared in The Edge Financial Daily, on October 8, 2019.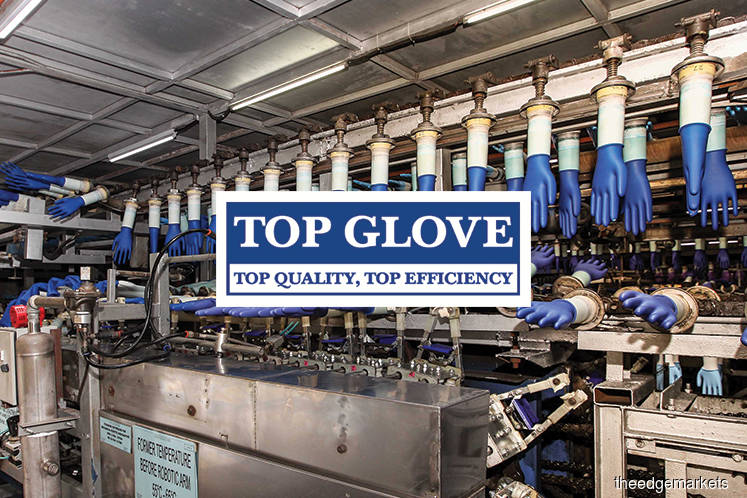 Top Glove Corp Bhd
(Oct 7, RM4.49)
Maintain neutral with a lower target price of RM4.23: To recall, Top Glove Corp Bhd's fourth quarter of financial year 2019 (4QFY19) earnings rose 7.2% quarter-on-quarter (q-o-q) to RM80.1 million. The sequential improvement in earnings was driven by higher sales volume of 12% q-o-q and average selling price of nitrile gloves of 1% q-o-q. However, these were mitigated by a significant drop in sales volume of natural rubber gloves (-17.9% q-o-q), a higher natural rubber latex price (+5% q-o-q) and a declining sales volume of vinyl glove (-10% q-o-q).
 
A strong performance of nitrile glove in FY19 was attributable to a stronger sales growth in developed countries where sales volume rose 17% year-on-year (y-o-y). In contrast, a subdued performance of natural rubber glove was driven by a slower sales growth in developing countries where sales volume increased marginally by 3.9% y-o-y. Consequently, nitrile gloves overtook natural rubber gloves as the largest contributor to Top Glove's revenue of about 46% versus FY18's 40%, compared with 39% versus FY18's 45% for natural rubber gloves.
We view Top Glove's aggressive expansion in the production capacity of nitrile glove will lead to pricing pressure, hence a lower profit margin. Nonetheless, we take comfort that Top Glove's new factories will contribute to better productivity. Take note as of FY19, Top Glove's factories' productivity level was at about 2.54 workers per million pieces of gloves. The highly automated factories are expected to further improve productivity level as they are able to operate at an average of 1.84 workers per million pieces of gloves.
We have revised our FY20, FY21 and FY22 forecasts for Top Glove downwards by 7.7%, 4.1% and 1.8% respectively as we believe the sales volume for natural rubber and vinyl will not see a meaningful recovery and a pricing pressure on nitrile glove will remain in the near term.
We view the group's outlook will still be underpinned by a stable and steady growth in demand for nitrile glove as health regulations become more stringent particularly in developed markets. In response, Top Glove will add more than 14.2 billion pieces of nitrile glove production capacity per annum by end-calendar year 2020 with a total production capacity of about 40 billion pieces per annum, of its total capacity per annum of 84.1 billion.
By the end of this expansion plan, Top Glove will become the world's largest nitrile glove manufacturer, a competitive advantage over other major glove manufacturers. That said, we opined that the aggressive expansion in production capacity will lead to pricing pressure. In addition, the stock is currently trading at above its three-year historical average price-earnings ratio of 25 times, hence we believe the positivity has been priced in at the current valuation. — MIDF Research, Oct 7