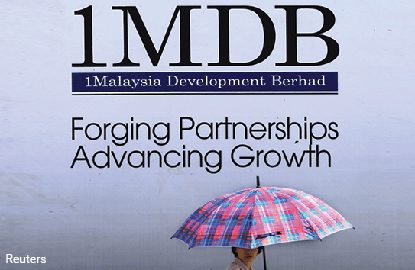 This article first appeared in The Edge Financial Daily, on April 5, 2016.
KUALA LUMPUR: 1Malaysia Development Bhd (1MDB) has received a further six-month extension to submit its financial statements for the year ended March 31, 2015. The Companies Commission of Malaysia (SSM) has now given the embattled state fund until Sept 30, 2016 to submit its accounts.
1MDB was required to submit the financial statements by Sept 30, 2015, but had sought a six-month extension until March 31, 2016.
But yesterday — four days after the extended deadline — the state fund issued a statement to say that it was "unable to prepare its financial statements for an audit pending the return of relevant documents, which were seized during a raid on July 8, 2015".
"Accordingly, SSM has now granted an extension of time until Sept 30, 2016, for 1MDB to hold its annual general meeting (AGM) and approve its audited financial statements for the financial year ended March 31, 2015," it added.
The same reason — seizure of documents in a raid by a multi-agency task force last year — was previously cited by 1MDB for missing the original deadline.
In a statement yesterday, 1MDB said it had held AGMs to approve the audited financial statements for TRX City Sdn Bhd (formerly 1MDB Real Estate Sdn Bhd) and Edra Global Energy Bhd.
"The AGMs were held within the previously extended deadline of March 31, 2016, and the audited financial statements have now been filed with SSM.
"These two companies form the vast majority of assets and represent all of the operating business activities of 1MDB," said the fund.
But it went to say that 1MDB itself was unable to prepare its financial statements for audit, pending the return of the documents that were seized.
Earlier in a separate statement, 1MDB said it had provided detailed explanations along with supporting documentary evidence to the Auditor-General's Department over its US$1.4 billion deposit paid to Aabar Investments PJS Ltd.
The company also said it had thoroughly explained all its major transactions at the recent Public Accounts Committee proceedings.
It was responding to DAP national publicity secretary and member of parliament for Petaling Jaya Utara Tony Pua's remarks that 1MDB had failed to explain why it had made the collateral payments to Aabar for a guarantee provided by Abu Dhabi's International Petroleum Investment Corp for 1MDB's US$3.5 billion of bonds.