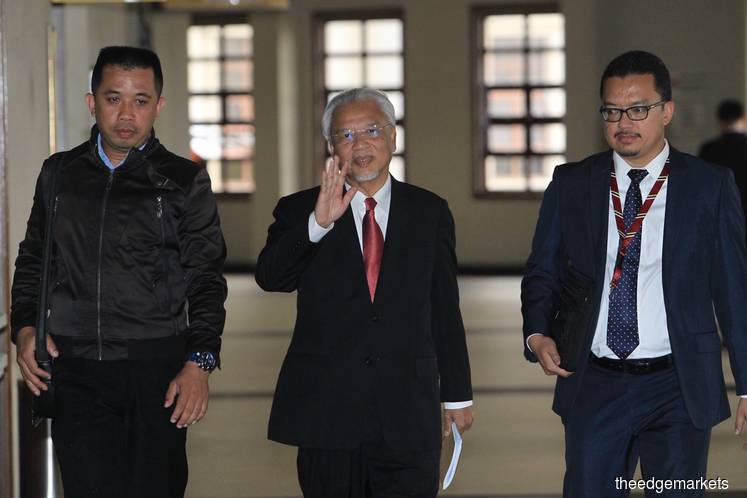 Prosecution's 56th witness: former second finance minister Datuk Seri Ahmad Husni Hanadzlah (centre) (Photographer: Shahrin Yahya/The Edge)
KUALA LUMPUR (Aug 8): The parties tasked to implement the debt rationalisation plan of 1Malaysia Development Bhd (1MDB) did not follow the original plan, former second finance minister Datuk Seri Ahmad Husni Hanadzlah told the High Court today.
Husni, who was the person tasked by former prime minister and former finance minister Datuk Seri Najib Razak to formulate the rationalisation plan, said this when testifying on the reason for his resignation in June 2016, at Najib's SRC International Sdn Bhd trial.
"The [rationalisation] plan was done by me, but the implementation was not done by me... It was done by Arul (former 1MDB chief executive officer Arul Kanda Kandasamy)," Husni said.
He cited some examples of the flaws that took place during the execution of the plan — which underlined raising more equity to reduce the high gearing incurred by the state investment fund.
The plan which he proposed was for 1MDB to sell its assets — but to retain 30% in Edra Energy Sdn Bhd, 40% in the Bandar Malaysa project, and 40% in the Tun Razak Exchange, and to sell in full its Air Itam land in Penang.
"What happened, they sold Edra 100%.
"And then Bandar Malaysia land, I said sell to government agency, but was sold to a China company, and repayment is to be done in 2022," Husni said.
He was referring to the failed RM7.4 billion deal between TRX City Sdn Bhd to sell 60% in the project to IWH CREC Sdn Bhd — a 60:40 joint venture between Iskandar Waterfront Holdings Bhd (IWH) and state-owned China Railway Engineering Corp (M) Sdn Bhd (CREC).
Husni also pointed to the debacle involving US$3.5 billion raised by 1MDB via Goldman Sachs, which was not put to good use.
Here, Shafee cut short Husni's testimony on grounds that they were points relevant to another trial (1MDB trial). Justice Mohd Nazlan Mohd Ghazali agreed, and Husni concluded that it was divine intervention in his final week as second finance minister that encouraged him to quit all posts in the government, Umno and Barisan Nasional.
Husni was the 56th prosecution witness in the trial, where Najib is accused to have received RM42 million allegedly siphoned from SRC into his personal bank accounts in 2014-2015.
He had testified that he was instructed to sign documents pertaining to the government guarantee for SRC's first RM2 billion from Kumpulan Wang Persaraan (Diperbadankan) despite not having sufficient documentation to scrutinise the arrangement.
See also:
Shafee: Ex-minister who received threat message from Husni may be asked to testify
Husni: Najib's aide told me ex-PM had arranged for blogger Raja Petra to attack me
Najib-SRC trial: Ex-second finance minister says he 'wanted to cover the prime minister'
Husni claims Najib behind sexual harassment allegations against him