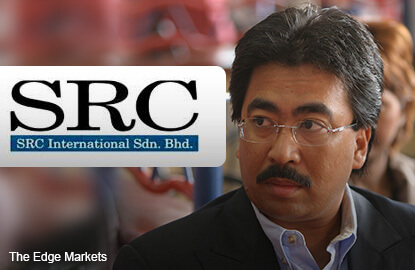 This article first appeared in
The Edge Financial Daily,
on November 2, 2016.
KUALA LUMPUR: Second Finance Minister Datuk Johari Abdul Ghani has admitted that SRC International Sdn Bhd, a former subsidiary of state-owned investment fund 1Malaysia Development Bhd (1MDB), is one of the problems faced by the country today.
"SRC is also one of the companies we are having a problem with," he told reporters after officiating the Asian Strategy & Leadership Institute (Asli)'s 21st Malaysian Capital Market Summit themed "Beyond Boundaries, Soaring Higher" here yesterday.
"I have said this many times — it's a strategic investment, initially good, but turned bad [due to] poor governance, weak management, wrong business model — that's it," said Johari.
SRC International was set up by Prime Minister Datuk Seri Najib Razak's government in early 2011 to pursue strategic overseas investments in energy resources.
Now directly under the finance ministry, SRC International is under pressure to meet interest payments on its borrowings of RM4.3 billion, which came primarily from the Retirement Fund Inc (KWAP).
It was reported that SRC International paid an annual interest of RM164 million to KWAP. This will jump to RM660 million next year and RM964 million in 2018, to pay down the principal loan.
Johari said his ministry is working out "various means" to retrieve SRC International's money that was stuck in BSI Bank Ltd, which is currently under probe in Singapore over links to allegations of corruption against 1MDB.
"Let the money recovery process [happen] first, because [for] most of the money that has been invested, they parked it under BSI, which is under investigation. I was told by the management of SRC that the money in BSI was frozen and therefore they cannot take back the money," he explained.
Johari, however, refused to reveal the details of the plan, saying only that it is a work in progress.
"I cannot give you anymore details than that because I think that is beyond me," he said.
He also said BSI in Switzerland had not been closed down but only sold to another entity. "BSI is still there, so whatever funds that they (SRC International) had invested, we are looking at [recovering] it," he said.
When pressed for more details, Johari said: "Don't talk anymore about SRC; there is no solution [yet]."