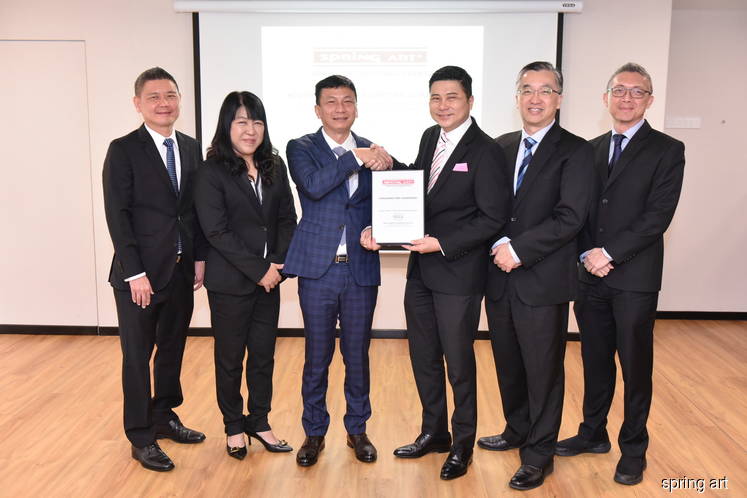 (From left): Ben & Partners Advocates & Solicitors managing partner Koay Ben Ree, Spring Art executive director Kwan Chian Poh, Spring Art managing director Lim Kok Eng, M&A Securities managing director of corporate finance Datuk Bill Tan, M&A Securities executive director/head of operations Goh Hock Jin and M&A Securities head of corporate finance Gary Ting. (Source: Spring Art Holdings Bhd)
KUALA LUMPUR (Sept 4): In conjunction with its initial public offering (IPO), ready-to-assemble furniture products manufacturer Spring Art Holdings Bhd has signed an underwriting agreement with M&A Securities Sdn Bhd.
Spring Art managing director Jack Lim Kok Eng said the signing of the agreement not only reiterates the underwriter's confidence in the company's business model but also takes the company a step closer towards listing on the ACE Market of Bursa Malaysia.
"The listing exercise enables us to tap into the equity capital market for future fund raising and to provide us the financial flexibility to pursue future growth opportunities as and when they arise," he said in a statement today.
M&A Securities will underwrite a total of 24.94 million new shares made available for the Malaysian public and Spring Art's eligible directors and employees as well as persons who contributed to the success of the group.
The IPO exercise involves the issuance of 97.69 million new shares representing approximately 23.5% of Spring Art's enlarged share capital.
Of the 97.69 million new shares, 20.78 million shares will be made available to the Malaysian public via balloting, 4.16 million shares are for its eligible directors and employees as well as persons who have contributed to the success of Spring Art, while the remaining 72.75 million shares are earmarked for private placement to selected Bumiputera investors approved by the Ministry of International Trade and Industry Malaysia (MITI) and selected investors.
Spring Art said the proceeds from the IPO will be used mainly to support its existing business and to expand its production capacity. Spring Art is scheduled to be listed on the ACE Market by November 2019.