This article first appeared in The Edge Malaysia Weekly, on June 7, 2021 - June 13, 2021.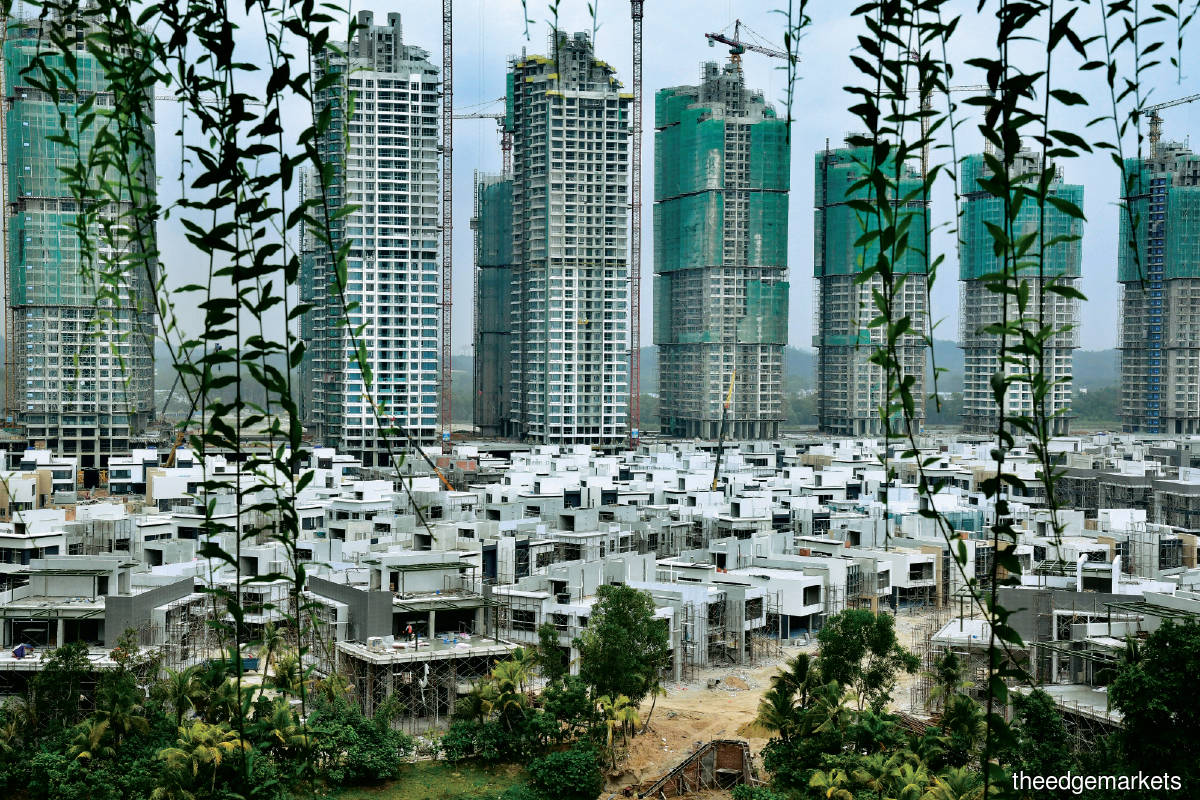 PETER Hull (not his real name) is from the UK, but he has been living in Malaysia for the past 18 years. The 60-something first came to the country on a working visa. Then after two years, he decided to retire here with his wife.
It was an easy decision for the couple. "We enjoy the lifestyle here. Moreover, we have established a social network [of friends]," he says in a telephone interview with The Edge.
The retiree is one of the more than 48,000 foreigners granted long-term visit passes under the Malaysia My Second Home (MM2H) programme, which was launched in 2002 to promote the country as a retirement destination. It allows foreigners who meet its criteria to live in Malaysia for 10 years on a multiple-entry social visit pass, which is renewable.
"My wife is Jamaican. We lived there for a number of years after we got married and we could have easily moved back [to Jamaica if we wanted to]. We are eligible for residency there as my wife still holds a Jamaican passport," says Hull.
"I have worked in many countries around the world. I know Thailand, for example, has a comparable MM2H programme, but I didn't consider [settling down in] Thailand due to the legal and cultural differences there. [For me,] Malaysia would win hands down for English-speaking people [who wish to retire in an Asian country] because of its culture and heritage."
According to him, he has invested "a fair amount of money" in Malaysia as a participant of MM2H and even purchased an apartment in an upscale neighbourhood of Kuala Lumpur for RM1.2 million.
Data provided by the Ministry of Tourism, Arts and Culture (Motac) shows that 48,471 foreigners were granted MM2H status between 2002 and 2019, of which the majority (32.8%) were from China, followed by Japan (10.6%) and Bangladesh (8.9%).
MM2H consultants The Edge spoke to say the programme had grown in popularity among Chinese and Japanese nationals and more recently, people from Hong Kong wanting to leave the territory after a new national security law was imposed in mid-2020. Since 2002, the programme had seen the number of participants grow from 818 to a peak of 6,195 in 2017, official data shows.
However, Malaysia has not been welcoming foreign retirees to its shores for nearly a year. Last July, Tourism, Arts and Culture Minister Datuk Seri Nancy Shukri announced that the government was temporarily suspending the MM2H programme for review and improvement in the wake of the Covid-19 pandemic. The review was expected to be completed by December last year, but the deadline had come and gone with no further information. Motac did not respond to requests for comment.
According to people familiar with MM2H, the current review comes 16 months after the programme was halted from September 2018 to March 2019 as a result of a dispute between Motac and the Ministry of Home Affairs (KDN) over the issue of whether the administration of MM2H should remain with Motac or go back under the purview of the Immigration Department, an agency under KDN, which initially managed the programme when it was incepted. Motac took over the handling of MM2H in 2006 as part of its overall tourism promotion effort.
An industry source says that from April 2019, the revised programme continued to be administered by Motac. But unlike before, KDN has had to give its final stamp of approval for all applications.
"The programme also saw the involvement of the police's Special Branch, which was tasked with conducting background checks on applicants, such as whether they have a criminal background. The measures were needed for national security reasons," the source adds.
"But due to stricter requirements for applicants, the application process took more than six months to one year to complete, compared with the three to six months previously [before the latest suspension]."
"There were allegations of abuse in the administration of the programme under Motac. For one thing, if you look at the breakdown of people who were granted MM2H visas by country of origin since 2012, the programme was getting a lot of Chinese nationals and quite a number of Bangladeshis as participants, who weren't the originally targeted groups. I think it got to a point where changes were needed," says Hull.
According to previous reports, the Silver Hair Programme was initially formed to target senior citizens in the UK and Japan, as well as a few other Western European nations.
"Having said that, people who genuinely want to retire in Malaysia should be given approval. I think the scheme is quite sound and the terms reasonable," says Hull, adding that he would encourage family and friends to participate in MM2H once the suspension is lifted. "Yes, I would. It is a good place to live."
Not everyone is as fortunate as the Hulls. In March last year, Malaysia went into lockdown and closed its borders as the Covid-19 pandemic exploded. Many MM2H participants who had returned to their home country for the holidays suddenly found themselves stranded abroad. Citizens from 23 high-risk countries including the US, Bangladesh, the UK, Saudi Arabia, Pakistan, France, Turkey, Italy, Germany, the Philippines and Indonesia were banned from entering Malaysia due to the high number of Covid-19 cases in those countries.
But since last September, the government had loosened the regulations, allowing expatriates and their dependents from the affected countries to enter Malaysia. But they can make only a one-way journey and have to remain here.
Malaysia My Second Home Consultants Association (MM2HCA) president Anthony Liew says MM2H visa holders who are currently stranded abroad and wish to return to Malaysia must apply for MyTravelPass through the Immigration Department's MYEntry system before departure. "Those who wish to renew their 10-year visa will have no problem getting it approved, provided they are in Malaysia," he adds.
Border closures leave properties empty
In the case of housing, MM2H helps to feed the demand in many markets, particularly those targeting foreign homebuyers in the Klang Valley, Penang and Johor.
"Before the pandemic, some states such as Perak and Penang were giving benefits to entice MM2H participants to retire there. For instance, they were allowed to buy properties valued below RM1 million, but limited to two units," says Liew, who runs his own MM2H consultancy firm Well Home (MM2H) Sdn Bhd.
The pandemic, however, has upended this segment of the property market.
"Interest of foreign buyers, especially from Singapore, in Johor properties has fallen since Malaysia shut its borders. The three big Chinese developers — Country Garden Pacificview Sdn Bhd, R&F Development Sdn Bhd and Greenland Group — have seen the demand for their developments in Johor from Chinese buyers drop," he says.
The largest of them all is the RM450 billion Forest City development in Iskandar Malaysia, which comprises four reclaimed islands spanning 3,425 acres. It has received RM170 billion worth of committed investments to date, according to Country Garden Pacificview's website.
When contacted, Country Garden Pacificview says that before the pandemic, it managed to hand over more than 20,000 units to their owners. Forest City property owners come from over 30 countries and territories, including China, Malaysia, Singapore, Vietnam, Indonesia, Macau, Taiwan, Hong Kong, South Korea, Japan, Canada, the US, Venezuela, the UK, Russia and Australia.
However, an industry source notes that only 20% to 30% of the properties at Forest City are currently occupied — far from its goal of 700,000 residents upon completion in 2035. "Forest City had sought to attract Chinese buyers who could not afford multimillion-dollar apartments in Beijing, Shanghai or London, but who would gladly spend several hundred thousand dollars to buy a bungalow in Johor, hoping that the value would appreciate over time," he says.
While Country Garden Pacificview did not give its estimate of Forest City's current occupancy, it points out that the pandemic is a global emergency. "Therefore, it is totally understandable that most countries encourage their citizens to return to their countries of origin for their health welfare assurance. After the pandemic, as economic activities resume, we are sure that Forest City will become a more vibrant city," it says.
The company, a 66:34 joint venture between China-based Country Garden Group and Johor's Esplanade Danga 88 Sdn Bhd, says that as part of its value-added services, it provided assistance to interested buyers in applying for MM2H before the pandemic.
"During the pandemic, everyone is heavily affected, so is Forest City. As the pandemic continues, there have been changes made with regard to the direction of corporate investment, tourism and vacations as well as other project directions and development ideas, which have definitely affected our business," says Country Garden Pacificview.
"Our current businesses are also affected during the pandemic. For example, the hotel occupancy rate has dropped significantly and the average daily number of people patronising the golf course is obviously off the cliff. In general, the pandemic has slowed our development and construction."
However, it maintains that Forest City is "still pursuing its city shaping; the urban environment is continuously being upgraded and the urban supporting facilities are improving. The industry development is still ongoing".
Samuel Tan, executive director at Johor-based KGV International Property Consultants (M) Sdn Bhd, says there have not been any foreigners coming to Johor to purchase property over the past year or so as borders remain closed.
"The market sentiment is still soft as a result of Covid-19. Employees are concerned about job security. Most businesses are still not back to the pre-pandemic days with the on-and-off lockdown measures," he tells The Edge.
Tan sees property transaction volumes remaining lacklustre in Johor for a while. "Within the residential property sub-sector, the buyers are mostly genuine ones, buying for owner occupation. Even then, most of them remain cautious."
He says that prior to the suspension of the MM2H programme, he had some foreign investors who were initially keen to invest in a serviced apartment development here. "These units were intended for sale in their home country. With the suspension, they decided to put their plans on hold. Most of their countrymen came to Malaysia under or plan to come under this programme. Without the certainty of a long-term residency, they reckon it would be too risky to invest in such big-ticket items."
Nevertheless, Tan believes that the smaller number of foreign buyers due to the suspension of MM2H is negligible. "From the statistics that we gathered from the MM2H website, there were only about 42,300 approved participants under the programme from 2002 to 2018," he says.
"The annual foreign purchase ranged from about 800 to 6,200 cases over the past 17 years. If we put things in perspective, the suspension of MM2H probably created the impression that Malaysia is less pro-foreign migration or relocation, rather than causing a big impact on the property glut."
Tan says that granting MM2H visas to foreign buyers should not be seen as an incentive to entice foreigners to purchase properties in Malaysia. "Only those who are qualified under MM2H should be granted the 10-year visa. It is important to understand that the main purpose of MM2H is not to be a marketing tool to sell real estate. It is a scheme that promotes foreign relocation and in return creates a broader multiplier effect for our economy.
"Not all foreigners buy properties in Malaysia for the purpose of relocation or retirement. There are some who buy properties for portfolio diversification, capital appreciation and recurrent income solely for investment purpose, speculation or other reasons. Hence, it does not appear appropriate to loosely allow foreign buyers who purchase properties in Malaysia to be given free MM2H visas as a package."
The mega Forest City development in Johor is one of the noteworthy beneficiaries of MM2H. According to Country Garden Pacificview, the programme offers "good incentives and conveniences to attract business and foreign investment to Malaysia, which in turn makes a material contribution to the country's economy".
"We have confidence in Malaysia. We believe that Johor will have [rapid] economic development, thanks to its unique geographical advantage and a well-developed local economic base.
"Country Garden has been in the Malaysian market for nine years, and we will continue our business here for the long term. We hope that the government will be able to contain the pandemic soon and come up with policies and incentives to stimulate economic recovery. We will do our part and [contribute] towards economic development accordingly. We are closely monitoring the latest developments on the MM2H programme and will advise our stakeholders accordingly," it tells The Edge.
Suspension 'killing the golden goose'
Rajiv Rishyakaran, state assemblyman for Bukit Gasing, estimated that since its inception in 2002 to 2019, MM2H has brought in RM40 billion to the economy. "Freezing the programme is almost like killing the goose that lays the golden eggs," he said in a statement in January.
He reasoned that "unfreezing" the programme would help the rental and property market, which had been hit by the pandemic as it is targeted at high-net-worth individuals seeking a retirement home or a place to start afresh. "At a time when we are battling a slump in the economy due to the Covid-19 pandemic, we should do everything we can to grow the domestic economy, including reopening MM2H entries, rather than freezing out an economic opportunity," he noted.
Tunku Datuk Seri Iskandar Tunku Abdullah, group executive chairman of Melewar Group, says the MM2H programme is good for Malaysia as it helps to position the country as a friendly place for expatriates. While MM2H participants may not be considered critical investors, he believes they are strategic.
"Other foreigners who are coming as expatriates will be able to see that Malaysia is a good destination to reside in. This is always one of the issues foreigners have because they may not see Malaysia in a positive light. With MM2H residents, they can help to spread the word — except right now, they are probably saying those things because of the way we treat them," he tells The Edge.
"In addition, depending on the age group of the MM2H visa holders, they may bring along family members who may be studying in universities or secondary schools. Thus, they bring investments to the country," says Tunku Iskandar, who is former president of the Malaysian Association of Tour and Travel Agents and former chairman of the Pacific Asia Travel Association.
"I know of a British national who lives partly in Hong Kong and partly in Malaysia under the MM2H programme. Why did the person choose Malaysia? One obvious reason is that our rule of law is similar to the British system and English is widely spoken," he adds.
"For the Chinese from China, they also find it comfortable here because many people speak Mandarin. Even those from India and other countries in South Asia opt to live in Malaysia rather than Thailand, where the culture and language are different."
Still, the MM2H programme is unlikely to resume anytime soon amid rising Covid-19 cases and fears of new strains of the virus.
An MM2H consultant, who declined to be named, believes the lifting of the suspension will depend on when the country's borders reopen. "And when it resumes, personally I think it will probably be done in stages, with applicants from 'green list' countries being accepted first," he says.
Until then, it will be a protracted wait for foreign retirees looking for a second home here.
What the programme entails
The Malaysia My Second Home (MM2H) programme has gone through numerous reviews in the past several years. It was introduced in 2002 to attract foreign retirees to stay in Malaysia for extended periods. MM2H is actually an improved version of the Silver Hair Programme, which was introduced in 1996.
The Immigration Department grants MM2H participants a multiple-entry visa, which is good for 10 years, and is renewable thereafter. The visa gives them the freedom to enter and leave Malaysia whenever they wish.
Applicants can submit their applications directly to the MM2H One-Stop Centre under the purview of the Ministry of Tourism, Arts and Culture (Motac) or through appointed agents. Participants are required to pay a security bond if they apply directly. The rate varies by nationality and ranges from RM200 to RM2,000.
If they use an agent, the initial application can be made without them coming to Malaysia. They will only have to be in Malaysia when the letter of conditional approval is issued, after which they have to complete the remaining conditions and collect the visa.
There are two categories under the programme. For applicants below the age of 50, they need to show proof that they have RM500,000 in offshore liquid assets and a monthly income of RM10,000.
Once approved, they will need to open a Malaysian fixed deposit account and hold RM300,000 in it for a year. After a year, they can make withdrawals but must maintain a minimum balance of RM150,000 in the account for as long as they stay in the country. Withdrawals can be made for approved expenses relating to house purchases, education for children, medical expenses and other expenses that are deemed justifiable and have been approved by Motac.
For retirees over the age of 50, applications to the MM2H programme require proof of about RM350,000 in offshore liquid assets and a monthly income of RM10,000. Acceptable liquid assets include cash in the bank, bonds and securities.
Once their application has been approved, the participants will need to open a Malaysian fixed deposit account and hold RM150,000 in it for a year. After a year, they can make withdrawals but must maintain a minimum balance of RM100,000 in the account for as long as they stay.
MM2H visa holders aged 50 and above can work for up to 20 hours a week. They are also allowed to purchase an unlimited number of residences above the minimal applicable price set by the respective state governments for foreigners buying property in the country. In most cases, the minimum price is RM1 million although some states like Penang have a lower minimum for MM2H visa holders.
The programme has been deemed a success, attracting increasing numbers of new participants every year. The total number of participants from 2002 to 2019 stood at 48,471. The top five countries they come from are China (15,883), followed by Japan (5,150), Bangladesh (4,335), South Korea (3,093) and the UK (2,892).
Multiplier effect of expatriate investment
Dr Yeah Kim Leng, professor of economics at Sunway University Business School, believes the Malaysia My Second Home (MM2H) programme has been relatively successful in attracting high-net-worth individuals to Malaysia, who make contributions to the country in terms of their investments in the property market, especially the high-end segment, as well as the business environment through their entrepreneurship and capital.
He says a recent study found that a typical expatriate family spends three to five times more than the average Malaysian family.
"They do have a higher multiplier effect on the economy. An expatriate household typically spends above RM10,000 a month, of which a large portion goes to rent, children's education and healthcare," he tells The Edge.
"We are basically tapping into their spending power in the country. Given that they are typically high-income earners, their spending power is larger. So we are also capitalising on expanding Malaysia's domestic demand by contributing to higher spending.
"As long as it does not contribute to the economy overheating, then the benefits will outweigh the cost, which includes taking away jobs. But I think we can surmise that because they are bringing in investments, they contribute to employment creation and transfer of knowledge and skills insights," he says.
A possible scenario of an overheating economy is in "foreign enclaves" — an area that attracts a large community of high-income, high-spending expatriates. "That increases/creates excess demand and drives up prices of properties, goods, services and wages, with the danger of crowding out domestic consumers," he adds.
As a review is underway, Yeah highlights that an area the government can look into is improving the entry and exit travel processes of MM2H visa holders.
"I think we should put some effort into alleviating some of the problems and difficulties that MM2H visa holders face, especially those that involve getting travel permits. It doesn't take much to make it more convenient for them because they provide greater contribution to the economy and they are also more permanent compared with temporary visitors, and that in turn will gain Malaysia both brownie points and contribute to a faster recovery of the economy. Those from the green zone countries should be the first priority.
"We are in a strong position. We do have the competitive advantage of attracting more of them on a controlled and well-managed basis. Since we have already started the programme, it is important that we continue the support given. Not just purely on economic grounds but also on compassionate grounds because of the disruption to the lives of the MM2H community," he says.
Malaysia came in fourth out of 59 best destinations worldwide for expatriates to live and work abroad in 2021, according to a new survey by InterNations, a Munich-based expatriate network with about four million members. This was based on the countries' cost of living, ease of settling in and overall quality of life. Taiwan topped the list, followed by Mexico and Costa Rica. The survey, conducted in January, involved 12,420 expatriates.
Samuel Tan, executive director at Johor-based KGV International Property Consultants (M) Sdn Bhd, concurs, noting that MM2H is a good initiative to promote Malaysia as a viable second home or retirement haven.
"Those who qualified for the MM2H programme chose Malaysia as their second home for a myriad of reasons such as more affordable cost of living, relatively good medical care and education system at reasonable cost and tropical weather.
"There are economic spin-offs from the MM2H programme to other sectors such as real estate, tourism, medical and education. The MM2H programme should be continued in view of the benefits that it brings," he says.
Tan reckons the programme should be viewed as a form of foreign direct investment, with foreigners bringing funds into the country for investment. Apart from the capital, their expenses in Malaysia are a spin-off, which will benefit other related sectors such as food and beverage, education and healthcare.
Consultants face double whammy after suspension of programme
Many companies offering consultancy services for Malaysia My Second Home (MM2H) visas and other expatriate services have seen their earnings nosedive after the programme was abruptly suspended last August.
According to a consultant who has been running an MM2H consulting business in Kuala Lumpur since 2009, his business has dropped by about 70%. But unlike some of his counterparts who had to shut down, the company has been able to ride out the crisis by continuing to offer legal services.
A check on the Ministry of Tourism, Arts and Culture's (Motac) website shows that there are 426 agents licensed by the ministry to offer consulting services for the MM2H programme. But the number may have shrunk since its suspension.
The suspension has come on top of a global crisis that has hit the tourism and travel industry hardest — piling more misery on the same sector that had earned the country one of the highest foreign receipts before the ­Covid-19 pandemic.
Malaysia My Second Home Consultants Association (MM2HCA) president Anthony Liew says the suspension has worsened the situation for businesses reliant on the programme that are already reeling from the effects of the travel restrictions and border closures due to the pandemic.
He estimates that more than half of the association's 272 members, who manage 70% to 80% of the total volume of MM2H applications submitted, are no longer active. For those still around, they have had to let people go.
Liew concedes that even before the pandemic, some of the agents — especially those catering mainly to applicants from China — had shut down their businesses as they were badly affected by the double tragedies of MH370 and MH17 in 2014, which saw Chinese tourists and expatriates shunning Malaysia in the aftermath.
Some property developers also took the opportunity to set up an MM2H division within their companies as a way to market high-end properties to prospective foreign buyers. "However, many of them prefer to seek agents' assistance in visa application services owing to lack of manpower," he says.
MM2H agents have no fixed consulting fees, but they typically range from RM8,000 for a single applicant to as much as RM15,000 for a family. It also varies depending on the applicant's nationality and the amount of documentation needed.
"The suspension has had a big impact on our members. Yes, we still have some business from existing MM2H customers who are staying here. For instance, we help them transfer their visa to new passports or renew their visas. We also help them do withdrawal of savings or termination from the scheme. I can say that our income is now about 10% of what we earned previously," says Liew.
Applications returned unexplained
MM2H agents were left in the lurch when their applications submitted to Motac in late 2019 were returned in March 2020.
"No reason was given on why the applications were returned and why they sat on it. But we are answerable to our clients. In fact, some agents had fully committed to their clients that they would get the approvals. Fees were collected and [application] submissions were made. With the applications returned, the agents would have to return the fees to their clients," says the consultant, who declined to be named.
"This is not just one or two cases, but many. Many are now stuck in a situation where they have to refund their fees to the clients but they had already utilised them for office rent, staff salary and others," he adds.
MM2HCA's Liew says most agents only learnt that the programme had been temporarily frozen for review and improvement when Tourism, Arts and Culture Minister Datuk Seri Nancy Shukri announced it last July.
"We can accept it if you say the programme is going to be reviewed, but at least all applications that have been submitted should be processed," he notes.
Liew estimates that 2,000 to 3,000 of MM2H applications were approved under the MM2H programme prior to its suspension, but are now stuck due to closed borders. "The applicants are not able to enter the country to do further endorsements because of the lockdown. In fact, we are also waiting for them to come into the country to collect the balance of our fees," he says.
"We hope that the government won't drag its feet on this matter because MM2H brings economic benefits to the country. These are high-net-worth individuals. If foreigners on employment passes are allowed to enter the country, MM2H visa holders who abide by the standard operating procedures should also be allowed in."
According to Liew, a study by MM2HCA reveals that 2,000 MM2H visa holders bring in RM1.55 billion in revenue for the country. The estimate includes the fixed deposit requirement with a local bank, immigration fees, MM2H consulting fees, insurance, medical expenses, shopping, hotel accommodation, domestic travel and education. It also takes into account that 600 of them purchased new homes here for RM1.5 million each.
Consultants understand need for evaluation
MM2H consultants who spoke to The Edge said most agents had no complaints that the programme was being reviewed.
"We understand that there has been a devaluation of the local currency and some revisions may be needed in terms of the financial requirements. But what we hope is that the new requirements will not be too steep to jeopardise the flow of participants who are coming in. And we hope that the government will resume the programme as soon as possible.
"Even if it can't do it in one go, at least do it in phases with 'green list' countries first, for example," one consultant says.
More recently, in March, Nancy said the review of the programme had been
completed and could resume if it was approved by the Cabinet. No updates have been forthcoming since that announcement, though industry observers expect the programme to remain suspended until the country's borders reopen.