This article first appeared in The Edge Malaysia Weekly, on March 18, 2019 - March 24, 2019.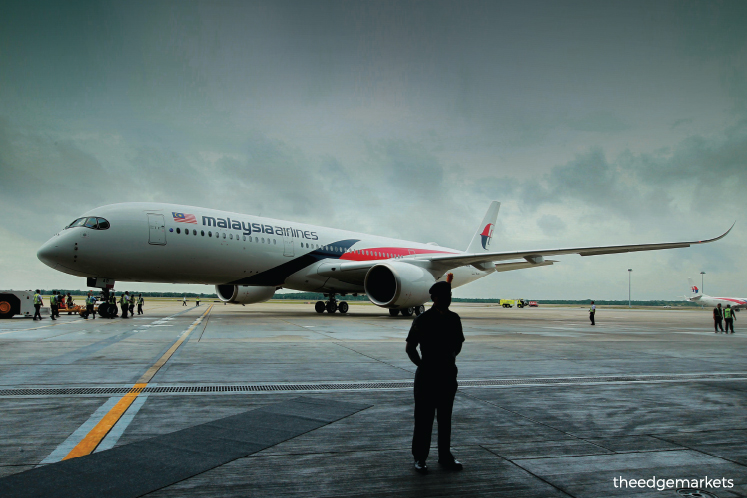 SHOULD the government choose to shut it down, Malaysia Airlines Bhd will go down as the first national airline in Asia to go bust (Japan Airlines emerged from bankruptcy after two years), joining the ranks of its European counterparts such as Sabena, Air Berlin, Alitalia and Cyprus Airways.
The flag carrier, which saw Khazanah Nasional Bhd pay RM1.38 billion to take it private in August 2014 and reboot it into a smaller airline under its current name in September 2015, is once again facing an uncertain future after Prime Minister Tun Dr Mahathir Mohamad remarked last week that shutting it down was one option being considered by the government. Selling the national asset and refinancing its debts are two other possibilities the government will explore, he said.
The prime minister's warning comes as calls for the beleaguered airline to be wound down intensified in the past few weeks. The airline's woes flared up on March 5 after its sole shareholder Khazanah reported its first annual loss in over a decade, mainly due to a RM3.7 billion writedown of Malaysia Airlines' value last year.
It doesn't help matters that the airline missed its target to return to the black last year and, according to Centre for Aviation (CAPA) chief analyst and chief representative for Southeast Asia Brendan Sobie, will find it difficult to achieve profitability, at least in the near future, given current market conditions.
On March 1, the private company revealed that it finished 2018 with a marginally lower loss compared to a year ago but it did not disclose the figures.
Filings with the Companies Commission of Malaysia (SSM) show that Malaysia Airlines' net loss increased by 85% year on year to RM812.11 million for the financial year ended Dec 31, 2017 (FY2017). It has lost RM2.35 billion between 2015 and 2017.
While it did not disclose its exact revenue for FY2018 except to say that it grew by 1% y-o-y, back-of-the-envelope calculations show that revenue rose to RM8.76 billion from RM8.67 billion in FY2017. It has yet to file its financial statements for FY2018 with SSM.
Malaysia Airlines blamed FY2018's poor performance on crew shortage, intense competition, oversupply of capacity and volatility in fuel prices and foreign exchange.
It is worth noting that when the 12-point MAS Recovery Plan (MRP) was conceived in 2014, fuel price was US$75.68 per barrel. As at March 8, 2019, the International Air Transport Association jet fuel price monitor was up 3.5% at US$80.30 per barrel from a year ago.
The ringgit had also weakened by 3.6% to 4.9% to 4.0910 against the US dollar last Thursday. Khazanah's assumption under the five-year recovery plan was that the local currency would range from 3.90 to 3.95.
Still, critics point to Hong Kong-based Cathay Pacific, which turned things around with a HK$2.3 billion profit last year after three years of heavy losses and Singapore Airlines (SIA), which managed to turn in a net profit of S$284 million for the third financial quarter ended Dec 31, 2018, amid the challenging operating environment.
Khazanah seen more willing to give up the flag carrier
After not one but four failed attempts at restructuring the national carrier and setting it on a path to sustainable profitability, including during the 42 years when it was known as Malaysian Airline System Bhd (MAS), the calls are growing louder for the government to shut it down for good.
Its weak financial health — even after a RM6 billion injection from Khazanah in 2014 — also makes it a prime target when Malaysia's new government is looking to trim its huge debt of RM1.087 trillion as at Dec 31, 2018.
Indeed, some analysts say the timing of Khazanah's RM3.7 billion impairment charge on Malaysia Airlines in 2018 is an indication that it may be ready to end or sell its loss-making unit.
HLIB Research aviation analyst Daniel Wong notes that Malaysia Airlines is not part of Khazanah's core portfolio, suggesting that the state investment firm would be willing to part with its airline business if the investment does not make financial sense and assuming government approval is granted.
"While we do not doubt Malaysia Airlines is a pride to Malaysia as the national carrier has been around since 1947, we remain doubtful of Khazanah's willingness and ability to sustain the continued losses of Malaysia Airlines. The losses of Malaysia Airlines may amount to RM1 billion per year," he says in a March 13 report.
Malaysia Airlines can still fly high
Once-troubled flag carriers such as British Airways (BA), Japan Airlines, Garuda Indonesia and Qantas Airways are living proof that Malaysia Airlines still has a chance of turning around, says a senior aviation consultant who declined to be named.
A multitude of factors have contributed to Malaysia Airlines' financial woes, but foremost among them is the lack of autonomy to run the business without government intervention, say airline experts and analysts.
"There are no obvious or easy solutions and there are so many external factors that will impact Malaysia Airlines' future financials. However, there are areas for potential improvement," CAPA's Sobie tells The Edge.
"While the latest restructuring went much deeper than previous attempts, it didn't go deep enough and address all the legacy issues. The airline could potentially take another crack at reducing its costs but this can only be effective if there is no political interference.
"It could also relook its commercial and network strategy. Evolving into more of a regional airline could be an option," he says.
Sobie points out that while shutting down the airline is obviously politically difficult and has never really been an option, it now seems that it is being seriously considered.
"There would still be sufficient competition in the market (even with Malaysia Airlines gone) and the void would likely be filled by the existing or new competitors. Keep in mind there were only two (Malaysia-based) players (Malaysia Airlines and AirAsia Group Bhd) before Malindo Airways Sdn Bhd was launched five years ago. However, another restructuring would still likely be the preferred option politically," he adds.
Transport infrastructure consultancy Modalis Infrastructure Partners associate director Khair Mirza believes Malaysia Airlines can thrive given a level playing field.
"By definition, GLCs (government-linked companies) need to play a dual role. So, as long as it has a level playing field against other carriers, it can succeed, like how Qantas, Turkish Airlines and Garuda have all succeeded," he adds.
Khair points out that Malaysia Airlines is the only recognised strategic GLC that faces unfettered competition while trying to balance a social equity role. "It's like asking an elephant to climb up a coconut tree just because the monkey has glorified climbing trees."
Meanwhile, a senior aviation consultant notes that the government must also ensure that Malaysia Airlines has the right people on its board of directors to steer the airline.
"The board has had many of the same members for several years despite losses. It is good to have new people with fresh ideas to help move Malaysia Airlines forward.
"It is also good to have a combination of some with overall airline industry experience (at least two to three years) and some good professionals in finance and law," he adds.
The consultant also points out that the airline must have the right people in senior management. "Malaysia Airlines CEO Izham Ismail should be given a chance to carry on and he deserves the freedom to name his own team," he says.
Modalis' Khair concurs, noting that a shake-up of the eight-member board is long overdue.
He also believes that it is time to allow Malaysia Airlines to award contracts based on competitive bidding rather than "giving contracts to non-strategic investees that have bloated into public-listed entities, squeezing out bona fide market participants". A case in point is the RM42.99 million three-year contract bagged by UEM Edgenta Bhd's 80%-owned subsidiary KFM Holdings Bhd in June 2016 to provide facility management services to Malaysia Airlines via direct negotiation.
A check on Malaysia Airlines website reveals that its board comprises one executive director —  Izham — and seven non-executive directors, namely Tan Sri Krishnan Tan Boon Seng, Tan Sri Zamzamzairani Mohd Isa, David Lau Nai Pek, Dr Mohamadon Abdullah, Sheranjiv M Sammanthan, Mohammad Izani Ashari and Ahmad Zulqarnain Che Onn. Foo Shiou Voon is an alternative director for Mohammad Izani.
Tan, Lau, Mohamadon and Mohammad Izani have been on the board since August 2015. Tan, Lau and Mohamadon were also directors at the old MAS.
An accountant by training, Tan is currently non-executive deputy chairman of IJM Corp Bhd. Zamzamzairani served as the group CEO and managing director of Telekom Malaysia Bhd from April 2008 to April 2017, while Lau has over 35 years of experience in finance and is also a director of Axiata Bhd and Celcom Axiata Bhd. Mohamadon had served MAS for 32 years before retiring on Dec 31, 2004, as senior general manager of corporate services.
Meanwhile, four board members — Sheranjiv, Mohammad Izani, Ahmad Zulqarnain and Foo — are Khazanah appointees.
Asset sales may offer some relief
HLIB Research's Wong believes it will be wise for the government to divest Malaysia Airlines or find a strategic partner instead of shutting it down, which will stem the draining of government cash while reducing staff layoff, as the takeover entity will still need a workforce to run the airline.
Malaysia Airlines has undergone two rounds of layoffs in the last 13 years. It shed over 6,000 employees in 2006 and 2007 under the Business Turnaround Plan 1 and another 6,000 in 2015 under the MRP. Today. it has a 13,000-strong workforce, which some still consider bloated given its smaller network.
A former Malaysia Airlines senior executive says the government should take a leaf from the sale of a 49.9% stake in national carmaker Proton Holdings Bhd to Chinese carmaker Zhejiang Geely Holding Group.
"There won't be any government interference in the management of the business then.
"The entire board and key personnel of Malaysia Airlines must also be replaced. They had the opportunity to revive the airline, but failed. Let others in the private sector (preferably Malaysian) to fix this. It can be done," he says.
"The problems in Malaysia Airlines are obvious; we need the 'will' to do it. The government needs to let go of the national airline and let the private sector run it entirely, just like BA and Iberia," he adds.
He is also of the view that Malaysia Airlines' business units like cargo, engineering, flight catering, ground handling and the loyalty programme should be transformed from cost centres to profit centres where they are responsible for their own revenues, costs and resulting profits.
"These units should be looked at as standalone businesses. They  can then grow and expand without being held back by the passenger business."
Malaysia Airlines' FY2017 financial statements show that its cargo revenue stood at just RM551.27 million, a far cry from the RM1.66 billion reported in FY2013.
Its engineering services business has also been scaled down from a world-renowned player in the maintenance, repair and overhaul market under MAS Aerospace Engineering to a purely self-supporting unit today. Airport handling and engineering services revenue stood at RM49.34 million in FY2017 compared with RM256.86 million in FY2013.
Note:
Following the publication of this story, UEM Edgenta Bhd has clarified that Malaysia Airlines Bhd had conducted an open tender process for the RM42.99 million three-year facility management services contract covering specific parts of the Kuala Lumpur International Airport and its Kelana Jaya academy in Petaling Jaya, and not via direct negotiation as reported.
The open tender process saw the participation of several facility management service providers including KFM Holdings Sdn Bhd, a subsidiary of UEM Edgenta, UEM Edgenta said in a statement.
It noted that Malaysia Airlines undertook a request for information in May 2015, followed by a request for proposal in July 2015 and commercial clarification.
"In the final round, KFM along with two other facilities management service providers were shortlisted. KFM was informed of the contract award in February 2016 and it was completed in December 2018," it said.
Save by subscribing to us for your print and/or digital copy.
P/S: The Edge is also available on Apple's AppStore and Androids' Google Play.