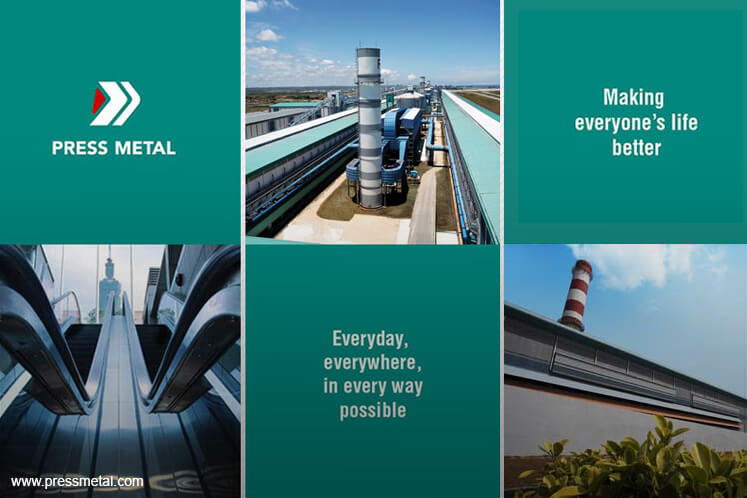 KUALA LUMPUR (Sept 17):  S&P Global Ratings has lowered its issuer credit rating on Press Metal Aluminium Holdings Bhd (PMB) to 'B+' from 'BB-'.
In a note Sept 16, the rating agency also lowered the issue rating on the company's guaranteed notes to 'B+' from 'BB-'.
It said PMB's sizable growth investments for the next 12-18 months will be largely debt-funded, translating into growing debt and hence delaying deleveraging until beyond 2021.
"PMB's balance sheet and funding profile's ability to accommodate volatility in aluminum and alumina prices should therefore decrease.
"The stable outlook reflects our expectation that PMB's leverage and reliance on short-term debt are unlikely to reduce over the next 12-18 months," it said.
S&P said it expects PMB's cash flow leverage to weaken over the next 12-18 months owing to a rise in growth investments in recent months.
"The company announced in August 2019 the development of phase 3 of its Bintulu plant in Samalaju, Sarawak. The brownfield development will add 320,000 tons of smelting capacity to PMB's current capacity of 760,000 tons per annum.
"PMB has also secured a 15-year power purchase agreement (PPA) with Sarawak Energy Bhd (SEB) for 500 megawatts (MW) of electricity, which will power PMB's planned expansion.
"The power tariffs are competitive and will keep the company's operating economics attractive. The land for the Bintulu expansion is already available to PMB," it said.
S&P added it expects PMB's operating performance in 2019 to stay largely in line with its expectations, although the first-half performance lagged a bit.
It said the company's EBITDA was RM500 million in the first half of the year.
"We anticipate aluminum price to trend up over the next two years while alumina price should stay soft, at 17%-18% of aluminum price.
"This will boost PMB's EBITDA to RM1.5 billion in 2020, with further gains likely following new capacity additions. However, global growth concerns and trade-related friction could weigh on aluminum prices," it said.