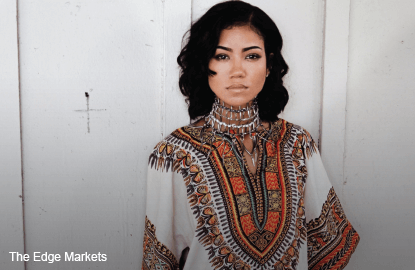 This article first appeared in The Edge Financial Daily, on September 28, 2015.
GET ready for Southeast Asia's biggest R&B and hip hop festival this Oct 17 with Soulfest Asia. Held at Mines International Exhibitions & Convention Centre, the inaugural Asian edition of this popular Australian festival is being held in Kuala Lumpur and comprises an exciting line-up of both international and regional acts in the music and comedy sphere.
With Mary J Blige, Jhené Aiko and Omarion confirmed as some of the big names at the festival, Soulfest Asia will be turning up the heat on all things R&B, neo-soul, funk and hip hop. Festivalgoers can also look forward to catching local acts such as Joe Flizzow and his Kartel family, Najwa and hip-hop collective De Fam. There will also be regional acts such as Raisa from Indonesia, Shigga Shay from Singapore and hip hop group Thaitanium from Thailand, who will be performing their own brand of hip hop and R&B.
Aside from music, Soulfest Asia will also feature a comedy room called [email protected] with a whole host of stand-up comedians. Briton Gina Yashere and Hong Kong-based Jim Brewsky will be headlining this segment of the festival, which also features other up-and-coming comedians from around the world.
The festival also aims to raise awareness for the gravity of domestic violence and garner support for the Women's Aid Organisation with a ceramic art exhibition Can You Keep A Secret?.  The exhibition features 12 ceramic life-sized head sculptures by artist James Seet representing the harrowing accounts of domestic violence survivors.
Tickets for Soulfest Asia are priced at RM198 and are available online at www.soulfestasia.com.
Here are some big names that will be performing at Soulfest Asia
Musicians
Mary J Blige
As the winner of nine Grammy Awards and 12 multiplatinum albums, Mary J Blige needs no introduction. Known for her powerhouse vocals and trademark soul sound, the undisputed Queen of Hip Hop Soul will be headlining the inaugural Soulfest Asia. Blige burst on to the scene with her debut album What's The 411 in 1991 and has given us some of the biggest R&B anthems of all time with hits such as Just Fine, Be Without You, No More Drama and Real Love. With messages of empowerment and inspiration in her songs, Blige has won a legion of fans around the world with her music. She has recently gone into the dance music arena with her latest album The London Sessions and collaborated with the two big names in British music — Sam Smith and Disclosure — with positive reviews.
Omarion
The surprise announcement of the line-up, Omarion, is fresh off the success of his single with Jhené Aiko and Chris Brown entitled Post To Be. Best known for being the lead singer of R&B boy band B2K, Omarion has also managed to make a name for himself as a successful artist with four solo albums under his belt. His upcoming album, Reasons, is scheduled for a Oct 23 release, shortly after his performance at Soulfest Asia. With a bit of luck, fans will be able to hear a few sneak peeks at the festival.
Jhené Aiko
Known for her ethereal voice and well-known collaborations with some of the biggest names in hip hop, Jhené Aiko is finally making a name for herself in her own right with her debut album Souled Out. The singer has worked with some of the most notable names in the industry, including Kanye West, Drake, Miguel and Kendrick Lamar, which has catapulted her into the global spotlight. The release of her debut album led it to debut at the top spot on the Billboard Charts, and even garnered three Grammy nominations. Hopefully Jhené and Omarion will perform their latest hit, Post To Be, together on the Soulfest stage.
Talib Kweli
Not your average rapper, Talib Kweli is a musically gifted lyricist who has emerged as one of the most socially aware and politically insightful rappers in the past 20 years. With an extensive discography of seven solo albums under his belt, he has worked with some of the biggest names in music today including The Neptunes, Justin Timberlake, Kendrick Lamar and Kanye West. Kweli has earned the most recognition through his work with rapper Mos Def in East Coast hip hop group Black Star. Kweli has also previously collaborated with headliner Mary J Blige with the track I Try. Kweli is also expected to release his upcoming album entitled Radio Silence in the next few months.
De La Soul
Formed in 1987, New York hip hop trio De La Soul has been going strong for over 20 years. Consisting of Kelvin Posdnuos' Mercer, Dave Jolicoeur and Vincent "Mase" Mason, the trio is known as one of the most successful alternative rap groups of the era. They are known for hits such as Ring Ring Ring (Ha Ha Hey) and A Roller Skating Jam Named "Saturdays", which have won them a great deal of respect from the hip-hop community. The trio recently launched a Kickstarter project to fund their new album called And The Anonymous Nobody, which exceeded their goal and became the most successful Kickstarter album project of all time.
Comedians
Gina Yashere
British comedian Gina Yashere is a veteran in the stand-up comedy industry and has entertained audiences all over the world. She broke into the US comedy scene with appearances on the show Last Comic Standing. Known for her bombastic delivery, lively personality and hilarious observations, expect Gina to wow audiences on this trip to Malaysia.
Jim Brewsky
Hong Kong-based comedian Jim Brewsky is one of Asia's newest and biggest names in comedy. He recently won the 2015 Magners International Comedy Festival as well as the 2014 Hong Kong International Comedy Competition. He has performed at venues such as the Gotham Comedy Club New York, The Laugh Factory Hollywood, Comedy Masal Singapore and MGM Macau. His self-deprecating humour and good-natured stage presence make Brewsky one to watch.
Rizal Van Geyzel
Rizal Van Geyzel has made a name for himself in the local comedy scene over the past few years. He started to make a name for himself after opening for Malaysian comedy king Harith Iskander and theatre actor and producer Jit Murad at the age of 20. One of three founding partners of Crakhouse Comedy Club, Kuala Lumpur's first comedy club, Rizal is known for his hilarious observations on Malaysian life. Expect his special brand of humour to be a barrel of laughs at Soulfest.