This article first appeared in Personal Wealth, The Edge Malaysia Weekly, on December 16, 2019 - December 22, 2019.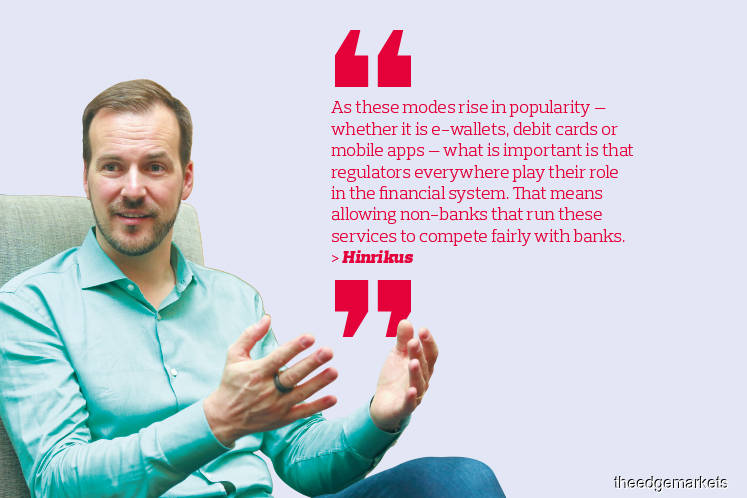 Regulators around the world can do a lot more to create a level playing field for technology companies such as digital remittance players and their banking counterparts. One of the ways is to push for greater transparency when it comes to remittance fee structures, which will ultimately benefit consumers, according to TransferWise co-founder and chairman Taavet Hinrikus.
Digital remittance service providers have mushroomed across Southeast Asia over the past few years, consisting of both local and international players. However, the bulk of international money transfers still go through banks, says Hinrikus, who has been in the digital remittance industry for eight years now.
"By creating a more level playing field, new technology companies can offer services that used to be restricted to banks. Regulators need to realise that there has to be a world where consumers can have better options through competition," he adds.
Ideally, our smartphones should be the only bank branch we need, says Hinrikus. While some banks may still require customers to physically visit a local branch and fill out forms to do an international transfer, this practice will be phased out sooner or later. "Customers will not accept the inconvenience when there are so many fully online services available such as TransferWise," he points out.
"As these modes rise in popularity — whether it is e-wallets, debit cards or mobile apps — what is important is that regulators everywhere play their role in the financial system. That means allowing non-banks that run these services to compete fairly with banks."
Hinrikus highlights that there has been a prevalent issue within the remittance industry involving banks when it comes to fee transparency. According to the Digital Money Transfer & Remittances: Domestic & International Markets 2019-2024 report, financial technology (fintech) players offer a superior user experience, with heightened transparency on fees, which is a crucial differentiator.
Researcher and author of the report Nick Maynard says, "While traditional operators have launched digital solutions, they have yet to adopt transparent pricing of transfers. Unless operators accept this requirement, they will continue to lose market share. Innovation must be the number one priority."
The lack of transparency makes it difficult for consumers to compare services and choose the best one for their needs. By giving consumers clear information about remittance costs, they have the power to choose a service with lower costs. Over time, the more expensive providers will be forced to lower prices if they do not want to lose customers and this leads to lower overall remittance prices in the market.
Fees associated with remittances include charges for transferring certain amounts of money, exchange rates when remittances are paid and received in different currencies, the speed of the transfer and how the receiver is paid.
Hinrikus says being transparent with pricing is not only important for digital remittance services but also banks. "Banks should do this on their own [accord]. If they do not, we believe regulators everywhere should consider requiring them to do so — because hidden fees and exchange rate markups hurt consumers."
The European Commission passed a law at the end of last year requiring financial institutions in Europe to disclose their hidden fees and exchange rate markups, he points out. He sees this as a huge step in the right direction because if regulators around the world push for transparency in fees, it will lead to a lower average cost of remittance services globally.
"Something similar is being discussed in Australia. So, if this were something done globally, the outcome would be lower remittance costs," says Hinrikus.
The UN Sustainable Development Goals have set a target for reducing the cost of remittance services, where the average cost globally should be lower than 3% by 2030 (from 6.84% currently). Malaysia hit this target last year. An optimist by nature, Hinrikus is hopeful that the cost will be much lower than 3% by 2030.
"In the last eight years, we have seen a 1% decrease. So, if we extrapolate based on that, we are not going to hit the 3% target," he says.
"But we see many people becoming banked all around the world. So, as we move to more online services and transparency becomes the norm, it is not impossible to hit that target.
"Realistically, however, a lot has to do with regulations around the world and whether they really push for transparency."
Hinrikus points out that regulators should be quicker to react to increasingly digital world. "In too many parts of the world, we are still regulated as a physical cash-based service," he says.
"Since we are headquartered in the UK, our main regulator is the Financial Conduct Authority (FCA), which was probably one of the first in the world to realise how quickly the digital world is evolving. So, that has been helpful to us."
For example, the UK was among the early countries to approve a fully electronic know-your-customer (e-KYC) process. This allows companies to verify customers without requiring them to turn up at a physical branch. Many countries have since adopted a similar e-KYC policy, including Singapore and Malaysia.
Available in Malaysia
An international money transfer service provider, TransferWise is present in Singapore, Hong Kong, Japan and Malaysia, where it made its debut on Nov 21. The service, which uses real-time exchange rates and is typically two to five times cheaper than what banks charge, allows users to transfer money to 83 countries.
The money transfers can be done via bank transfer, credit card or debit card. The money is then sent straight to the recipients' bank account, even if they do not have a TransferWise account. Due to regulations, the current transfer cap is RM5,000 a month for those with a foreign worker visa or permit and RM30,000 a day for everyone else.
About 25% of the transfers are instantaneous while 80% are done within 24 hours. Since the service was recently launched to consumers in Malaysia, instant payments can only be made to certain countries, such as the UK, for the time being.
"Ideally, we would love everything to be instant. But it really has to do with the way payment systems work around the world. If there is a real-time payment system in a country, we will be the one using it. Many countries in the world do not have a real-time system, with the US being an example," says Hinrikus.
As more countries develop such payment systems, the company will be able to conduct real-time transfers to more places, he adds. "If every country had a real-time payment system like the UK and companies like TransferWise had access to it, we could make all the money in the world move in real time. But we are probably a decade away from all of that."
Hinrikus acknowledges that it is not easy for countries to build an instant payment system as it would involve central banks bringing all the banking players together. So, even if a bank uses state-of-the-art technology, but the country's central bank does not have an instant payment system, the facility would be unavailable.
Hinrikus believes that over time, one of the major trends that will occur is an integration between banks and TransferWise, with banks using the infrastructure built by the company to process all of their customers' international transfers. "Banks are good at domestic services, but not so good when there is an international aspect to it. For international money transfers, they mostly rely on the correspondent banking system known colloquially as Swift, which is slow and expensive. They pass on the costs to customers and the result is unhappy customers," he says.
In the past two years, banks have realised that it makes more sense to have TransferWise process these payments, says Hinrikus. "One example is Monzo, one of the largest challenger banks in the UK. It has integrated our services into its app. Whenever its customers perform an international transfer using the Monzo app, they see 'Powered by TransferWise' and they get the same price, speed and convenient experience as the customers who come directly to us."
So far, TransferWise has announced eight integrations globally — five banks in Europe, two in the US and one in Australia. It is also in talks with banks in Asia and will announce integrations when they are ready.
The majority of its users are consumers. However, it has noticed more small and medium enterprises (SMEs) coming on board as well, says Hinrikus. Today, the company signs up more than 10,000 SMEs a month globally. In fact, he would not be surprised if the SME users eventually overtake its consumer base.
TransferWise is currently moving about US$60 billion worth of transactions a year. Hinrikus is confident that the company will hit the trillion-dollar mark in the next 10 years.
He foresees more people having access to seamless financial services, where the only bank branch people will care about is their smartphone. "Right now, people already do not really care about going into banks. All they care about is having access to the best products on their phones, anytime, anywhere," he says.
"Things like e-KYC will be evolving so you can easily onboard different services. Overall, I think the trend will be all financial services will become faster, whether you are applying for a loan or doing money transfers. People expect things to happen more or less in real time nowadays. So, we will see this everywhere."