This article first appeared in The Edge Malaysia Weekly, on October 19, 2020 - October 25, 2020.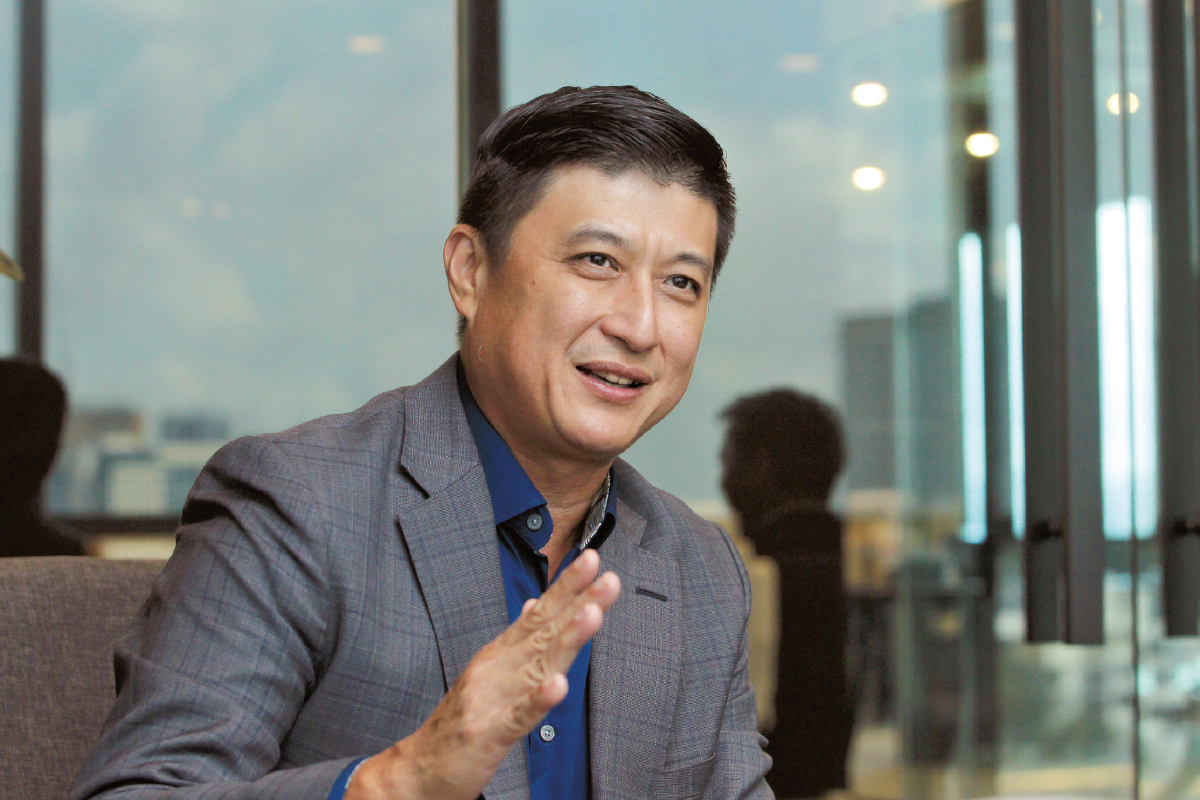 As a brand owner, Andy Goh says manufacturers face many challenges in the supply chain. Goh, the founder of restaurant chain OldTown Bhd and current owner of Nam Heong Kopitiam Sdn Bhd should know. He has been dealing with distributors for more than 20 years.
To get a product to consumers, manufacturers need to find a distributor to sell it to retailers, who will then sell the products to customers. Goh is of the opinion that there are too many layers between the manufacturers and customers.
"Distributors tend to arm-twist manufacturers or brand owners into giving them a better price margin. They distribute to retailers at shopping malls and when retailers want more business, they offer discounts but it doesn't come from them. The discount comes from us, the manufacturers, because distributors will try to drop the prices as low as the floor," he tells Digital Edge.
To overcome this, Goh set out to develop a solution that would cut out the middleman and empower manufacturers, allowing them to control both product pricing and the distribution channel. After nine years of research and development, he launched MeCan Trade, a social commerce platform, in April.
Social commerce is a new business concept, says Goh, who is also CEO of MeCan Trade. It involves the use of social media platforms to promote and sell products. This concept was especially apparent during the Movement Control Order (MCO) when influencers or key opinion leaders (KOL) sold products via live streaming on social media.
MeCan Trade allows KOLs to create their own e-store and choose from a large variety of products (supplied directly by manufacturers and brands) to sell on their website. The KOLs or ambassadors, as Goh likes to call them, can choose the type of products to showcase on their website based on what their followers are interested in.
This platform does not require the ambassador to have start-up capital or a space to stock inventory as it will all be handled directly by MeCan Trade. Goh has invested more than RM20 million over the last nine years to establish this comprehensive smart e-commerce platform as well as build a network of credible partners.
"The platform requires zero investment and has zero risk. It can help anyone become an entrepreneur without worrying about being hit by an economic slowdown. My mission is to enable everyone to trade anytime, anywhere, locally and internationally, and this solution enables entrepreneurs and manufacturers to connect to a wider range of buyers and shoppers worldwide.
"People can just own the e-store or website and they don't have to carry stock of the products they want to sell. Most people have their own social platform with followers and all they need to do is to promote the products to consumers.
"Everything else is controlled by us. We will take care of the inventory and stock, and we will deliver the products to the consumers. We have simplified the whole supply chain so there is no need for a distributor," he says.
How does this empower manufacturers? He explains that the selling price of products is predetermined by brand owners. This means that the prices are the same on all the e-stores set up by ambassadors."This is how we protect the interests of manufacturers and brand owners."
The platform is not just limited to manufacturers. Goh says those who produce things at home will be able to sell them on MeCan Trade, provided they do not violate Malaysian laws. These sellers can send the products to be added to MeCan Trade's pool, and they will then be fed out to other e-stores linked to MeCan Trade.
"There is no minimum amount for this. So, for example, if you're making soap at home and you're only able to produce 20 pieces, then that will be the limit on the platform. When the stock is finished, it will disappear from the product list. So the platform is a good way to help people start a small business and build it up."
He says ambassadors who sign up with the e-store will receive a commission for every product sold and sometimes, incentives are given to those who sell more. The commission will be directed to the ambassador's MeCan Trade e-wallet as soon as a transaction is completed.
"The commission might be different for different people because the brand owner will set it according to your performance. For the top performer, they may want to give a better reward or better margins, such as an additional 5% commission. Brands are in full control," he stresses.
The platform currently has over 700 products listed by 50 brand owners and manufacturers. It has about 200 brand ambassadors signed up and is targeting for 1,000 ambassadors by year end.
Goh says the company vets everyone who wants to become a MeCan Trade ambassador. Manufacturers and brand owners are also vetted to ensure that the products sold on the platform are original and of good quality.
For every product sold, MeCan Trade receives a commission that is pre-determined when the manufacturer or brand owner gets on board. These brand owners and manufacturers incur two separate costs when they join the platform — the management service fee and the commission to ambassadors. The percentage for both fees is determined on a case-by-case basis.
Ambassadors, on the other hand, do not have to pay a fee to join. "We want to make it free for life because we want to lighten up the entry level. We believe as long as there is a user-friendly system, people will want to come on board."
MeCan Trade was scheduled to be launched next year, but with everyone at home because of the Covid-19 outbreak, the company decided to launch it in April, Goh says. It has received a lot of positive feedback from people as many had lost their jobs or part of their income owing to the pandemic.
"Everyone, whether young or old, had to learn what the internet was and how to use it. Because of that, it was easy to get people's attention and teach them how to use MeCan Trade. It also helped that people were open to listening to us as they needed an income," he adds.
The company carried out weekly webinars on how to use the internet, navigate the MeCan Trade platform and build a website. Goh says every ambassador that is onboarded will go through social commerce training and a workshop on web design. "Our web designing interface is very easy to use, using a drag-and-drop function, making it very user-friendly like Wix."
The objective of MeCan Trade is to help people earn an income in these difficult times as well as enabling manufacturers and brand owners to push out their products more easily. Goh says it can take a manufacturer up to five years to find a distributor willing to sell their products if the traditional model was used.
"In this way, everyone is the manufacturer's salesman."
Goh observes that the younger generation, specifically millennials, is not interested in 9-to-5 jobs and is more interested in generating a passive income. "This group of people grew up with the internet and they are very comfortable with social media, so they can use this platform as a way to make money through their social network. MeCan Trade fulfils the need of the younger generation."
It has partnered Zanroo Ltd to incorporate big data analytics and artificial intelligence into the platform to learn about market trends and provide insights to those who own e-stores.
"We will structure, analyse and process the purchasing data from consumers and tell the ambassadors what products they need to create to meet the demand, so that they can sell better."